Looking to make the BEST banana cream cake ever? Check out all of the secrets behind why this recipe is insanely addicting.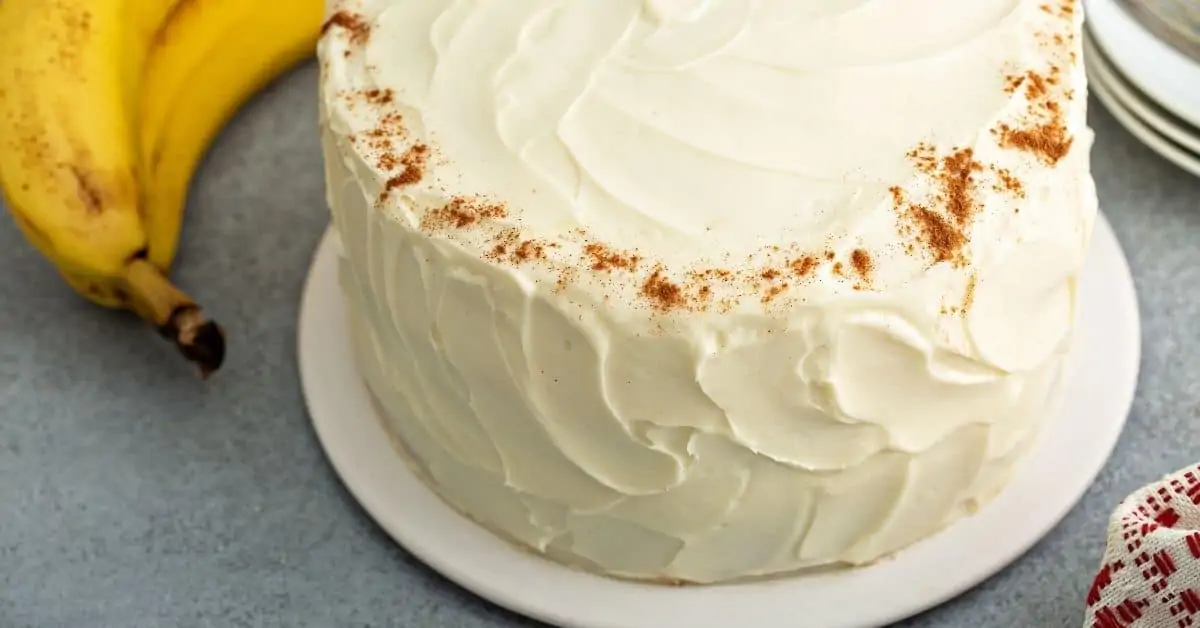 This post is all about how to make the BEST banana cream cake ever.
Banana cream cake is ADDICTING. Even if you aren't a huge banana fan, there is no way on earth you won't think this stuff isn't obsessively delicious. It's the kind of cake you'll keep slipping your fork into well after you've finished your first piece.
Banana cream cake is unbelievably moist with just the right amount of spices and topped with the creamiest cream cheese frosting you'll ever taste.
With every good recipe, it always comes down to the little details. And it's definitely the little details that make this recipe stand out from any other banana cream cake you've tried before.
If you've never had a piece of banana cream cake, then it's time you try this heavenly recipe. I use the word heavenly because the moist cake and the creamy frosting are a combination that I imagine tastes and feels like heaven.
Because there's not another cake out there that compares, I think it's time to reveal all of the tips and tricks that make this recipe stand out from any other!
The Secrets Behind How To Make The Best Banana Cream Cake
Ripe Bananas Are ESSENTIAL For Banana Cream Cake
First off, making the BEST banana cream cake starts with perfectly ripe bananas!
You want to find the bananas at the store with the brownest spots because the riper the bananas, the sweeter, and more banana flavor will be present in your cake.
Secret Tip #1
If you have trouble finding ripe bananas at the grocery store, hit up your local 99 cent store (or a similar discount store that sells groceries). They ALWAYS seem to have perfectly ripe bananas.
If you don't have a 99 cent store (or similar store) in your area, head to the grocery store in advance (about a week before you plan on making the cake). Because the grocery stores don't always have the ripest bananas, purchasing them in advance will ensure they are perfectly ripe for baking day.
Secret Tip #2
It's important to know what a perfectly ripe banana should look like to AVOID using (God forbid) an unripe banana.
Unripe bananas appear greenish and look waxy. They also taste bitter and are firm when you touch them.
Perfectly ripe bananas are yellowish with several brown spots and may even look black depending on how mature the banana became.
FYI, there's no such thing as an overly ripe banana when it comes to baking, so don't worry if it feels mushy and the peel looks dark and leathery.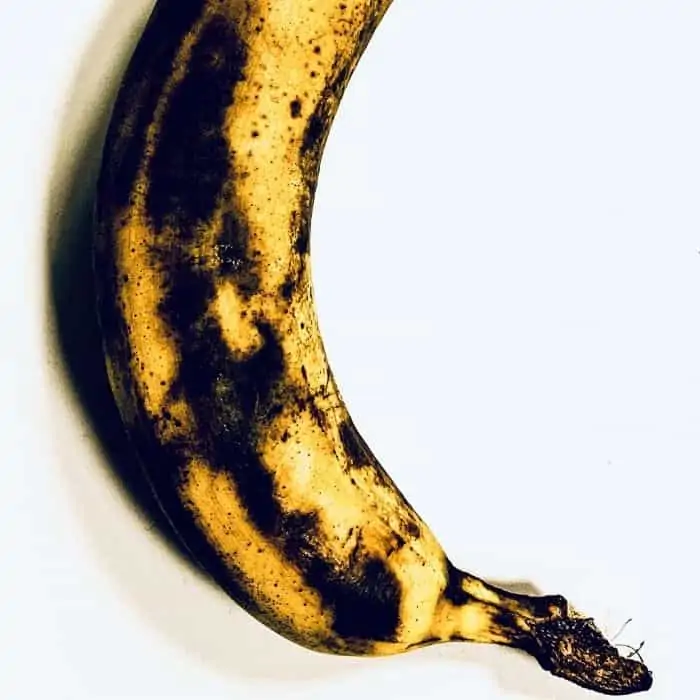 Secret Tip #3
It's IMPERATIVE to know a couple of ripening hacks for under-ripe bananas.
Hack #1 The Paper Bag Technique
Storing the under-ripe bananas in a closed paper bag for 1-4 days (timing depends on how unripe they are, to begin with) will trap the ethylene gases that the banana peels give off naturally, allowing oxygen inside the paper bag. This process speeds up the banana's ripening so that you can make the best banana cream cake ever!
*IMPORTANT* Make sure to use a paper bag and NOT a plastic bag. Plastic bags slow down the ripening process because oxygen cannot enter.
Hack #2 Bake Them In The Oven
If you're short on time and can't wait days for ripe bananas, then you'll definitely appreciate this hack.
Preheat the oven to 300 degrees F and place the unpeeled bananas on a baking sheet lined with parchment paper. Be sure to line the baking sheet because the bananas may leak.
Bake the bananas for 30 minutes, but check their color every 10 minutes. The peels will turn primarily black, and the bananas should be soft inside.
Let them cool before you begin preparing the banana cream cake.
Spices Are Key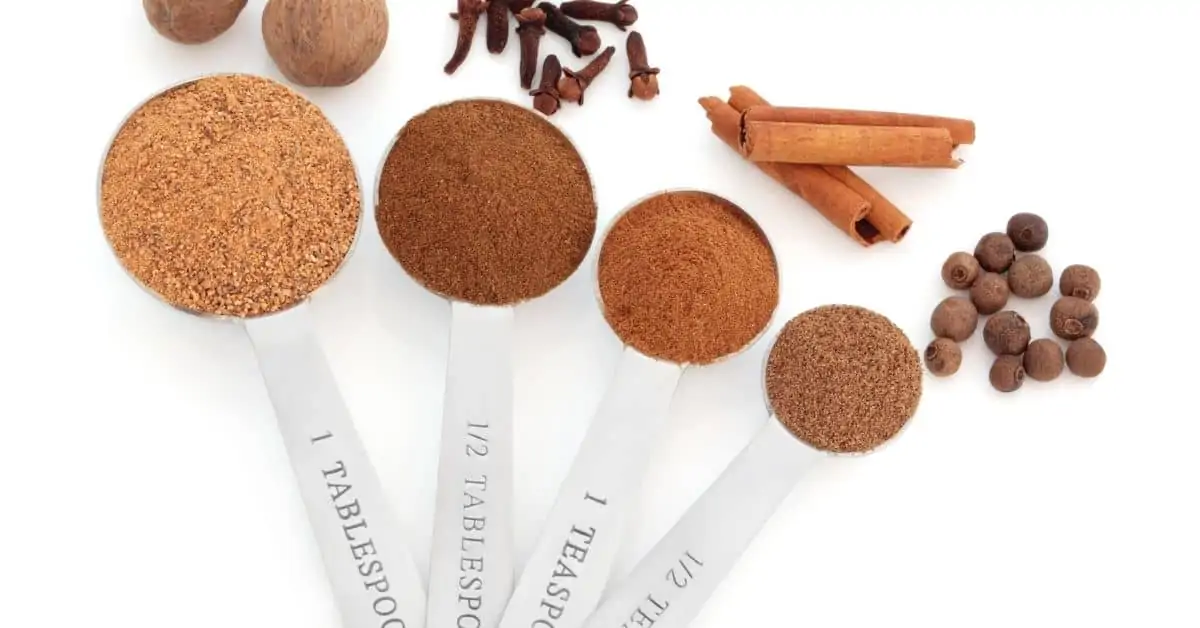 You don't often see a banana cream cake recipe that calls for spices, which is one reason why this banana cream cake recipe stands out from any other!
Spices like cinnamon, cloves, and nutmeg complement and upgrade the bananas' flavor, making each bite of banana cake taste rich, warm, decadent, and purely OUT OF THIS WORLD.
Perfect Cream Cheese Frosting
Cream cheese frosting MUST BE used when making the BEST banana cream cake, and here's why.
Cream cheese frosting pairs wonderfully with spiced and fruit-flavored cakes because of the cream cheese's slight tang, which balances out the cake's sugars and sweetness from the bananas.
Since this banana cream cake recipe calls for spices and includes banana (the fruit), cream cheese frosting is HANDS DOWN the best frosting to complement the spice flavors and ripe bananas.
Cream cheese frosting is also a form of buttercream frosting, but it calls for cream cheese and butter. It's thicker and tastes more decadent than buttercream frosting.
You may have tried other banana cake recipes that used buttercream frosting, which tastes wonderful, but if you want to upgrade your banana cake game, this is a GUARANTEED way to do so!
Important Note: What Is The DIFFERENCE Between Banana Bread And Banana Cake?
Many people ask, and some get confused about the differences between banana bread and banana cake. While they both taste delicious, there is a HUGE difference between the two.
Banana bread is much denser, firmer, and less sweet than banana cream cake. Banana bread calls for heavy flour, like all-purpose flour, while the banana cake is made with cake flour. Banana bread also does not traditionally have frosting on top.
In case you were wondering, banana cream cake tastes like butter cake but with spices, mashed bananas, and of course, cream cheese frosting. It melts in your mouth, and some might even say it is the moistest cake they've ever tasted.
Why This Banana Cream Cake Is So Moist
Cake flour
Make sure to use cake flour (not all-purpose flour) when making the best banana cream cake. Cake flour is more refined than all-purpose flour and has a lower protein content, meaning less gluten develops, resulting in a softer and lighter texture.
Buttermilk
Using buttermilk adds a pleasant tang to any baked good. Because it's acidic, it helps to tenderize gluten (yes, gluten is still present in cake flour), resulting in a soft and moist cake.
DO NOT over-mix the batter
Over-mixing the cake batter can produce too much air, which is not a good thing. The trapped air expands the batter and deflates when the cake bakes in the oven resulting in a tough and dense cake.
DO NOT over-bake the cake
This might be an obvious tip, but it needs to be said because you CANNOT over-bake the banana cream cake if you want a MOIST cake.
5-7 minutes before the timer goes off, turn on the oven light to check the cake's color. Is it golden or getting too dark? Hopefully golden.
If you gently press down on the middle of the cake with your finger, it should spring back completely. If your finger left a dent, then it's not finished baking.
Lastly, the toothpick test. If you insert a toothpick into the middle of the cake, it should come out clean or with a couple of light crumbs when you withdraw it.
How To Assemble A Homemade Banana Cream Layer Cake
Coat three 8-inch round cake pans with no-stick cooking spray (don't overspray) and lightly dust each cake pan with flour. You will need approximately one tablespoon of flour per pan for dusting. See step-by-step instructions here.
Divide the cake batter evenly among the three pans. The cakes will cook for approximately 20 to 25 minutes at 375 degrees F.
When they are finished baking, let them cool for 5 minutes. Then remove each cake from the pan and let them cool completely on wire racks.
How To Frost A Homemade Banana Cream Layer Cake
Place the first cake layer (rounded side down) onto a serving plate. Spread 2/3 cup of frosting evenly onto the first layer with an icing spatula.
Next, place the second cake layer on top (rounded side down). Again, spread 2/3 cup of frosting evenly over the cake.
Finally, place the third cake layer on top (rounded side up). Now frost the sides and top of the cake with the remaining frosting.
Sprinkle the edges of the cake lightly with cinnamon.
*Recipe Facts*
Do You Need To Refrigerate Banana Cream Cake?
YES! The cake needs to be stored in the refrigerator because of the dairy products used in the cream cheese frosting.
Since it's not recommended to serve a cold cake, take it out of the refrigerator one to two hours before serving, so the frosting and cake will be at room temperature.
Can This Cake Be Stored In The Freezer?
Since this cake should not be stored in the refrigerator for more than five days, it's perfectly fine to store cake leftovers in the freezer for up to three months to preserve freshness.
First, place the cake in the freezer for at least an hour to harden the frosting.
Cut up the leftover cake into individual pieces, wrap them twice with plastic wrap, and then with foil. If you prefer to keep the cake whole, cover the entire cake with plastic wrap and then with foil.
Make sure to label the cake with a date and title.
How Do You Make The Best Banana Cream Cake?
Now that you have all of the SECRET TIPS and FACTS behind making the most delicious cake ever, it's time to reveal the recipe!
BANANA CREAM CAKE
This Banana Cream Cake recipe is OBSESSIVELY delicious! The buttery spiced banana cake topped with the creamiest cream cheese frosting will MELT in your mouth and leave everyone wanting more and more!
Ingredients
3 cups cake flour (sifted)
1 tbsp baking powder
1 1/2 tsp baking soda
3/4 tsp salt
1 tsp cinnamon
1/2 tsp cloves
1/4 tsp nutmeg
3/4 cup unsalted butter (room temperature)
2 1/4 cup granulated sugar
1 1/2 tsp vanilla extract
3 eggs (beaten)
1 1/8 cup buttermilk
1 1/2 cups ripe bananas (well-mashed)
CREAM CHEESE FROSTING
1/2 cup unsalted butter (room temperature)
8 oz cream cheese (room temperature)
1 pound powdered sugar
1 tbsp vanilla extract
1 tbsp milk
Instructions
Preheat the oven to 375 degrees F

Sift and mix dry ingredients together in a mixing bowl.

Add room temperature butter, eggs, buttermilk, and 1/2 cup of mashed bananas to the mixing bowl with dry ingredients. Beat at a low speed for 2 minutes.

Now add the remaining 1 cup of mashed bananas and vanilla extract to the mixing bowl. Beat 1 minute.

Grease and flour three 8-inch round cake pans.

Divide the cake batter evenly among the three cake pans.

Bake 20 to 25 minutes.

Let the cakes cool in the round pans for 5 minutes. Next, remove the cakes from the pans and let them cool completely on wire racks.

Beat the ingredients for the cream cheese frosting together in a mixer until smooth.

Assemble the cake (refer to assembling layer cake step in the article). Make sure frosting is at room temperature before assembling the cake.
Nutrition
Serving: 1gCalories: 450kcalCarbohydrates: 30gProtein: 5gFat: 25gSugar: 30g
Final Thoughts On How To Make The Best Banana Cream Cake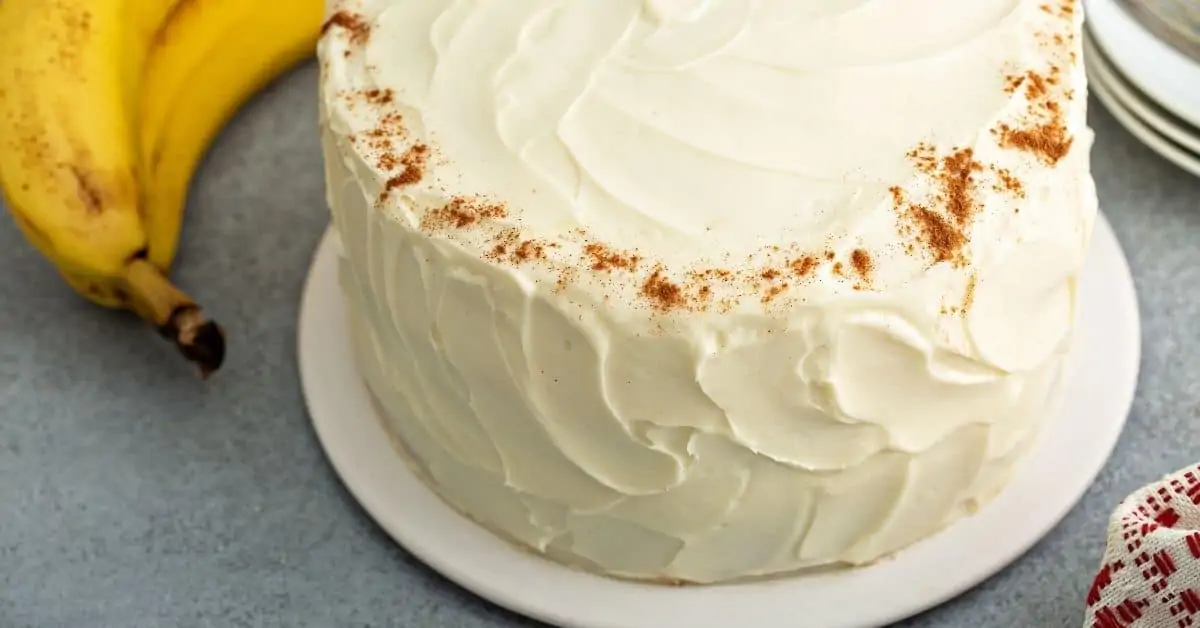 I hope you enjoyed reading the secret tips and facts on how to make the BEST banana cake you will ever taste!
Confident, much? Yup, because it's that GOOD.
Please let me know your (honest) thoughts below on how the recipe turned out. Don't hesitate to drop a line if you have any other secret tips to improve this already PERFECT recipe.
Enjoy!
Other Recipes You Might Enjoy:
BOMB-ASS Margaritas, AKA the BEST Margaritas
"Let's Guac About It" Guacamole Recipe
The ULTIMATE Jalapeno Cheese Ball
13 BEST Cocktail Recipes you must try!