Want to learn how to copy the best leopard Christmas tree? Check out these tips for classy leopard decor.
This post will teach you 7 tips for decorating the best leopard Christmas tree without going overboard.
So, what actually makes the best leopard Christmas tree? Drumroll, please…
NOT overusing the leopard print and finding the right ornaments and ribbon to compliment your animal print theme so you can make a classy and bold statement in your home this Christmas!
Interior designers suggest using leopard print sparingly because it can go from looking classy to tacky real quick if overused. This is the same reason (outside of the Christmas season) you may see just one leopard piece in a home, such as a single chair or a stair runner carpet.
Placing an unexpected touch of animal print (even just one pillow, maybe two) to any room in the home can also add a unique and artistic flair. And, of course, the same logic would apply when decorating the best leopard Christmas tree. So, let's dive in!
But first, I must address the word SPARINGLY here one more time. Leopard loses its touch if there's too much of it. FYI, less is more with ANY animal print. And the same rule applies when decorating your Christmas tree with leopard, and for this reason, it is why you'll see this tree has a mix of non-leopard ribbon and ornaments.
To have the best leopard Christmas tree doesn't mean the tree is flooded with this theme.
Because I've always been a huge fan of leopard, I wanted to create something fun, fresh, and chic with this print for the Christmas season. And interestingly, while leopard has never gone out of style, it recently has had a popular resurgence in 2020, which is all the more reason to include it in your Christmas tree decorations this year.
Since summertime, I've been on the hunt for the best and classiest leopard Christmas tree decorations. I wanted one statement tree in my home to represent wild sophistication. Wild, to represent the craziness of 2020 and sophisticated because leopard is the ultimate touch of sophistication when decorated correctly.
It's important to find high-quality leopard print ornaments and ribbon for your Christmas tree. The right shade and print will give a rich and classy vibe to your home because, yes, to say it bluntly, certain leopard prints look cheap. But not to worry because I will be sharing all of the best stuff so that you can copy this tree down to a tee!
Check out the 7 best tips and a few bonuses for how to copy the best leopard Christmas tree!
1. THE BEST LEOPARD CHRISTMAS TREE RIBBON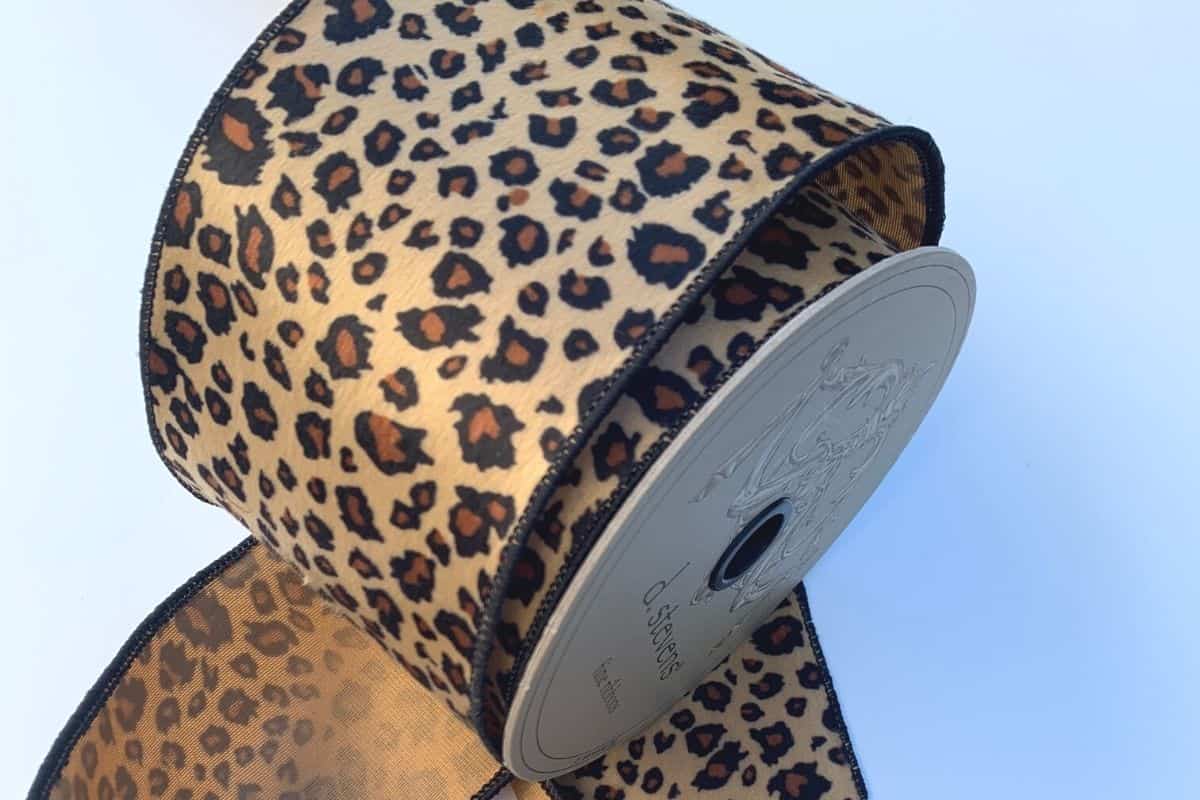 This was the most challenging and expensive part of decorating the whole tree! I had the hardest time finding leopard ribbons that looked fancy with rich shades of black and tan until I came across Show Stopper Designs on Etsy.
I used exactly 10 yards on my 7.5-foot tree, and the cost came to $52. I know that sounds like a lot, but remember, leopard doesn't go out of style, so you can safely pack it away and use it on your Christmas tree for years to come. This ribbon is also wired, which makes it so much easier to make a beautiful tree-topper bow.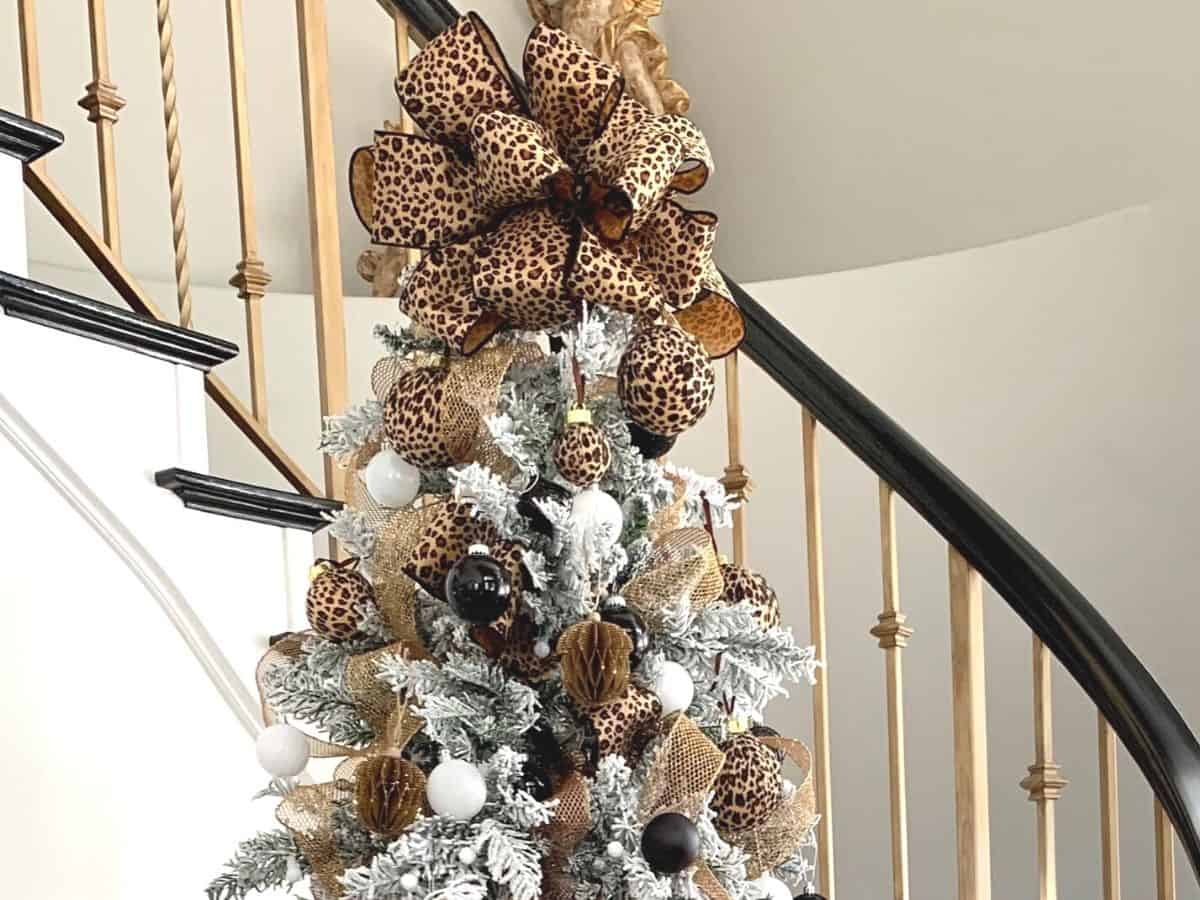 I used approximately 5 yards for the bow, and the rest of the 5 yards was used to fill in the tree by cutting three 4-foot pieces and one 3-foot piece. I then placed the ribbon pieces down the tree vertically, tucking the ribbon into its branches.
Because I didn't want to spend more money on leopard ribbon, this technique gives the effect that there is more ribbon on the tree than is actually present.
P.S. here's an easy DIY 7-minute bow tutorial for the top of the tree.
Next, this gold mesh ribbon (one roll) was incorporated to break up the leopard and add a golden sparkle touch. And a bonus, Michaels is selling it right now (on sale) for around $5.
Again, I followed the technique I mentioned above, cutting the ribbon into strips, placing it into the tree vertically, and stuffing the ribbon into its branches.
If you want a solid gold glitter ribbon that's not mesh, check out this beautiful alternative.
And, if you are on the hunt for premium Christmas ribbon (not leopard-related) to decorate wreaths, garland, or other trees in your home, check out Krafty Karen Designs. Her ribbon is premium quality and absolutely gorgeous!
2. THE CHRISTMAS TREE
Now, of course, you don't have to buy a new tree to have the best leopard Christmas tree, but hear me out for just a sec.
The reason I chose this flocked Christmas tree for my leopard decor had to do with CONTRAST.
I'm telling you, you can't beat the dreamy look of its white, snowy branches, which allows the leopard and gold ornaments and ribbons to stand out perfectly.
I found this 7.5-foot tree on Amazon and fell in love with it immediately when it came! The trees' lights are also so beautiful, and because of the larger bulbs, the tree looks classic and timeless.
Here's a close-up shot of the lights and branches!
I'm also going to include the link to King of Christmas artificial trees. These trees came on my radar after social media influencer Amber Lancaster posted about them via Instagram.
They are a bit more expensive than the tree I bought above (and while I don't think their 7.5 slim, flocked Christmas tree is necessarily better), the outstanding reviews on every tree they sell and the fact that they are completely sold out makes me want one for a future Christmas!
FAKE TREE 101:
TAKE THE TIME TO FLUFF THE TREE PROPERLY BEFORE ADDING THE RIBBONS AND ORNAMENTS OR IT WILL LOOK LIFELESS.
I can't tell you how many times I've read reviews on Amazon where customers complained that the artificial tree wasn't full enough. Proper flocking of a fake tree could take anywhere from 45 minutes to 2 hours, depending on its size.
Here's a 3-minute tutorial from the Rachel Ray show, which gives tips on how to fluff an artificial tree like a pro.
3. THE BEST TREE SKIRT FOR A LEOPARD CHRISTMAS TREE
Who doesn't LOVE some fancy sparkle?!
This champagne (sparkly) tree skirt was an exciting piece to wrap around the tree. The golden tones match perfectly with the leopard tan, and the sparkles on the material highlight the tree's lights.
In the beginning, I had my heart set on finding the best leopard tree skirt to make the ornaments and ribbons pop, but I was having a hard time finding a print that didn't look cheap.
The leopard skirts I came across in my search never looked right in the photos, and the reviews were never spectacular. After my tree was finished, I came across a leopard skirt from Target. It looks like a premium quality print in the photos, but there are no online reviews yet.
If I had to do it over, I wouldn't change one thing about the tree skirt I bought because it's stunning! Here's a pic I took of it while I was in the middle of decorating. My little Yorkie, Bob, loves it too.
4. THE BEST LEOPARD ORNAMENTS
These leopard ornaments are AH-MAZING!
They're made with a velvet leopard print fabric and were definitely the most high-quality leopard ornaments I came across. I actually bought mine from Hobby Lobby, but since they're completely sold out there, here's the Amazon link that sells the same ones, but at a higher price, unfortunately.
But keep your eyes wide open in the Fall for deals! Back in October, Hobby Lobby started their Christmas sale at 50% off, so I only paid about $30 total for all of mine.
To decorate my 7.5- foot tree, I used one dozen large-sized leopard balls, one dozen medium-sized, and one dozen small-sized ornaments. But, you certainly do not need to purchase this many ornaments to achieve the best leopard Christmas tree.
Design tip: Larger ornament balls are best for filling in holes and gaps, so use the best-suited size for your Christmas tree.
And, you can always use more ribbon to make up for fewer ornaments. Remember, decorating a tree is a form of art, and there is no right or wrong way!
If you're feeling crafty or are trying to stick with a budget, check out this Leopard Christmas DIY Crafts tutorial. The leopard ornament designs start around minute 4 in the video.
5. NON-LEOPARD CHRISTMAS ORNAMENTS
Earlier I explained that the key to having the best leopard Christmas tree is using the leopard print ornaments and ribbons SPARINGLY.
Here are the contrasting ornaments I used to achieve the best leopard Christmas tree: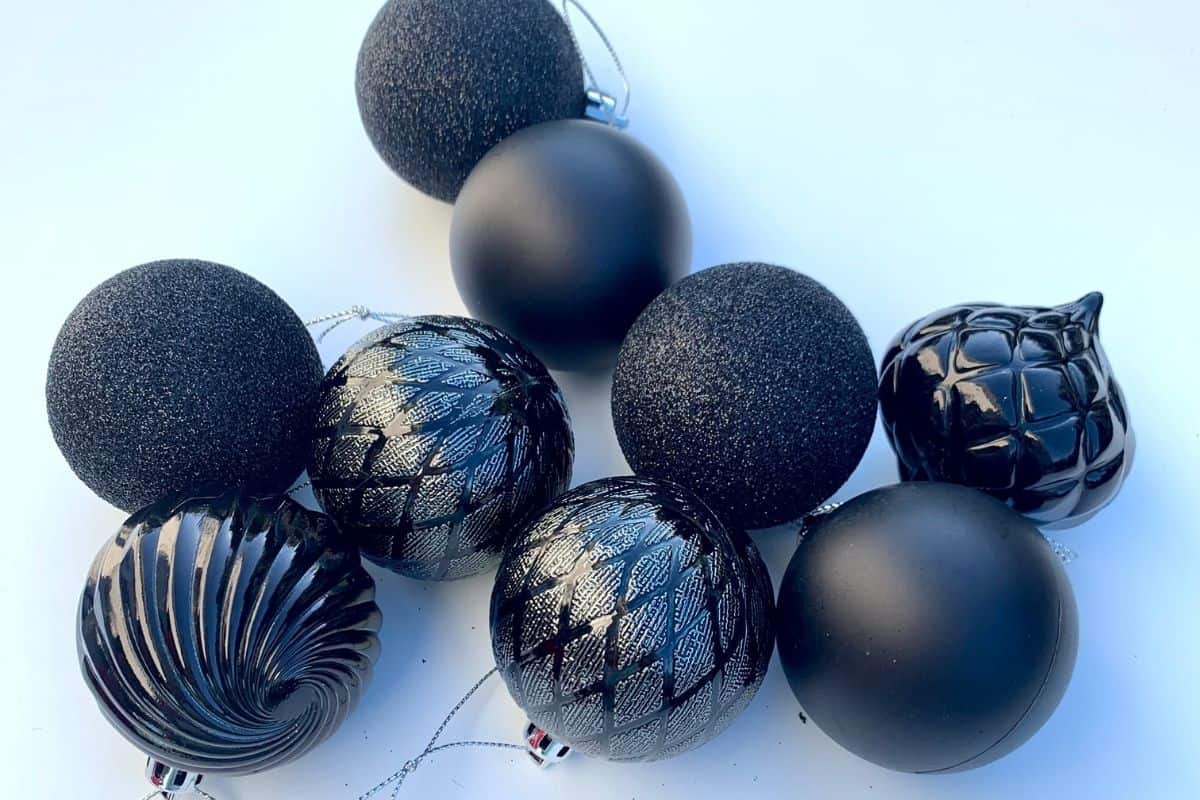 Unfortunately, these Hobby Lobby sparkly gold ornaments are completely sold out. But don't worry, I'm linking some beautiful gold alternatives below that are just as stunning. While some are larger in size than the ornaments I used above, I'm thinking about getting bigger ones next year. P.S. an ornament can never be too big!
Gold glitter 8-inch ball ornaments
6. LEOPARD BONUS ORNAMENTS FOR THE BEST CHRISTMAS TREE
If you're looking for some FUN leopard ornaments to put on the tree, check out these:
These cute wooden ornaments are pictured above.
I love these fun, copycat chucks in leopard!
While these are technically labeled Halloween ornaments, there is nothing Halloween about them. In fact, they are totally Christmas-worthy, and I plan on buying them for my tree.
7. BONUS LEOPARD CHRISTMAS DECOR
The room to the right of my leopard tree has a touch of leopard and traditional Christmas red. And, the leopard personalized stockings are a gorgeous touch to any room regardless of your tree theme.
The pre-lit garland across the fireplace is decorated with leopard Christmas ball ornaments, and to tie in the red from the stockings, I made a bow for the garland that extended slightly into its branches.
Leopard stockings from Ballard Designs.
Pre-lit garland from Ballard Designs.
Chevron red and white ribbon from Amazon.
Final thoughts on the best leopard Christmas tree
So those are the 7 best tips for having the best leopard Christmas tree, along with a few bonus ideas! I hope you enjoyed reading this article and received some value and ideas from it. Feel free to comment below if you have any tips or leopard Christmas decor ideas. I love hearing feedback!
And remember, the key to having the best leopard Christmas tree is not to overdo the leopard print. Happy Holidays and cheers to the happiest of New Years!