Do you have an outdated piece of canvas art hanging on your living room wall like the one below? Learn how to transform old canvases and copy expensive ones selling at Williams Sonoma with these DIY tricks!
This post is all about How To DIY (And Copy) Expensive Canvas Wall Art.
Have you been eyeing wall art from stores like Williams Sonoma, West Elm, and Crate & Barrel? If yes, then you'll appreciate how EASY it is to transform old canvas art you already own with a bit of DIY magic and some inexpensive tools.
Instead of spending thousands of dollars updating your home with the latest decor wall trends, these DIY canvas art ideas will show you how possible it is to dupe these expensive canvas paintings. How creative you want to get with your canvas design is entirely up to you!
There are several ideas you can use to update old canvas art. While they are all easy to accomplish, some ideas require a few more steps, time, and tools than others. I recently updated three sizeable abstract canvas paintings, and I'll show you step-by-step how easy it was to accomplish each one.
Suppose you don't have old canvas art in your home to DIY, then head to Target or HomeGoods. Focus on the size you want, and don't worry about the design or colors of the canvas because you can easily change those things. Let's dive into the post so you can get started on your own DIY canvas art creation!
How To DIY (And Copy) Expensive Canvas Wall Art
What Art Can You Do On Canvases?
The outdated "Before" canvas above was the perfect size for the wall it was hanging on, but it needed a refresh. I had been shopping for canvas pictures from Williams Sonoma. After some research, I realized I could transform this old canvas art painting to resemble one of their monochrome abstracts.
Surprisingly, white acrylic paint can take the transformation process far if the canvas has existing textures. For this particular canvas, I had to add texture by using gesso and spackling. Lastly, I added a white floating frame around the canvas to elevate its look further.
3 Simple DIY Canvas Wall Art Ideas
#1. Paint the canvas with acrylic paint. This looks best if the canvas has existing textures. If you're looking to add a specific textured design, use a glue gun. Yes, when you see uniformed surfaces (like flowers) on canvases, it's usually been designed with a glue gun. Be sure to let it dry and then paint over the glue gun design.
#2. Add a floating frame to an existing canvas painting. For example, let's say you love the colors and look of the canvas already hanging on your bedroom wall. By adding a frame, you can make the canvas look more expensive, up to date, and one hundred times more appealing. If you need to change the color of the frame at any point, use rub 'n buff.
#3. If you want to dupe a costly canvas painting like those selling all over Pinterest and at high-end stores, add gesso or spackling. Or both, like I did for the "after" canvas shown in the first picture.
What's the difference between the two? Gesso is often added to a blank canvas because it acts as a textured primer and prepares it to receive acrylic paint. Spackling is a thicker compound used to patch small holes and cracks in drywall. It adds more dimension and texture than gesso.
Both are easy to work with, and it just depends on the art idea you want to create. Check out these classy textured canvases selling at CB2. They used spackle to create the design and then painted over it with black acrylic paint.
The DIY Canvas Painting Kit
Whether you're applying spackle or gesso, using a putty knife (or palette knife) like the one pictured above will help you apply both with ease, and the blade will help you create beautiful textures.
FYI, you can shop your kitchen to see what different shaped knives you already own. I recently used a cheese knife to create dimension and texture with spackle.
It's essential to gather the right tools and make a DIY canvas painting kit that will carry you through almost any canvas art idea you want to pursue. Keep in mind, now that you're learning how easy it is to change canvases; you can even transform a few for the holidays. Click here for some cute ideas.
Tools You'll Need:
The above tools will vary for each canvas art project. For example, if you want a lot of dimension and texture, you will probably add spackle instead of gesso to your canvas.
If you have an existing canvas painting and you like the background colors but want to add white pops of gesso for slight dimension and color change, you won't need a paint pail, brush, spackle, or acrylic paint. Decide what you want to do before purchasing materials.
How To DIY Large Canvas Abstract Art, Step-By-Step
Canvas #1: Plaster Art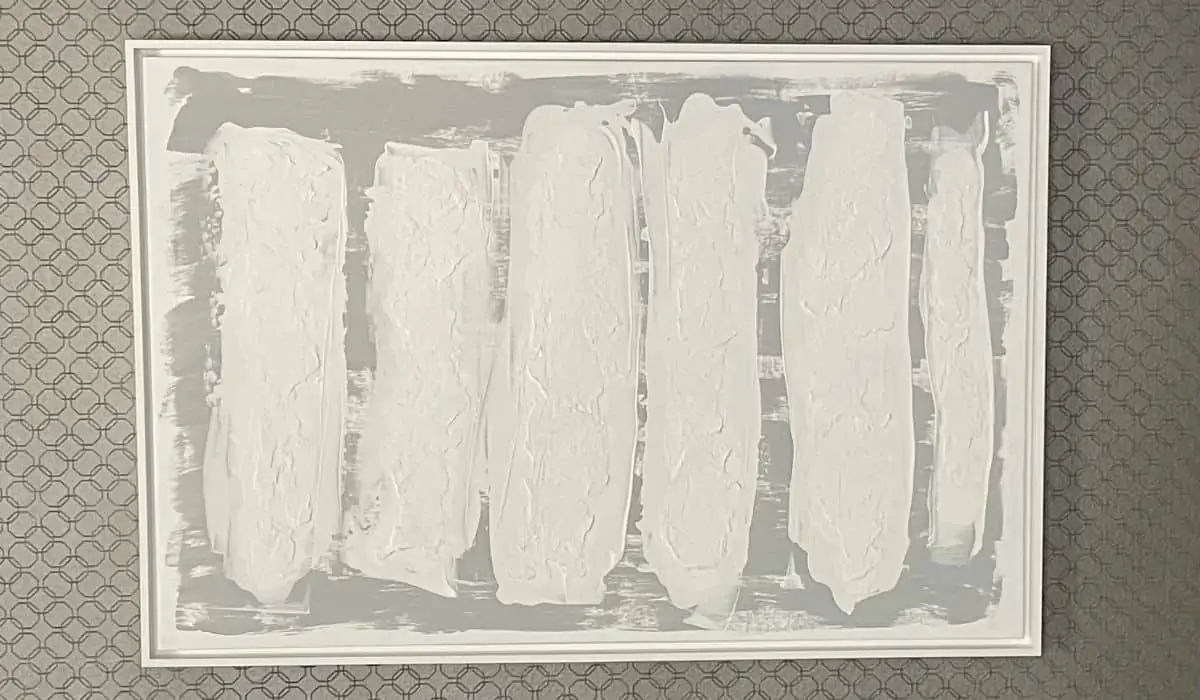 Step 1: First, I painted the original canvas with white acrylic paint. You can view the "before" picture at the beginning of the article.
Step 2: After letting the white acrylic paint dry, I added some dark grey acrylic paint and mixed it with the white to get a lighter grey color. I then used a paintbrush to lightly paint the insides of the picture, leaving white in between the paint strokes.
Step 3: After the grey paint dried, I began adding a gesso design. Since this was my first time using gesso, I experimented with textures and learned the differences between gesso and spackle along the way.
As you can see in the picture below, the gesso adds a slight texture. While it looked beautiful, I wanted a dramatic dimensional effect that could be seen clearly across the room. Because the canvas hangs on a large bedroom wall, the canvas needed to make a huge statement.
Step 4: I waited 24 hours for the gesso to dry before adding the spackling compound. If I had to do this project over, I probably would have skipped the gesso step.
When I first applied the spackle, it was a bright purple color, but after 24 hours, it dried and looked like an off-white color. I was surprised to learn how easy (and fun) it was to work with spackle. You basically cannot make a design mistake.
The spackle was added on top of the gesso using a putty knife. As you can see, the spackle adds a rich 3D look much different than the gesso.
Step 5: I waited 48 hours for the spackle to dry because it was applied thick, and I wanted to be sure that the textured peaks I designed wouldn't break off. Because the spackle looked off-white when it dried, I added a coat of white acrylic paint on top of the spackle.
Step 6: To be safe, I waited another 24 hours for the acrylic paint to dry before adding the floating frame around the canvas. The floating frame comes assembled with instructions, and it was easy to hang.
Canvas #2: Textured Art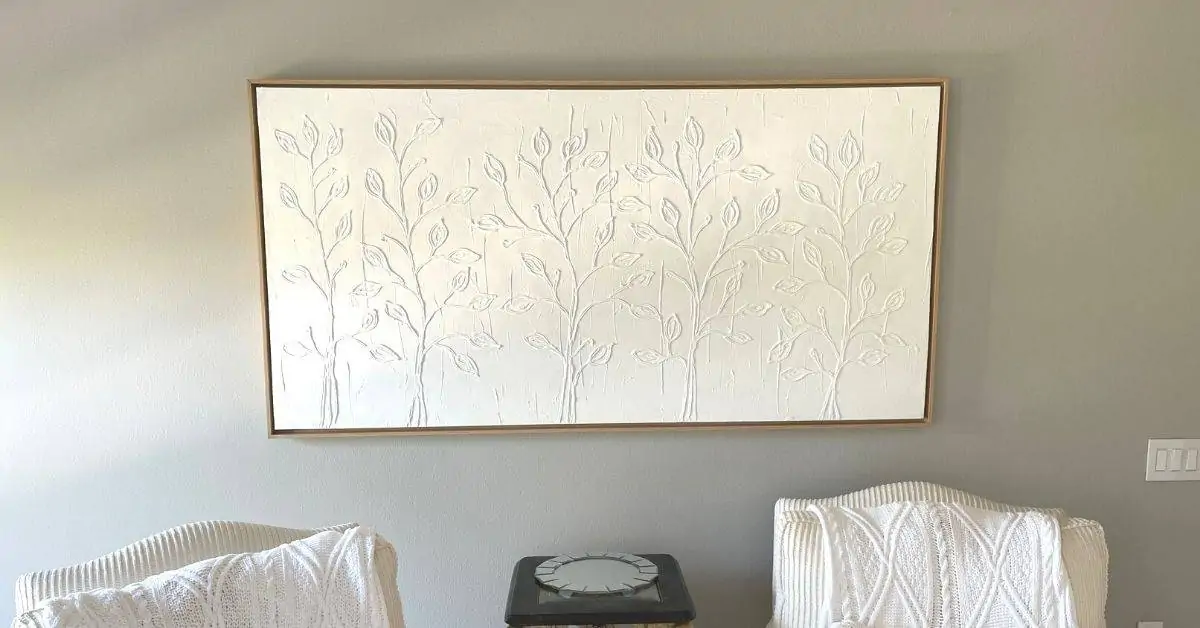 Step 1: The existing canvas already had excellent glue gun texture, so a fresh coat of paint was all it needed. I used white acrylic paint.
Step 2: After waiting 24 hours for the paint to dry, I added a floating frame that was a natural wood color. It turned out beautiful!
Canvas #3: A Floating Frame
The design of this existing canvas painting was already perfect, but it did not have a floating frame around it which cheapened its look. Once I added the natural wood frame, it looked more expensive like the ones selling for $1,000.
Step 1: Add a floating frame around the canvas. It's an easy addition that adds a ton of character and appeal.
You can shop for a canvas at Target or HomeGoods that already has a floater frame around it. If you're not happy with the color of the frame, you can easily change that by using rub 'n buff.
Additional Homemade Canvas Wall Art Ideas
Whether you plan to hang your DIY canvas art in your living room, bedroom, or bathroom, you can never have too many design ideas. If you've scoured Pinterest, then you've probably seen that spackle, gesso, and acrylic paint are not your only options.
Wallpaper Canvas Art
You can use peel-and-stick wallpaper to create a new canvas design. Shop Amazon for the pattern that will bring new life to your walls.
Geometric DIY Canvas Art
If you like geometric abstract art, design triangles or blocks on your canvas with tape. Next, fill in the triangles with an acrylic paint color or colors of your choice. Remove the tape after painting.
Fabric Art Wall
Choose a fabric that matches your home's design and glue it to a canvas. Surprisingly, a fabric canvas can add style and character as it hangs on any wall in your home.
Final Thoughts On How To DIY (And Copy) Expensive Canvas Wall Art
I sincerely hope this article inspired you to DIY the heck out of the ancient canvas paintings that may be hanging inside your home. And if you don't have any existing canvases that need updating, head to those discount stores and pick out a size that will work for your living room, bedroom, or bathroom wall.
Once you see how easy it is to DIY canvas art, you'll feel inspired to do it again and again! Not only is it nice to know you're capable of being so artistic, but when guests come over, they'll think you dropped big bucks at one of those high-end stores.
Check Pinterest, Williams Sonoma, Crate & Barrel, Anthropologie, and more for a design you want to replicate, and just do it. And please let me know in the comments how it turned out! Follow career girl meets… on Pinterest, Instagram, Twitter, and Facebook for more home decor ideas.
Related Articles:
15 Stunning Black And White Home Decor Ideas
DIY Paint Upholstery: Old Fabric Bed Gets A Makeover