Are you full of catchy doormat phrases that aren't selling in the stores? Check out how easy it is to DIY your own front doormat for any season.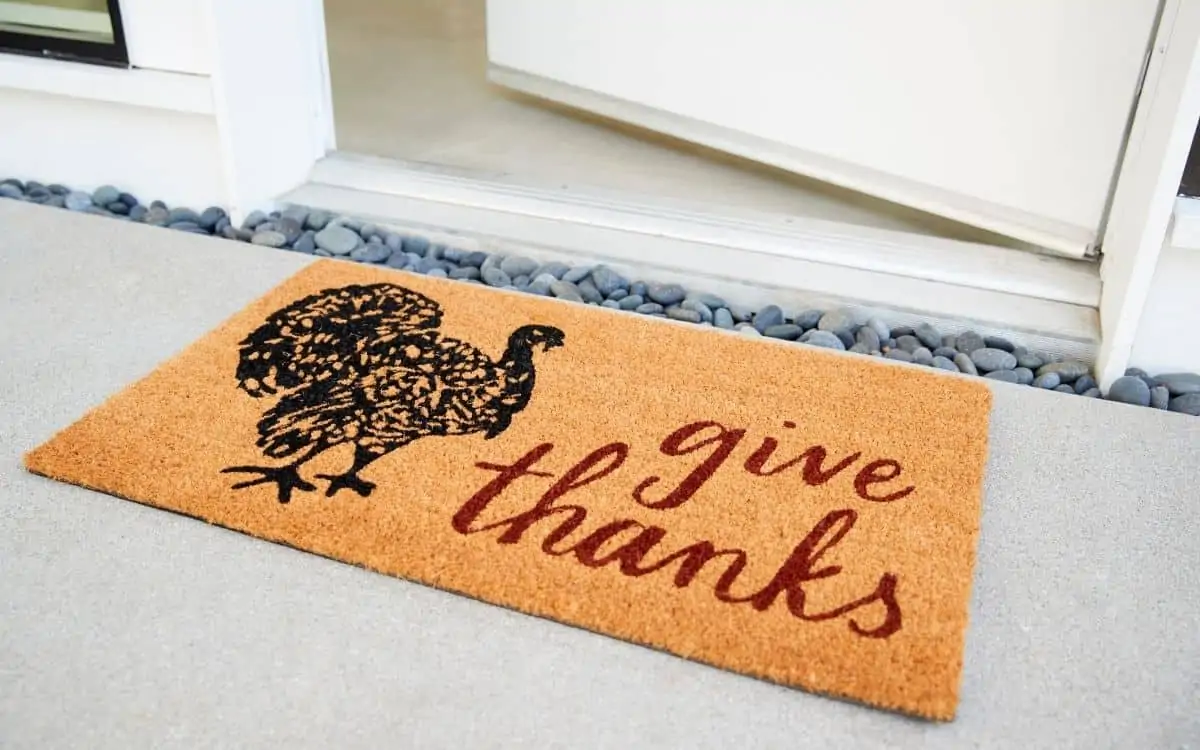 This post is all about How To DIY A Doormat For Any Season.
What's better than having a brand new, clean doormat? Creating your own and knowing the idea was all yours! If you're super clever and enjoy being a bit crafty, this is a fun and easy project you can create for any season or holiday.
And don't worry if you don't own a Cricut or Cameo machine because this DIY doormat tutorial will show you how to make one without those fancy devices. Now, there are some inexpensive materials you will need to buy, but you can use most of those supplies again for future DIY projects.
I recently made a doormat for Christmas and only spent $10! I already owned the paints, brushes, and stencils, so buying the coir mat was all I needed.
Let's get into the step-by-step details of how you too can make your own doormat that impresses guests every time they land on your front steps. Also, the best materials will be linked below so you can start this project ASAP.
How To DIY A Doormat For Any Season
What Can I Use To Make A Doormat?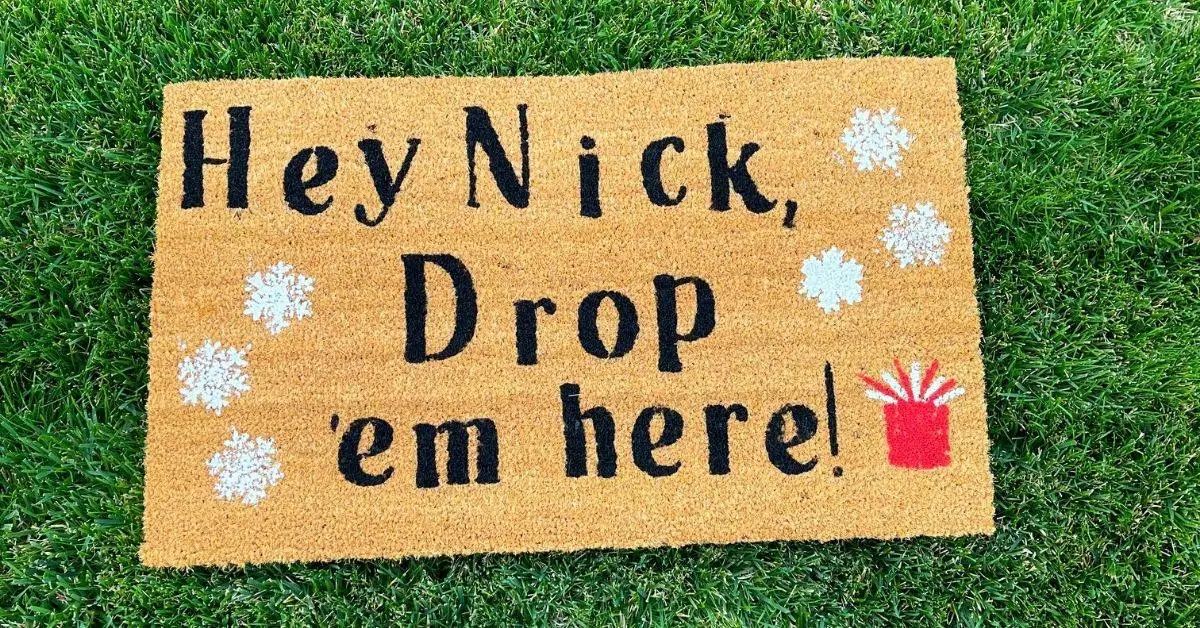 They say first impressions are everything. And if that's true, you must have the CORRECT tools for making the best custom doormat of your dreams.
If you already have a catchy doormat phrase and maybe a design or two in mind, then refer to the checklist below for the exact supplies, you'll need to proceed with this super EASY project. But first, why does the material matter when purchasing a doormat?
Why Is Coir The Best Material To Use?
Purchasing a plain coir doormat always works best for this DIY project. But as a side note, in general, even if you aren't performing a doormat DIY, coir mats are best because they're durable and hold up their appearances well when dirty shoes and weather changes give them a beating.
What Are The Exact Supplies For Making A DIY Doormat?
Some supplies you may already own, but if not, they can all be reused again (except for the mat) for future projects. Earlier I mentioned, I only spent $10. Because I already owned these supplies, I just needed to purchase the plain coir mat.
Supplies:
Painter's Tape – You will need this tape to position the stencils in place.
Pins – These are optional, but will come in handy if you're having a hard time keeping the stencils in place while you're painting. While the tape keeps the letters positioned, I had to use my hands to hold down parts of the letters so the paint did not bleed over. Once you have the letters taped down insert the pins into the stencils in as many places as you'd like.
Stencils – I purchased my letter stencils from Michaels and my Christmas-themed stencils on Amazon. I wouldn't recommend the letter stencils I purchased because they were made out of paper and after painting I wasn't able to reuse them. I'll link reusable letter stencils below from Amazon. TIP: When purchasing letter stencils check to make sure the letter is a good size for your project.
Acrylic Paint – Pick the acrylic paint colors that are best for your project.
Sponge Brushes – These types of brushes work best.
Gloves – While acrylic paint washes off easily from the nails and hands gloves still come in handy for this DIY.
Flex Seal Spray – This spray will help to seal and protect your mat after you've finished painting.
Product Links For This DIY Doormat:
Purchase a Coir Mat at TARGET or AMAZON.
Purchase Painter's Tape on AMAZON.
Purchase Pins on AMAZON.
Purchase 2.5-inch Letter Stencils on AMAZON.
Purchase Acrylic Paint on AMAZON.
Purchase Sponge Brushes on AMAZON.
Purchase Gloves on AMAZON.
Purchase Flex Seal Spray on AMAZON.
How To DIY A Doormat, Step-By-Step Directions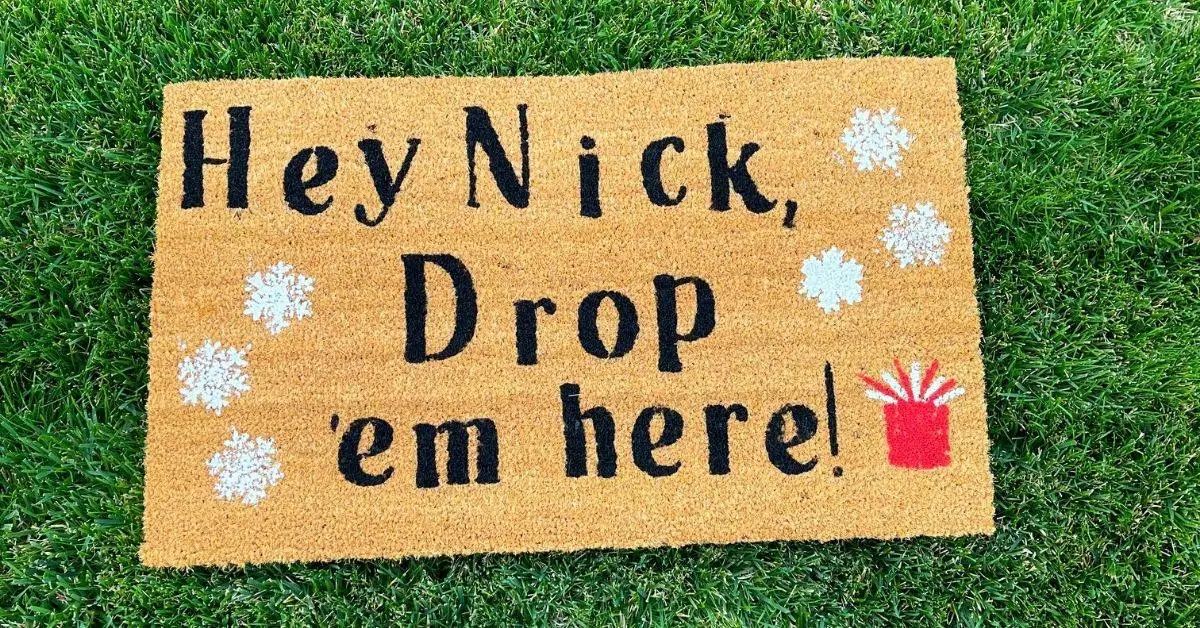 Again, this inexpensive DIY tutorial is for those who do not own a Cricut or Cameo machine. If you want to learn more about those tools, click here, but I found this way simple, straightforward, and cost-effective.
Step 1: Pick A DIY Doormat Idea
Before purchasing supplies, decide what you want your mat to say. Are you sticking with something original or developing a witty welcome message? Here are some unique ideas in case you need some creative inspiration.
Step 2: DIY Doormat Kit: Gather Supplies/Materials
Now that you have a funny saying or perhaps a holiday-themed idea picked out for your mat, it's time to gather supplies. Remember, letter stencil size matters. Most of them range in height by 2.5 inches up to approximately 4 inches. Pick out the appropriate size for your doormat saying.
Step 3: Position And Tape The Stencils To The Doormat
First, layout and position your letters, then tape them so they don't move when you paint. If you're using pins (which I highly recommend), place those down into the letters after the tape.
Step 4: Put some gloves on and let the DIY doormat painting begin!
Sponge the acrylic paint color of your choice onto the letter stencil. Because the coir mat is thick, you'll need to sponge a lot on it for it to seep through and cover the coir. I kept dabbing paint on each letter till the coir color was no longer visible.
Step 5: Remove The Stencils Immediately
After applying the paint for each word, I removed the letter stencils immediately. I wanted to be sure excess paint did not bleed onto other parts of the mat.
Step 6: Let the mat dry overnight.
While acrylic paint drys fast, I allowed my mat to dry 24 hours before applying the Flex Seal spray. You can never be too sure!
Step 7: Flex Seal Spray
For added protection against dirt, weather, and shoe wiping, spray a coat of Flex Seal onto the mat. Shake the can well and spray in a sweeping motion onto the mat from a distance of 8 to 12 inches.
Use this spray in a well-ventilated area (outside!). Be sure to let it dry for 24 hours before placing the doormat down for use.
Frequently Asked Questions: DIY Doormat
How Long Will The Mat Last?
It will last the same as a store-bought doormat, and as you know, that all depends if it's a seasonal mat, the climate, and how much daily wear it gets. Sealing the mat with flex spray will give the carpet some extra protection from dirt and fading from the sun.
What Kind of Paint Do You Use On A Coir Doormat, Again?
You can use acrylic paint or latex paint. I used acrylic on my doormat because I had some leftovers from another DIY project. For added protection, you can purchase outdoor acrylic paint.
Can I Use Spray Paint Instead?
Yes, you can! But if you go this route, be sure to cover the parts of the doormat that you don't want spray painted.
Why Do The Materials Matter For A DIY Doormat?
With anything, you get what you pay for generally. In this case, a coir doormat will last longer compared to another material.
Do I Have To Spray With Flex Seal Or Can I Use Polyurethane As A Sealer?
Flex Seal is the most popular among crafters, but polyurethane spray can work as well. Because many sealers like polyurethane protect wood surfaces, pick one that works with crafts. Stick with Flex Seal spray if you're unsure.
How Long Does Flex Spray Last On A Doormat?
It can last for up to 12 months (possibly longer), and you can reapply. When reapplying flex spray, make sure the mat is dry and as clean as possible. Tip: After shaking the doormat out, use a lint roller to remove excess debris.
How Do You Make A Doormat Without A Cricut Or Cameo Machine?
This step-by-step tutorial is primarily for those who don't own these machines. Just buy the stencils and place them on with painter's tape to accomplish a DIY doormat without a Cricut or a Cameo machine.
Do I Need To Buy Freezer Paper Or Vinyl For This DIY Project?
No. Again, since we aren't using a Cricut or Cameo, freezer paper and vinyl are unnecessary materials for this project.
Holiday DIY Doormat Ideas
If you're looking for some holiday doormat DIY inspirations, check out Hobby Lobby and Michaels. Sometimes shopping other doormat looks can spark creative ideas. If you're not yet ready to start this DIY project but want a new, fun, and classy mat, you can shop them on Amazon.
Final Thoughts On How To DIY A Doormat For Any Season
I hope these step-by-step directions inspire you to create fun and classy doormats season after season! It truly is an easy project to complete, and if you don't think people will notice your witty doormat creation, you're WRONG. A doormat is the first thing guests see when they knock on your front door, so make it a knock they'll remember!
If you enjoyed reading this article on How To DIY A Doormat, please SHARE it with your friends and family. ❤️ You can follow career girl meets… on Pinterest, Instagram, Twitter, and Facebook for more home decor ideas, recipes, and gift guides.
Related Articles:
7 Christmas Trends To Follow This Year
How To Hang Curtains Like A Pro: The Do's And Don'ts
7 DIY Decor Ideas To Refresh Your Home