Looking to spruce up your home without breaking the bank? DIY glass vase painting is a great way to achieve that, and you can do it easily with three low-cost items.
This post is all about how to achieve designer trends in your home with DIY glass vase painting.
Glass vase painting is TRENDING, and these items sell on high-end designer websites like Serena & Lily and Pottery Barn, with prices ranging from $128 to $168. And guess what? You can achieve this same look in your home for under $10!
You may have also heard this type of paint trend referred to as color-block or dipped vases (AKA, half-dipped painted vases). These EASY paint techniques are all similar with slight variances.
To start this DIY project, you'll need a glass vase of your choice, paint, and frog tape. For seasoned DIYers, you may already have these tools, which is a win-win!
If you need to venture out for supplies, don't worry because there are some great deals out there to keep supply costs low.
Now that we've discussed a bit of background into the craze behind DIY glass vase painting, it's time to jump into the specific steps of how to paint a copycat designer piece.
DIY GLASS VASE PAINTING
1. HOW TO PICK OUT DESIGNER GLASS VASES
First, it's important to know that pulling off this copycat look without spending a ton of money requires you FIRST to take a look at the glass vases you already have in your home. It's annoyingly easy to accumulate these glass babies, and it's time to revive them before you even think about dropping them off at the Goodwill.
BTW, I've even heard of people using leftover pickle glass jars, so keep your creative hats on when you're rummaging through your home!
The point here is that it's quite possible you could be staring at your next coffee table focal point without even realizing it. "Designer glass vases" is just a fancy title because I've never seen a glass vase that didn't have the potential to become so much more.
If you don't have any glass vases in your home that are makeover-worthy, there are plenty of budget-friendly options. Garage sales, estate sales, and thrift stores are great places to look for inexpensive glass vases. If that's not really your thing, Target and Michaels have wonderful pieces but keep in mind you'll be spending a bit more money, but of course, still within reason.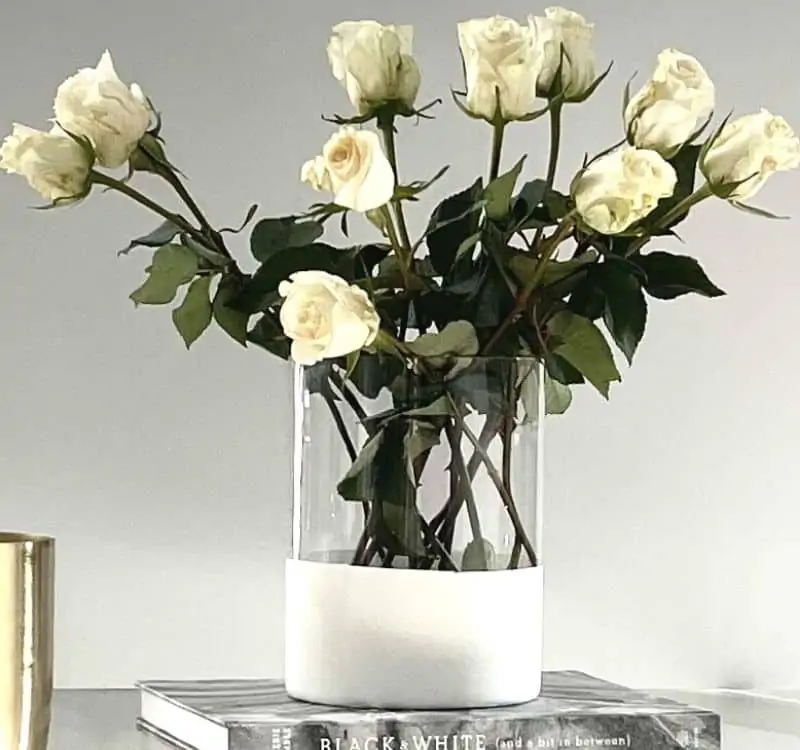 I found this large vase by the brand Threshold (pictured above, 8″ x 6″) at Target for $10. I love this vase because it closely resembles the style of the Serena & Lily vases, but at a price I'm comfortable with.
Purchase this Round Glass Vase at Target.
The other glass vases I picked were pieces I already owned. These vases have a unique and modern look, completely different from the round vase I bought. If you're interested in purchasing something similar, Amazon sells identical square vases.
Purchase Square Glass Vases on Amazon.
2. GLASS VASE PAINTING IDEAS
Now that you have the glass vases picked out, it's time to decide on paint colors and designs.
The most popular paint colors I've seen used are black, white, and gold. But with Spring and Summer right around the corner, choosing a bright color could be a cheerful addition to any room.
For the round vase, I chose to copy the design from Pottery Barn and Serena & Lily. I wanted to see how easy it really was to replicate a designer vase selling for almost $200.
Supplies used for the Round Painted Vase:
~Matte white spray paint, All-In-One paint primer by Krylon (Cost: under $5 from Lowes)
~Frog tape (Cost: under $6 from Amazon)
For the two square vases (pictured below), I wanted to try a slanted color-blocking paint design. Since these square vases were already artsy and fun, adding a modern twist felt appropriate.
Supplies used for the Square Painted Vases:
~Matte black spray paint, All-In-One paint primer by Krylon (Cost: under $5 from Lowes)
~Frog Tape (Cost: under $6 from Amazon)
It's important to remember that even though we are trying to copy the designers, this is still art, and there are no rules, so choose designs and paint colors YOU love!
Below are the names I mentioned earlier of other design methods used for glass vase painting.
DIPPED VASE PAINTING, AKA HALF-DIPPED
If you plan on using a leftover can of paint from other DIY projects, then this dipped vase style design will be a perfect option for you! Just grab your clean glass vase and dip the bottom of the vase into the paint.
If you want a clean edge design, apply frog tape or painter's tape to the vase before dipping it into the paint.
Set the wet vase on a cardboard piece to dry for at least 24 hours before removing the tape. Lastly, depending on the paint's instructions, you may have to follow the baking method as the final step. See the next section for how to bake painted glass.
COLOR-BLOCK VASE PAINTING
For this method, you can use a can of paint or spray paint.
Be sure to use frog tape or painter's tape to block off the design you want on your vase. I will go into more detail about this in Section 4.
PLEASE read the tips below before heading to section 3.
It is crucial to thoroughly clean the glass vases with soap and warm water before applying frog tape and paint. Make sure the vases are dried completely with a clean cotton cloth.
Also, wearing latex gloves while handling the glass will prevent fingerprints and smudges.
3. WHAT KIND OF PAINT DO YOU USE TO PAINT A GLASS VASE?
Obviously, I used spray paint for this project, but for the most part, any paint will do, but you MUST follow the instructions on the paint can. Some paint requires an undercoat or an overcoat, so pay close attention to the type of paint you choose. If you're looking for an AMAZING alternative to spray paint try Rust-Oleum Chalked Matte Paint.
FYI, some paints require a baking process in the oven to stabilize the paint onto the glass and give it durability. If you don't want to bake the glass, the paint will cure in 21 days from air drying.
THE BAKING METHOD FOR PAINTED GLASS
*Disregard this step if you're using spray paint.*
Place the dry painted vase on a cookie sheet in the cool oven. Begin heating the oven to 350 degrees F. It's important the glass gradually heats up with the oven to prevent breakage.
Once the oven reaches 350 degrees F, let the glass bake for 30 minutes. After 30 minutes, turn the oven off and let the glass cool down completely before removing it from the oven.
IMPORTANT: If you're using a paintbrush, it's essential to buy a natural-bristle brush instead of a synthetic-bristle brush. Natural-bristle brushes ensure smooth and even paint coverage on glass surfaces.
4. HOW TO PAINT THE OUTSIDE OF A GLASS VASE
Remember, the glass vase should be clean and dry before you begin applying the frog tape or painter's tape.
Taping the Round Glass Vase
The first strip of tape placed around the vase is the one that requires the most patience. If you're aiming to copycat a Serena & Lily piece, you need to make sure the tape is placed tightly around the glass and as evenly as possible.
This part was a little challenging, but what I learned after completing my vase is that even if the tape isn't placed perfectly, no one will be doing a 365 turn around your vase with a tape measure, so don't sweat this step!
Now that you have the first tape placed, continue to tape the rest of the vase tightly until you reach the top. Since we're only painting the lower half of the vase, the goal here is to protect the upper part of the glass vase from accidental paint splashes.
Taping the Square Glass Vase
If you're replicating the square vase design, place the first strip of tape down at a slant. Be sure to tape both sides. Keep in mind the painting design resembles a right-angled triangle. Continue taping to the top of the vase.
CRUCIAL Painting Tips for Glass Vases
If you can, paint or spray paint outside on the grass. The spray paint, especially, carries easily with just one gust of wind, so BE CAREFUL.
Place the first taped vase on a piece of cardboard. If you're spray painting, shake up the can and do a sample spray on the cardboard to make sure the nozzle works correctly.
Aim to spray at least 10 to 12 inches away from the glass vase. Applying several thin coats of spray paint from this distance will prevent runs and drip marks. It is safe to re-coat every five minutes.
Spray paint with a SWEEPING MOTION, stroking across the glass, and then back again.
If you come across a drip mark (as pictured below), wait until the paint has dried completely and then lightly sand the spot with sandpaper. Paint over the area again after you've finished sanding.
While spray paint is notorious for drying fast, DO NOT REMOVE THE TAPE from the vase for at least 3 HOURS. Since you're applying several thin coats to the glass, it's best to be sure every layer has dried completely.
5. CAN GLASS VASES BE SPRAY PAINTED TO LAST?
ABSOLUTELY! But it all depends on how well you take care of them.
AVOID putting the spray-painted glass vases in the dishwasher and NEVER scrub the painted part of the vase. Take care when cleaning them in the sink to prevent cracks and knicks.
Over time, if you see a knick on the glass vase, lightly sand over the problem area with sandpaper as mentioned in Section 4, and then repaint.
FINAL THOUGHTS ON DIY GLASS VASE PAINTING
If you're still with me, I hope you found this post helpful and encouraging!
If you pulled off a copycat design, please share your experience below in the comments. I love hearing about new tips, tricks, and design hacks. Also, pat yourself on the back for saving close to $200!
I know I covered a lot here, but please don't let your mind trick you into thinking this is a hard project because it is so EASY!
There may appear to be many steps involved in DIY glass vase painting, but actually, there are just different methods to achieving (basically) the same look.
Remember, all you need are three tools, a glass vase, frog tape, and paint.
Happy DIYing!
Related Post:
It's never too early to plan your next Christmas tree design! Copycat the Best Leopard Christmas Tree this year.