Looking to MAKEOVER old furniture in your home (think chairs, bed headboards, and even couches)? The paint upholstery technique can REVIVE the furniture you're ready to toss, making them look BRAND NEW!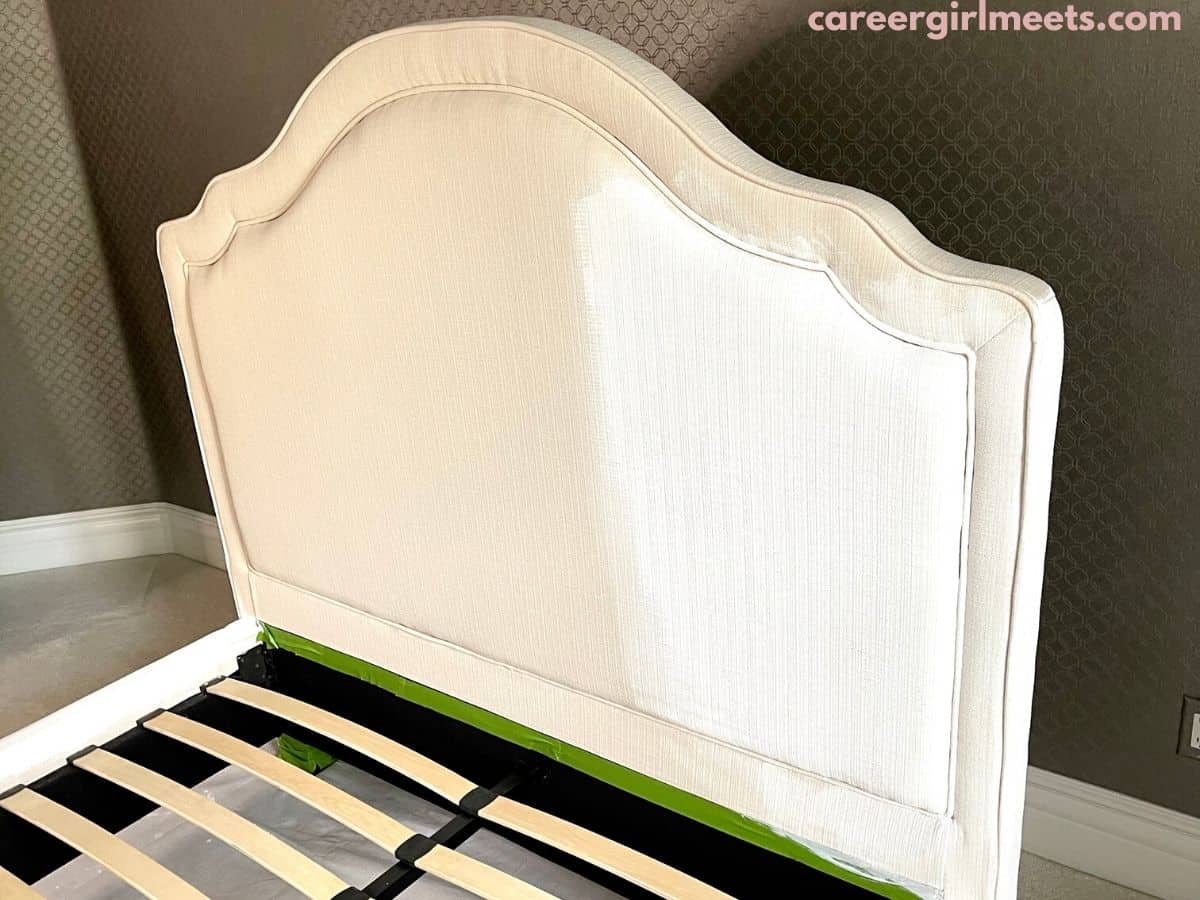 This post is all about HOW TO PAINT UPHOLSTERY: OLD FABRIC BED GETS A MAKEOVER.
The hardest thing about DIY Paint Upholstery is deciding to JUST DO IT! It's easy to get caught up in all the WHAT IF'S of what could go wrong with painting upholstery, especially furniture items you're not ready to part with.
The bed frame and headboard above was originally an off-white fabric that turned way too cream and yellow over a ten-year period. It looked pretty horrible, to be honest (worse in person). Deciding to paint the bed's upholstery wasn't an easy decision, but this bed was going to GoodWill if I didn't change something quickly!
To be completely truthful, though, I sat on this paint upholstery idea for six months. Even though I had done a ton of research on painting fabric, I was still scared and worried I would end up with a MESS. Plus, I was bed shopping and eyeing this beauty, the Catalina bed, from Zgallerie.
Ultimately, I decided to jump on board with DIY paint upholstery. Since the style of the bed I had was just fine, taking the budget-friendly route made more sense. I only spent $139 vs. the $1,200 it would have cost for a new bed frame.
If you're interested in learning how I transformed this OLD bed to look BRAND NEW, stick around! This post will act as a step-by-step tutorial, guiding you through the supplies you'll need, paint upholstery techniques, and what NOT TO DO when painting fabric.
DIY PAINT UPHOLSTERY: OLD FABRIC BED GETS A MAKEOVER
STEP 1: WHAT KIND OF PAINT DO YOU USE FOR UPHOLSTERY?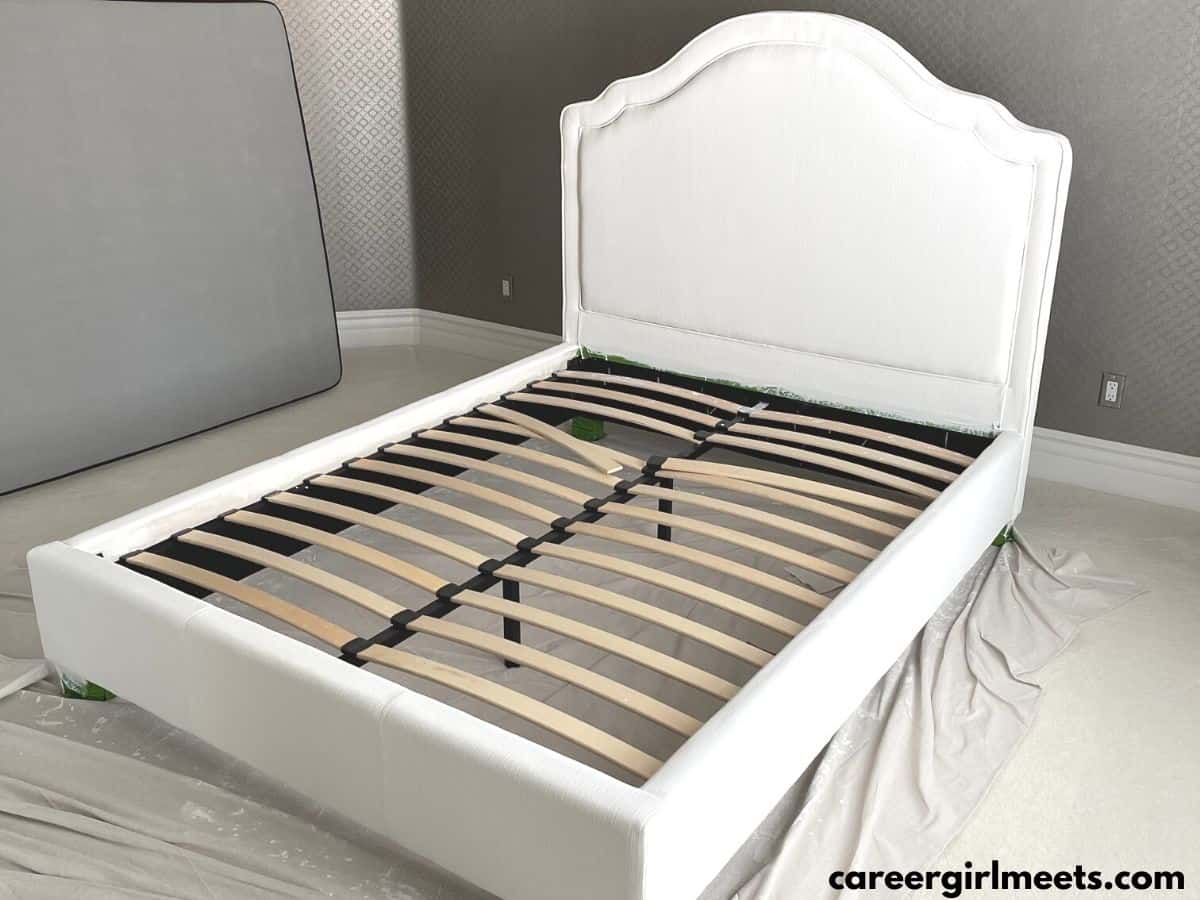 I used chalk paint for this project, and it turned out great! There are many different opinions out there regarding which type of paint is best for upholstery. Some argue that latex or acrylic paint mixed with fabric medium or textile medium will give the best results for keeping the fabric soft, while some DIYers swear by spray fabric paint.
Others use chalk paint, with a technique I'll explain later on, and seal it with a coat of wax to avoid rough fabric post painting. Because I wasn't painting a chair or couch, I wasn't as concerned about how rough the fabric might be after the painting was completed.
However, I did follow specific steps to avoid rough fabric (which, again, will be explained later on), and I didn't feel the need to use the coat of wax. In the future, if I were using chalk paint on a chair or couch, I might apply the wax coating because it adds protection, durability and ensures extra softness. I'll provide more details on the wax coating later.
Chalk paint can be used on all kinds of upholstery fabric, even velvet. All in all, my experience with painting upholstery with chalk paint went wonderfully, and I would definitely do it again!
STEP 2: SUPPLIES & TOOLS YOU WILL NEED
Pictured above are the MAIN SUPPLIES I used to complete this DIY project. Whether you're painting a bed, chair, or couch, the supplies listed here will cover any furniture piece you choose to paint.
Specific Supplies You Will Need:
Behr Chalk Paint – White Base NO. 7100 (Or the color of your choice)
FrogTape or Painter's Tape
Spray Bottle filled with water
Vacuum and/or Lint Roller
Paint pail (I highly recommend the one above because it was made for disposable paint liners).
Paint pail liners (Only if you have purchased the paint pail above or something similar)
Wooster Paintbrushes (I bought two sizes, a 1.5-inch brush and a 3-inch brush. The smaller brush helped with painting crevices in the bed, and the larger brush painted bigger surfaces like the headboard.)
Disposable chopsticks (I had these in my kitchen and used them to keep the paint stirred in the pail. They worked great, btw! ????)
A dinner knife, strange, I know, but hear me out. This knife was so helpful because the paint was getting in between the fabric crevices. The butter knife helped to keep the crevices unblocked from the paint. Refer to the picture below.
As you can see, for the transformation I got with this DIY paint project, my costs were insanely low! I used approximately three cans (1 quart each at $19.98 per can) for this queen-sized bed frame. If you were curious, the bed's original upholstery was a textured linen fabric.
STEP 3: CHOOSE & PREPARE YOUR FURNITURE PIECE FOR THE FIRST COAT OF PAINT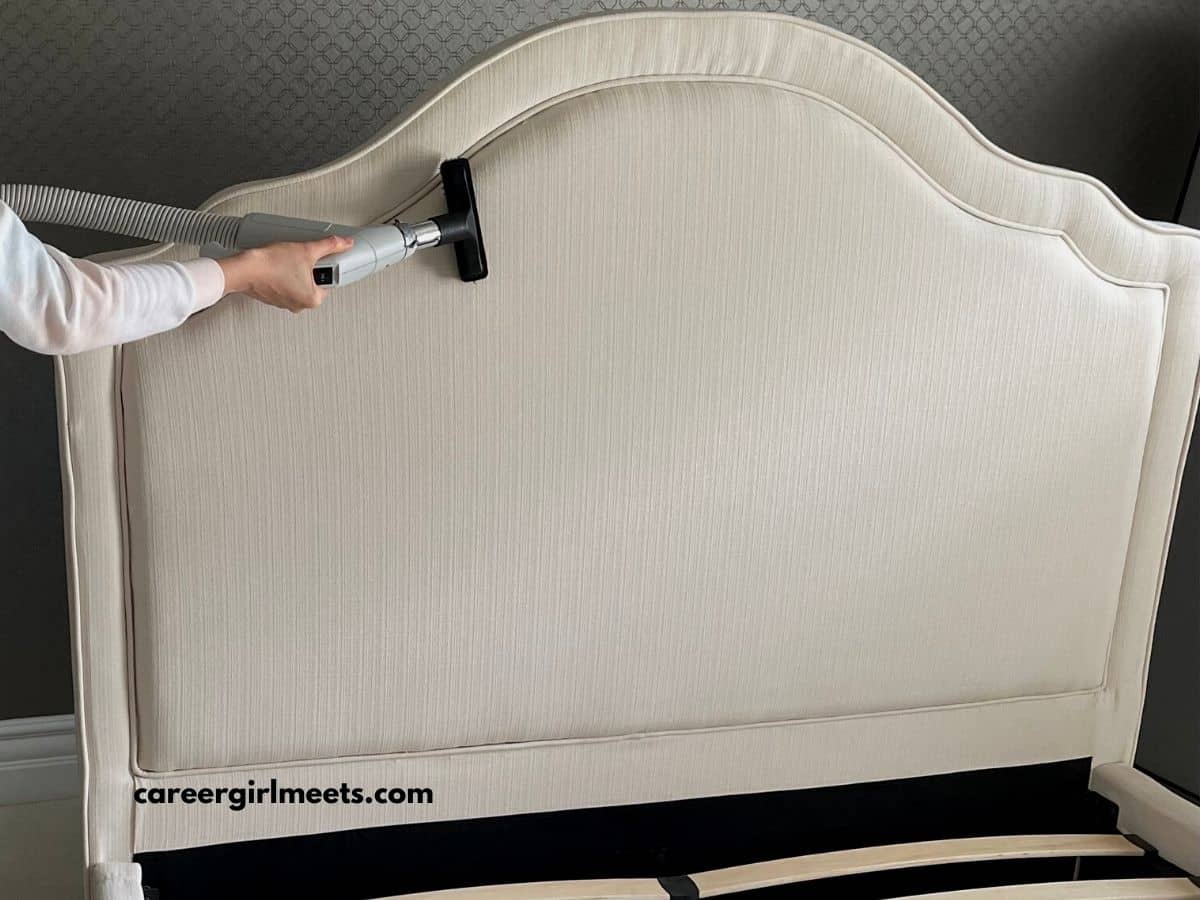 Test the Fabric
Now that you've decided to take the paint upholstery plunge on a specific furniture piece, you might want to test out the paint on a fabric swatch (if that's available to you) or an innocuous piece on the backside or underneath the upholstery. I did not do this step, but if it would make you feel more comfortable before tackling the whole piece, by all means, do it!
Vacuum/Clean the Upholstery
Before applying your first coat of paint, it is essential to clean the fabric thoroughly. For this step, I vacuumed the bed upholstery twice and then went over it with a lint roller. It's imperative to remove any dust from the fabric before applying paint.
Drop Cloth and FrogTape Placement
If you're painting furniture inside the home be sure to place a drop cloth underneath the piece to ensure the surrounding areas of the home stay paint-free! Drop cloths are so helpful, especially if it's a larger piece of furniture.
Next, place FrogTape on the areas you want to keep paint-free. For example, I placed FrogTape all around the feet of the bed and below the headboard. Believe me. It saved me so much grief when I was painting!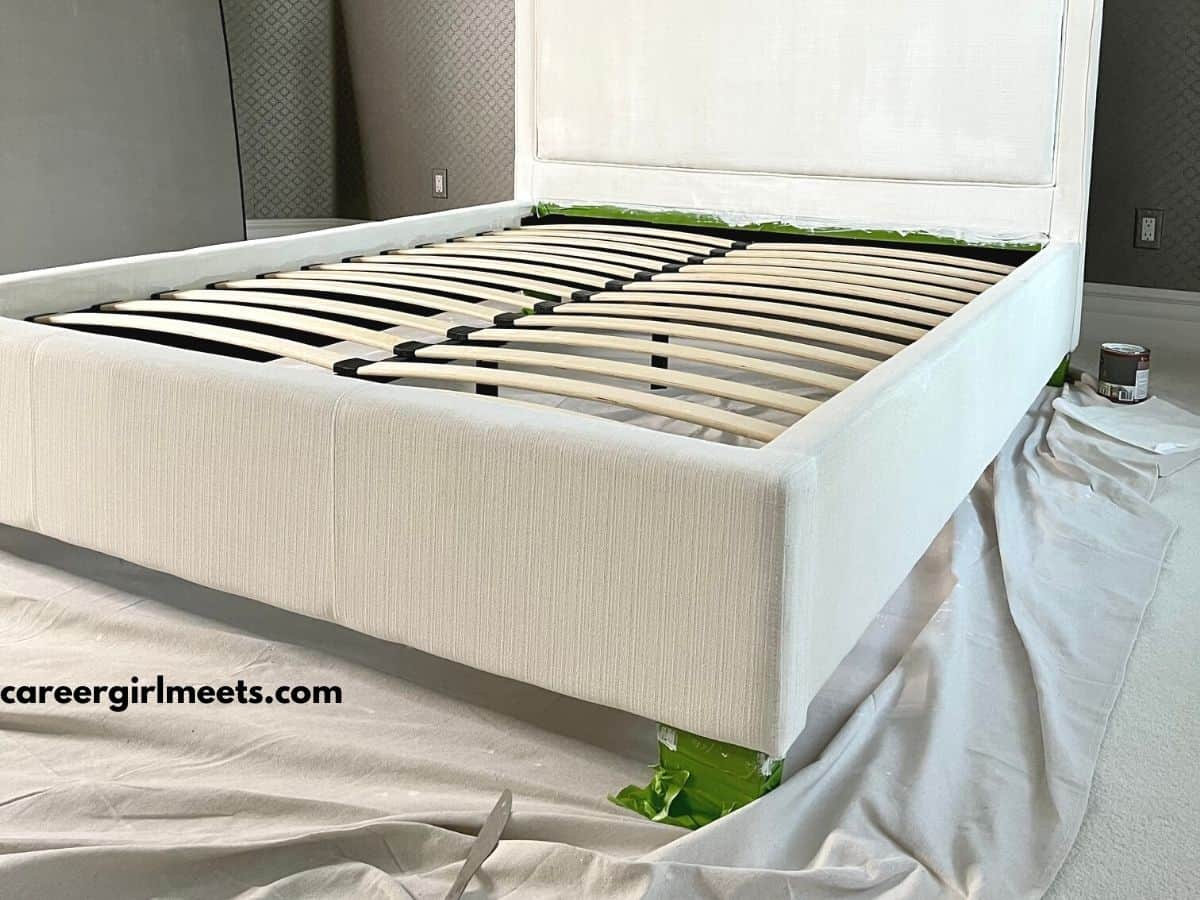 Prime The Fabric With A Fine Grit Sand Sponge
Next, you want to sand the fabric with a fine grit sand sponge or paper. This will help make the fabric easier to absorb the first coat of paint, and it will soften and make the fabric more porous.
Mixing The Paint
For this project, I mixed three parts of paint to one part of water. This dilution ratio is important because the end goal is to keep the upholstery soft so it doesn't feel like painted fabric. Adding water to the chalk paint ensures a thin coat will be applied each time.
If you used the paint without water, each coat would be thick, resulting in rough fabric. Once you have added the paint and water to your pail, it is crucial to stir the paint with chopsticks (or whatever you choose to use). The stirring (at least every 10 minutes) helps to keep the paint mixed in the bucket.
Spray the Surface With Clean Water
It is crucial that the fabric is slightly damp (NOT SOAKING WET) before each new coat of paint is applied. This step will ensure the coat of chalk paint is not applied too thick, and it will help each coat absorb quicker into the fabric. Be sure to fill the spray bottle with clean water.
STEP 4: HOW TO APPLY THE FIRST COAT OF CHALK PAINT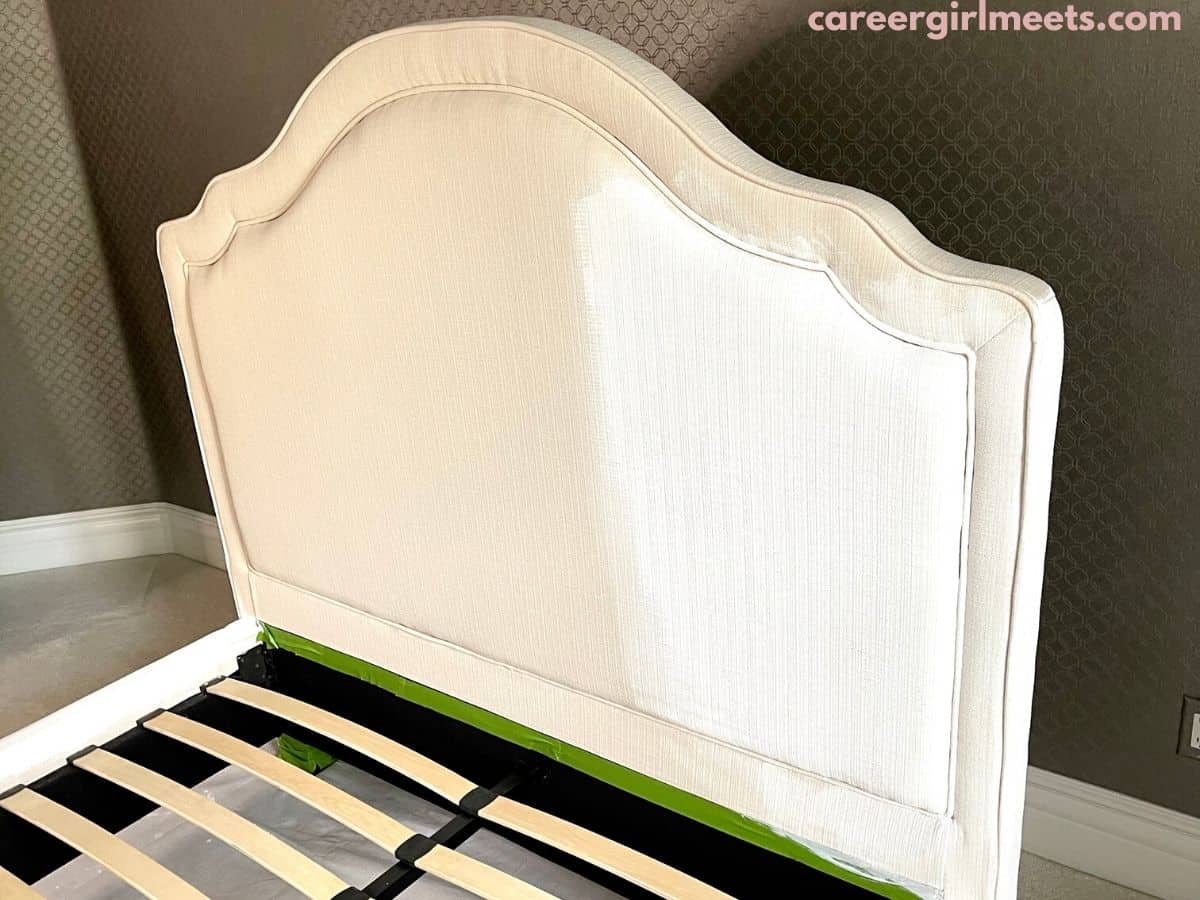 Begin applying the first coat of paint to the damp upholstery. When dipping your brush into the pail, make sure you don't have excess paint on the brush because the goal is to apply a thin layer evenly over the entire furniture piece. Apply the paint in unidirectional strokes until the upholstery is covered in its first coat of chalk paint.
Allow the furniture piece to dry for 24 HOURS. Remember, not only do we want the paint to dry, but it's also important the fabric has had enough time to dry in between coats.
STEP 5: SAND THE UPHOLSTERY AFTER THE FIRST COAT OF PAINT
After 24 hours have passed, you can begin sanding the upholstery with fine-grit sandpaper or a fine-grit sand sponge. The purpose of sanding after each coat is to prevent the fabric from getting rough. DO NOT skip this step because the goal is to have a furniture piece that feels smooth and soft.
Don't worry if the piece doesn't look great after the first coat and sanding. Think of this first coat of chalk paint as a primer.
STEP 6: CONTINUE PAINTING AND SANDING THE UPHOLSTERY
Now that you've sanded the entire piece after the first coat, damp the fabric again before applying the second coat of chalk paint. Allow another 24 hours before sanding, dampening, and painting again. Once you have added your final coat of paint, DO NOT remove the frog tape for at least 24 hours.
I repeated this process four times for the bed frame, which equaled four coats of paint total. Obviously, this is not a quick weekend project, but the results are so worth it!
CHALK PAINT FACTS AND DONT'S WHEN PAINTING UPHOLSTERY
FACTS
Can you paint a couch (or chair) with chalk paint and keep it soft?
Yes, you absolutely can as long as you sand and dampen the fabric before each coat. Also, applying a wax coating is highly recommended when applying chalk paint to a fabric surface that will endure a lot of traffic.
The wax coating will protect the paint and, most importantly, add a soft coating to the fabric, so it remains comfortable. The wax coating by Annie Sloan is a popular product used after applying chalk paint to fabric upholstery.
IMPORTANT PSA FOR APPLYING A WAX COATING
Before painting a large furniture piece like a couch, please do your picture research. I say this only because once the wax coating is applied to the painted upholstery, it tends to look like faux leather and, in some cases, like vinyl. If that's not the look you are going for, then BEWARE.
A quick Google search can provide many AFTER pictures showing what a wax coating looks like on upholstery. Remember, you can always test out all of these products on fabric swatches or an innocuous furniture area.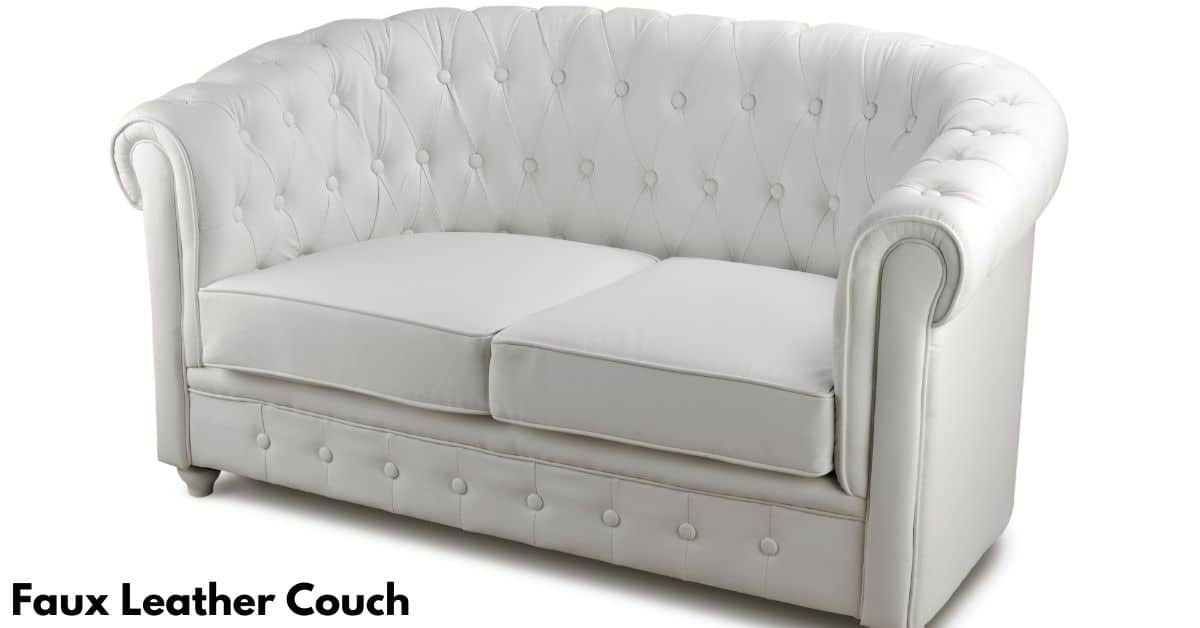 Does chalk paint withstand time?
Once you've painted your furniture piece with chalk paint, it ages like any other furniture piece you have in your home! The more wear you give it, the quicker it will wear out, just like with anything else.
Also, you DO NOT have to worry about the paint flaking. Each thin coat applied soaks into the fabric nicely. If you do get a stain on the painted furniture piece, ADDED BONUS touch it up with chalk paint. EASY FIX!
DONT'S
Do not skip ANY steps when painting upholstery!
This might sound redundant at this point, but the MAIN KEY TO SUCCESS with this DIY project is to keep the fabric SOFT. If you don't get impatient, then you can't go wrong!
Remember, clean your fabric, dilute the paint with the proper ratio, sand, dampen with clean water, paint, AND WAIT 24 HOURS before applying the next coat.
FINAL THOUGHTS ON DIY PAINT UPHOLSTERY: OLD FABRIC BED GETS A MAKEOVER
I am so happy I finally decided to go through with painting the upholstery of my bed frame! I waited and thought wayyyy too much about this DIY project before biting the bullet.
It's so important to do what FEELS RIGHT to you for your specific furniture piece at the end of the day. I personally would absolutely use chalk paint again on furniture fabric because it looks beautiful.
However, because of the wax coating, I'm not sure I would tackle a couch. I'm not fond of the faux leather and/or vinyl look, but I would definitely paint a chair or ottoman.
I think it's possible to get away with not applying the wax coating as long as you follow the step-by-step tutorial in this article. BUT on that note, I don't know if it's possible to pull off painting a couch and still keep it feeling comfortable and soft. It feels too risky to me, but who knows, maybe in the future, I'll get brave enough to try!
HAPPY DIY-ing!
Related Articles
7 DIY DECOR IDEAS TO REFRESH YOUR HOME