Celebrating her 30th birthday is a big deal for many reasons and having the BEST gift for her is an even bigger deal! These 30th birthday gift ideas are guaranteed to take the stress off of you and put the happiest smile on her face.
This post is all about 21 of the BEST 30th birthday gift ideas for her.
Celebrating 30 years of life is a huge accomplishment, and it must be celebrated with the greatest 30th birthday gift ever!
If you're having trouble coming up with a unique gift idea for her, don't worry because this gift list has 21 ELITE ideas, and they're actually things she'll wonder how she ever lived without.
Whether you're shopping for your wife or girlfriend, these (21) 30th birthday gift ideas will WOW her! If you're a best friend or parent trying to find the perfect gift, this list will help you too.
"You can be gorgeous at 30, charming at 40, and irresistible for the rest of your life." – Coco Chanel
Oh, and if you've had bad luck buying gifts for her in the past, be prepared to experience a surge of confidence in your gift-giving abilities.
So, what's a great 30th birthday gift idea for a woman? Let's dive into the list!
30TH BIRTHDAY GIFT IDEAS SHE'LL OBSESS OVER
1. A PURSE THAT LOOKS EXPENSIVE AF
This is by far one of the best 30th birthday gift ideas for any woman!
Gifting her with beautiful arm candy can breathe new life into her. And, if you can find one that looks expensive without breaking the bank, you're truly winning.
Topshop and Aldo are killing it with their purse designs right now, and women can't seem to get enough (just read the reviews in the links below).
For under $60, you could make her new decade start just right.
Purchase Topshop purses at NORDSTROM.
Purchase this Aldo purse on AMAZON.
2. THIS MIRROR WILL CHANGE HER LIFE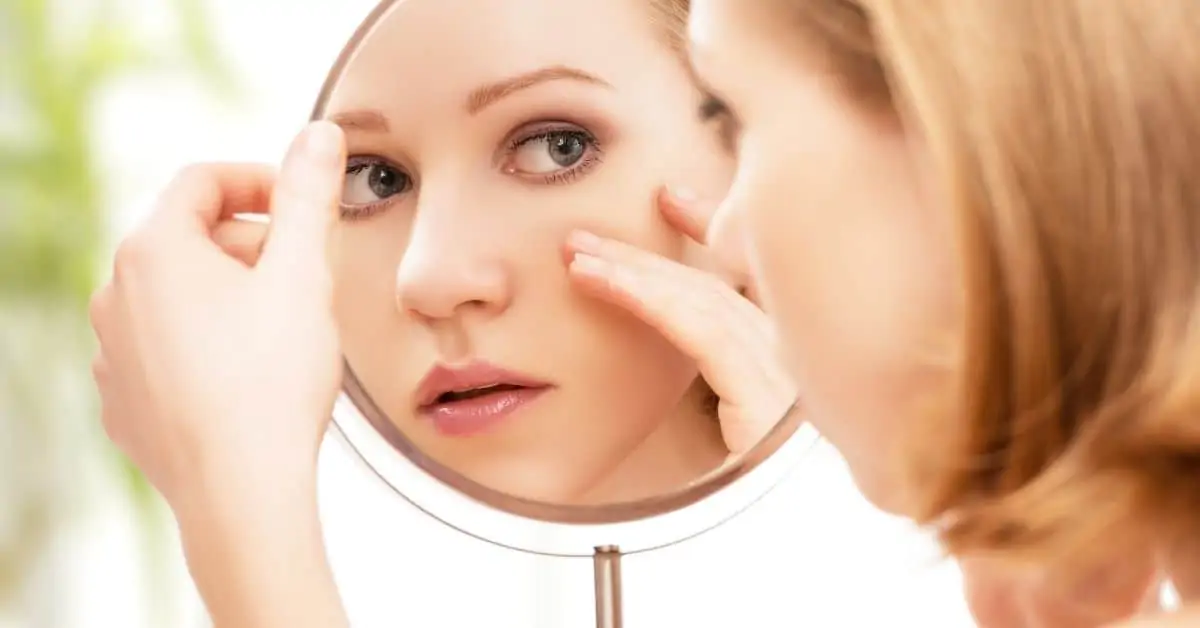 Listen up, this is a best gift idea for any WOMAN, but especially a 30-year-old!
If you haven't heard of Simple Human mirrors google it like, NOW. It is literally the best mirror she'll ever own because it shows everything on your face, and I mean EVERYTHING.
Simple Human takes the guessing out of how makeup really looks, and she won't have to worry about bad lighting again because this mirror has a rechargeable light.
And if she likes to travel, it folds and comes with a sturdy case, easy and compact for packing.
Purchase the Simple Human mirror on AMAZON.
3. MASTERCLASS ANNUAL GIFT PASS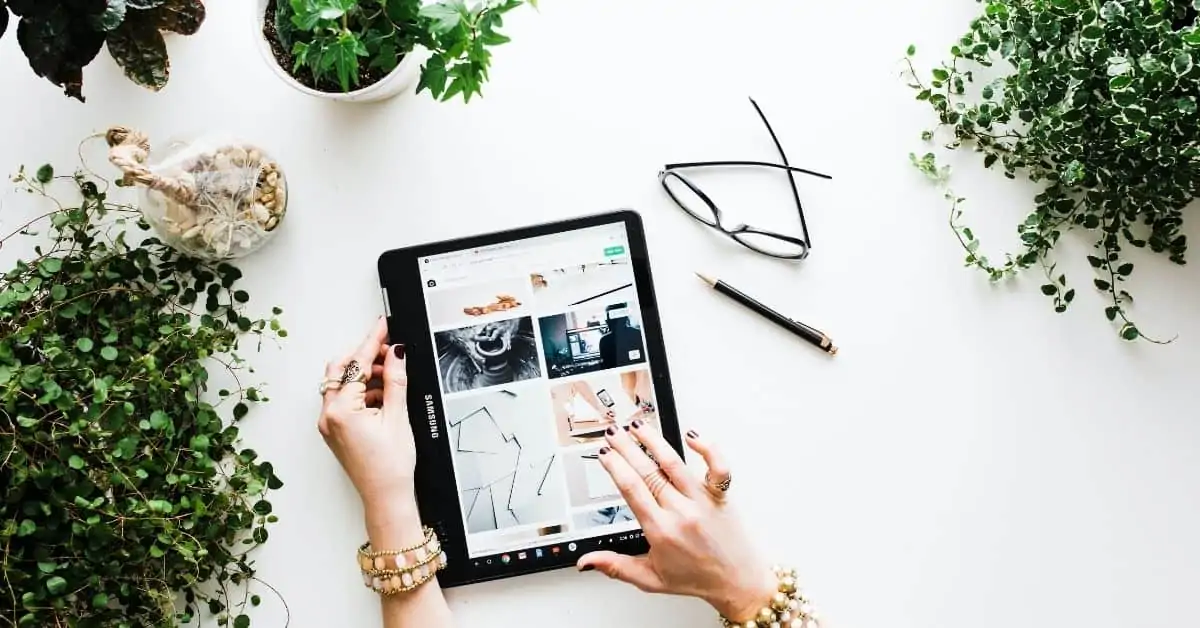 If she likes to learn from the BEST of the BEST about almost anything (cooking, yoga, business, writing, photography, etc.), this annual MasterClass gift pass will be an awesome 30th birthday gift.
And, it's a unique gift idea that will stay close to her heart all year long as she takes off on one adventurous journey (class) to the next!
Purchase a MasterClass Annual gift pass from MasterClass.
4. THE SMELL OF SOPHISTICATION
Coco Chanel Mademoiselle perfume smells amazing, and it's a special and well-deserved gift for any 30-year-old woman on her birthday.
Elegant, light, refreshing, and feminine are just a few words used by consumers who swear by this perfume.
Purchase Coco Chanel Mademoiselle on AMAZON.
5. SPANX FAUX LEATHER LEGGINGS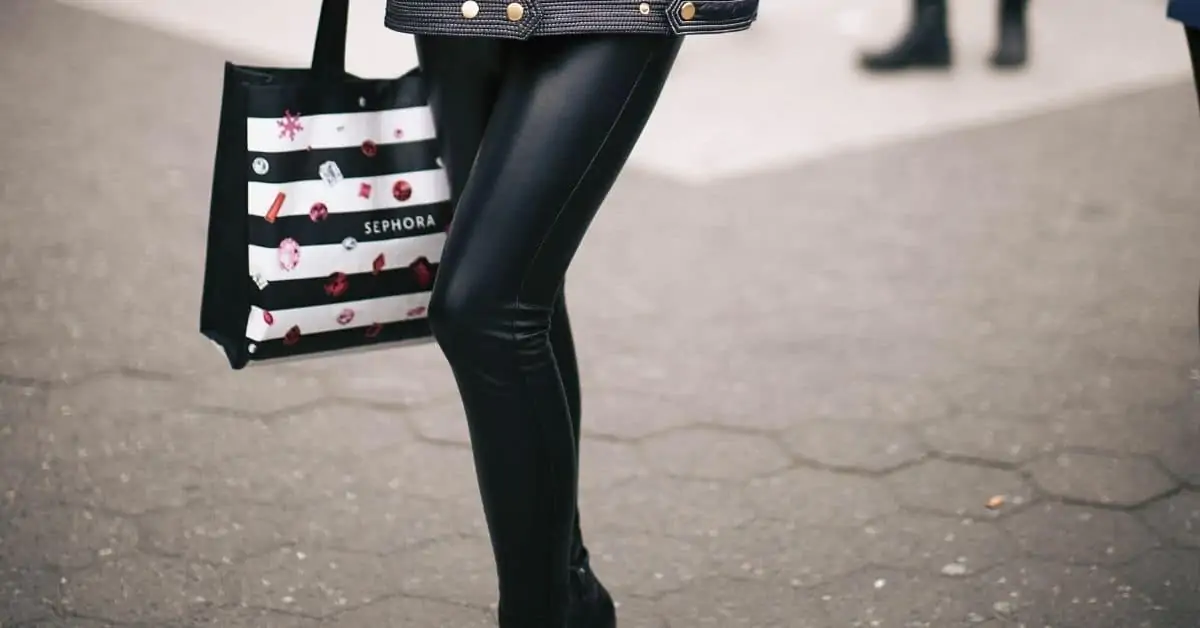 These leggings are everything!
Whether she's running errands, headed to a concert (post-Covid, obvi), or a fancy 30th birthday dinner, these faux leather black leggings by Spanx can be dressed up or down.
And for those who don't know, buying a pair of Spanx leggings for her doesn't mean you're trying to send a message that she has something to hide either! Women of all sizes are wearing these leggings because they look gorgeous and happen to feel comfortable too.
This must-have piece of clothing is a great birthday gift for her 30th.
Purchase Spanx Faux Leather Leggings on AMAZON.
6. BAREFOOT DREAMS BLANKET
A cozy blanket and leopard will never go out of style!
What makes this Barefoot dreams blanket an amazing birthday gift is that it will give her bedroom or couch a classy touch of animal print (without overdoing it). The blanket is so soft and delicate but heavy enough to keep her warm.
P.S. It's Jessica Simpson's favorite blanket, and she's a fashion mogul, so of course, this is a perfect gift idea.
Purchase the Leopard Barefoot Dreams blanket on AMAZON.
7. WINE CLUB SUBSCRIPTION
You're probably thinking this gift idea is so good it's stupid.
BTW, I'm not being literal about the stupid part, but you know what I mean! What 30-year-old woman wouldn't LOVE this gift, and it feels like belonging to a wine club is an initiation into your 30s.
Here are four of the best wine clubs. Depending on her Sommelier skills, you should be able to determine which one is a good fit for her.
Tasting Room – Once she fills out the questionnaire, they send sample wine (mini) bottles based on her answers. From there, she can get more specific on the wine she wants.
First Leaf – This is the club for her if she likes tasting wines from all over the world! Bottles start at $5, and shipping is free.
Splash Wines – Very reasonably priced, and the wines are all top-notch. Plus, she'll get to pick what type of wine she generally likes to drink.
Winc – This club is a bit more expensive, but they back their wine 100% guaranteed if she's not satisfied. They also have tons of member perks.
8. CLASSY WINE GLASSES
These wine glasses are rated #1 for 2021, making them a perfect gift idea for her 30th!
Even if she already has a set, I can guarantee you she won't mind having these glasses too. They are classy, effortlessly cool, and make drinking wine feel fun and fancy.
Plus, if she doesn't have a nice set of wine glasses by now, it's definitely time.
Purchase Schott Zwiesel wine glasses from AMAZON.
9. THE BEST DIFFUSER
Gift her with gentle spa vibes with this beautiful lighted (multi-colored diffuser).
Once she adds water and the essential oil of her choice, she can look forward to hours of scented bliss. Essential oils not included.
Purchase this diffuser at AMAZON.
Purchase lavender oil on AMAZON.
Purchase peppermint oil on AMAZON.
10. STEVE MADDEN SLIPPERS
These slippers are trendy, cozy, and if she's having friends over (and wants to stay comfy), they'll still make any outfit look good.
Purchase Steve Madden Leopard slippers on AMAZON.
11. STUNNING ROSES (THAT WILL LAST A YEAR OR MORE)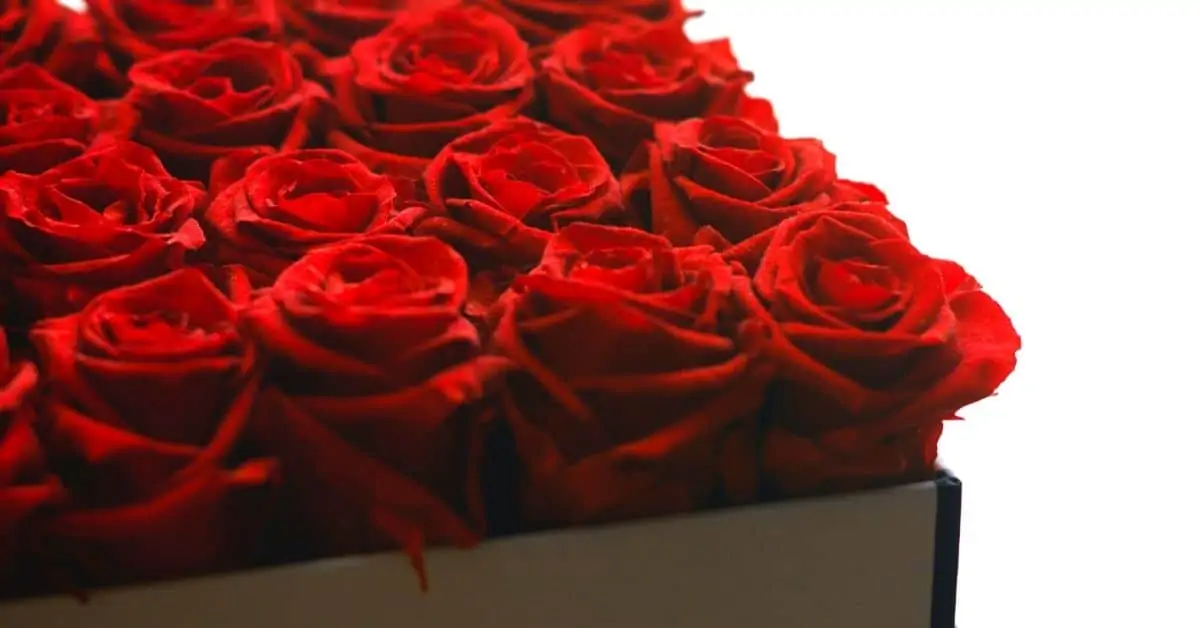 Preserved roses are the ultimate birthday gift idea for a woman turning 30! Not only do they look gorgeous, but they will add a classy touch to any room in her home.
These roses (preserved in a non-toxic process on a farm in Ecuador) are meant to last 1 to 2 years, and they look and smell just like a regular rose.
NO watering and NO sunlight are needed.
Purchase Soho Roses on AMAZON.
12. FOOT MASSAGER (OPRAH'S FAVORITE THING)
There's a reason this device made it on Oprah's favorite things list!
This shiatsu massager hits every single pressure point on the feet, and it comes with three intensity settings so she can find what feels comfortable to her.
It can also be easily stored underneath a desk and used throughout the day with no one knowing!
Purchase the InstaShiatsu heated foot massager on AMAZON.
13. OLIVE AND JUNE MANICURE KIT
This is such a great gift set for a 30-year-old, and it comes with EVERYTHING she would ever need to give herself the best manicure and pedicure.
Make sure she follows Olive and June on Instagram because they're constantly doing free video tutorials on how to prep the nails, prevent chipping, and apply the polish like a pro.
Purchase the manicure set at Olive and June.
14. BLUE LIGHT GLASSES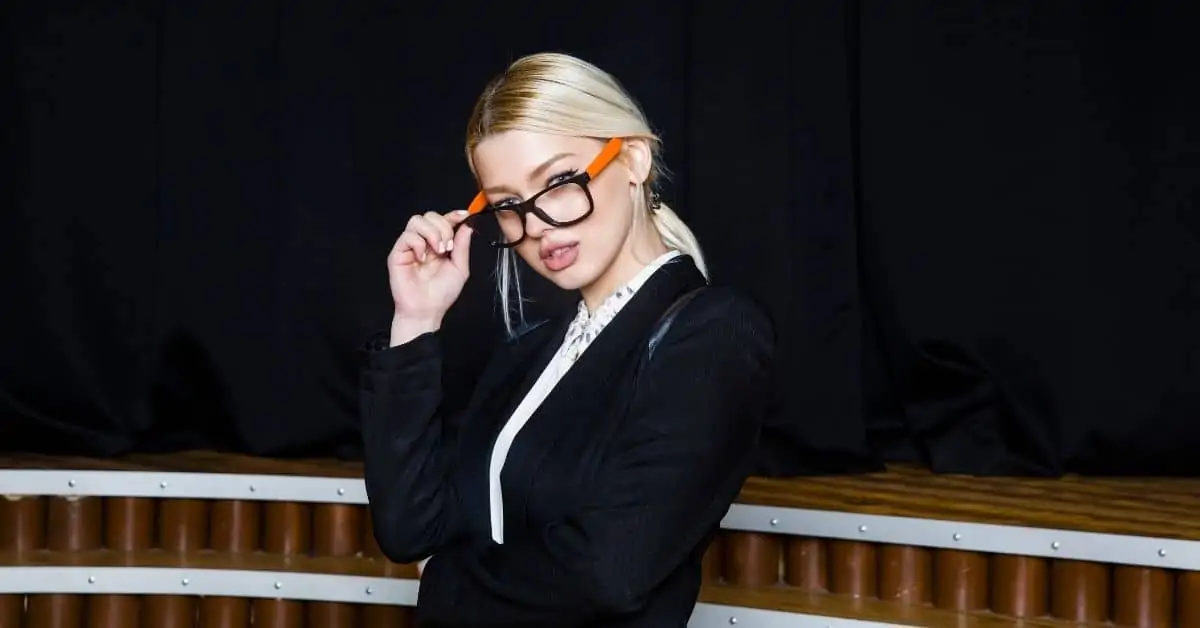 TREND ALERT! If she spends hours working in front of a computer or tablet, these glasses will protect her eyes from harmful blue lights and alleviate eye strain and headaches.
Plus, they look super sophisticated, which is why it's a great 30th birthday gift idea.
If she wears prescription glasses, these can also be found in whatever strength she needs.
Purchase blue light glasses on AMAZON.
Purchase prescription blue light glasses on PEEPERS.
15. PERSONALIZED JEAN JACKET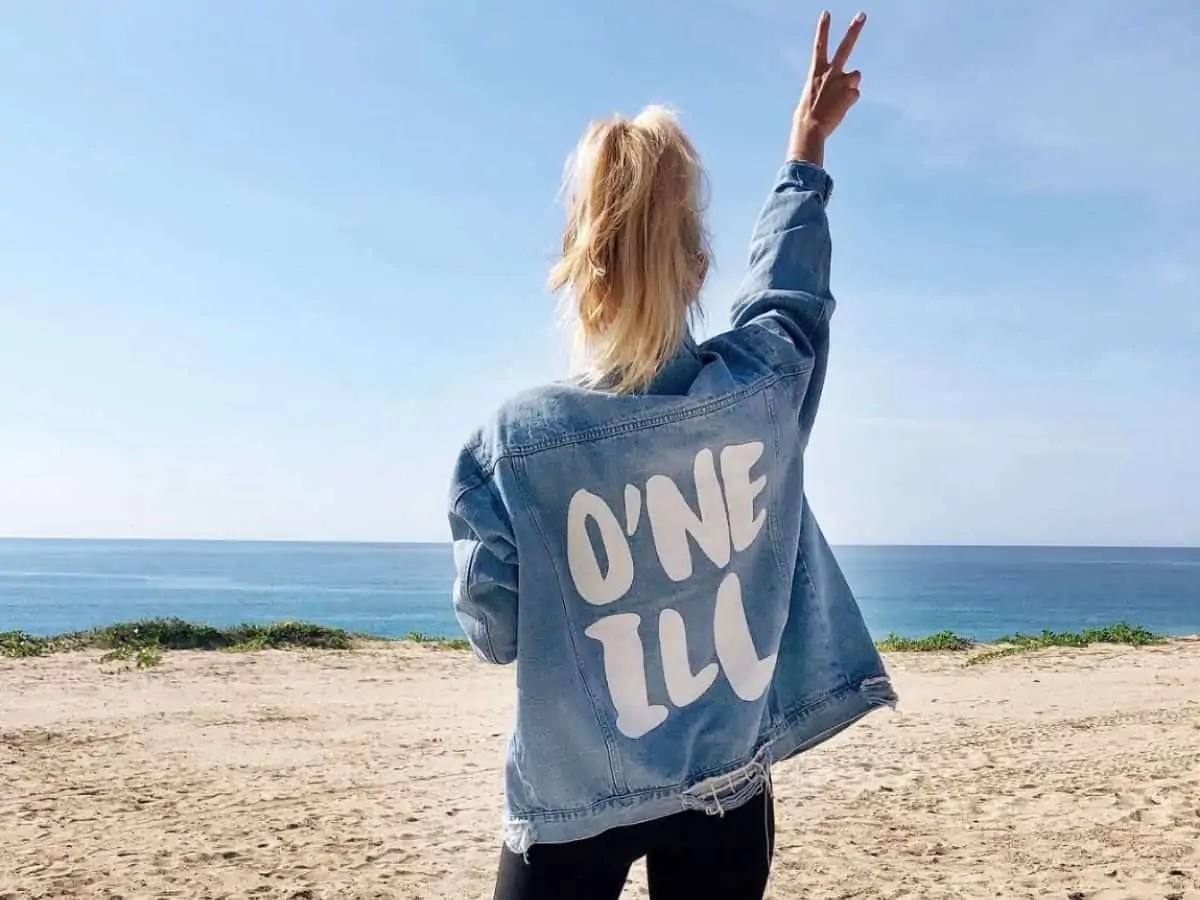 Women are going crazy for these jean jackets!
Whether you choose to personalize it with her name, last name, or nickname, it's definitely a statement piece.
And, jean jackets are in style more than ever, so why not make it personal (but in a good way).
Talia Hancock O'Neill (pictured above), the owner of the clothing store Talia in Newport Beach, California, gets all of the design credit for this trending fashion piece.
TEXT TO ORDER this jacket through the store's Instagram account, TALIA.
P.S. Talia's staff goes above and beyond, making any order a breeze to purchase.
16. GOLD BANGLES, DUH
A girl can never have too many gold bangles, so don't worry if this gift idea seems kind of duh (obvious).
Now, the key to getting her the right bangle is really what this gift idea accomplishes. She may be wearing a ton of bangles on her wrist, but are they gold-plated or gold-filled?
Gold-plated jewelry is where a thin layer of gold is bonded onto a metal surface such as silver. Gold-filled jewelry items have several more gold coating layers, making them last longer and cost more.
Gold-filled jewelry often has a marking on the item that signifies the percentage, like 14 karats of gold. Gold-plated jewelry pieces have no markings.
Purchase gold-filled bangles at Erica Woolston.
17. JADE ROLLER GIFT SET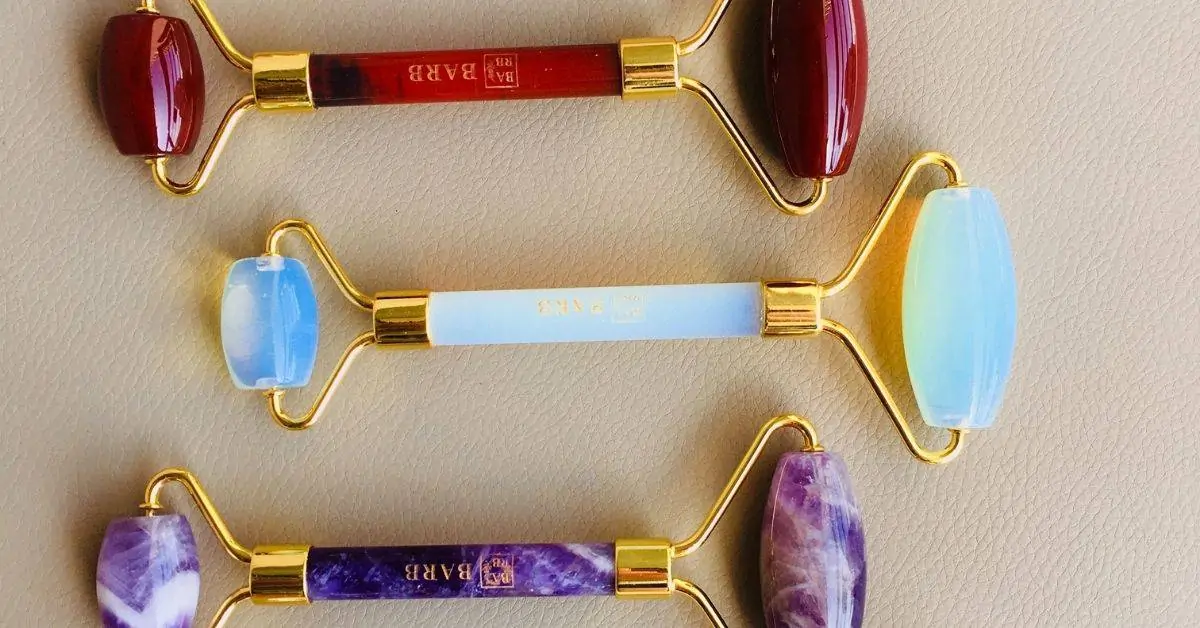 A jade roller gift set will be appreciated by anyone turning 30!
Jade rollers promote collagen, reduce dark circles, and calm inflammation in the face and lymph nodes.
Purchase a jade roller gift set on AMAZON.
18. BOOK CLUB SUBSCRIPTION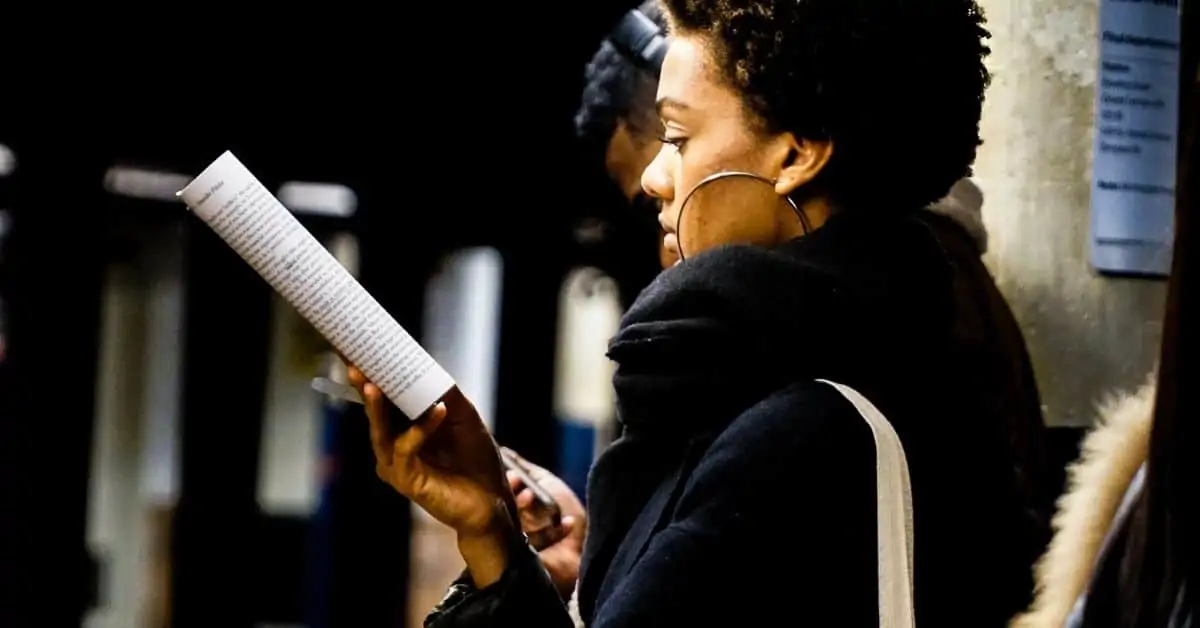 If she likes to read, then this is a creative 30th birthday gift idea for her!
Tailored Book Recommendations, TBR, will ask her questions regarding her likes and dislikes, and then their book experts will deliver books right to her door.
And, this was Oprah's first pick for book club subscriptions, so you know they're legit. With TBR, the gift giver can choose from a one-time book gift or an annual plan.
Purchase a Book Club subscription from TBR.
19. GORJANA ZODIAC NECKLACE
Honor her date of birth with a gorgeous zodiac necklace by Gorjana. This timeless piece of jewelry is something she'll wear daily as her brand new decade unfolds.
Purchase her zodiac necklace at Gorjana.
20. BOXFOX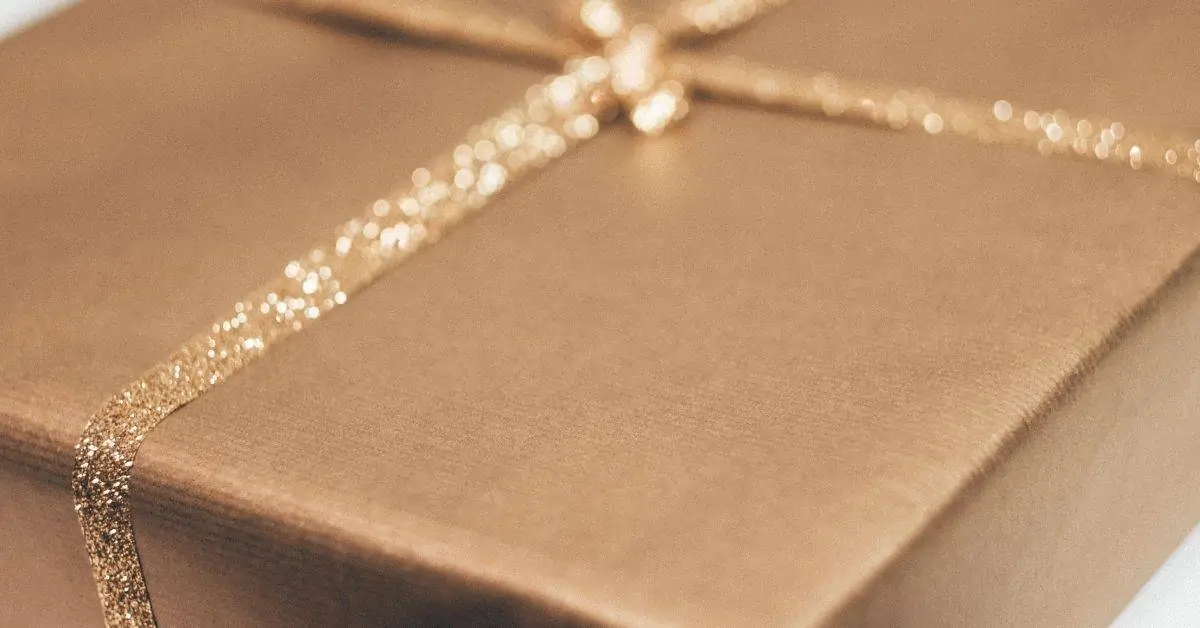 If she likes to keep the celebration going well after her big day, then you can't go wrong with this birthday gift box delivery from BoxFox!
This box will gift her with a Voluspa candle, birthday cake caramels from Sugarfina, a dark chocolate champagne bar, a Corksicle gold thermos, and a mini emergency pouch filled with provisions.
Purchase this at BoxFox.
21. THE SKINCARE EDIT BY GLOSSIER
She must have all of the right products for her skin as she heads into her 30s, and that's why this is a great gift!
The Skincare Edit by Glossier comes with a full skincare routine that includes cleansers, serums, moisturizers, and balm.
BTW, Glossier is best known in the beauty world for having magnificent age-defying products, so you don't have to worry. Her skin will be well cared for.
Purchase the Skincare Edit at Glossier.
FINAL THOUGHTS ON 30TH BIRTHDAY GIFT IDEAS
Hopefully, this list was helpful in your search for the best 30th birthday gift for her. Comment below to let us know which of the (21) 30th birthday gift ideas were a hit! And don't forget, every birthday celebration deserves an ICONIC birthday cake. Below are some AMAZING (and delicious) birthday cake ideas.
Birthday Cake by Milk Bar
Brooklyn Blackout Cake by goldbelly
Surprise Cake Explosion Box by Sendacake
Related articles:
Looking to surprise him with the best gift? Check out this ultimate gift list that will cover any occasion.