This ricotta white pizza with mushrooms is off the charts delicious! Jump to the recipe or read below for the MUST-HAVE tips that will change how you eat pizza forever. Promise.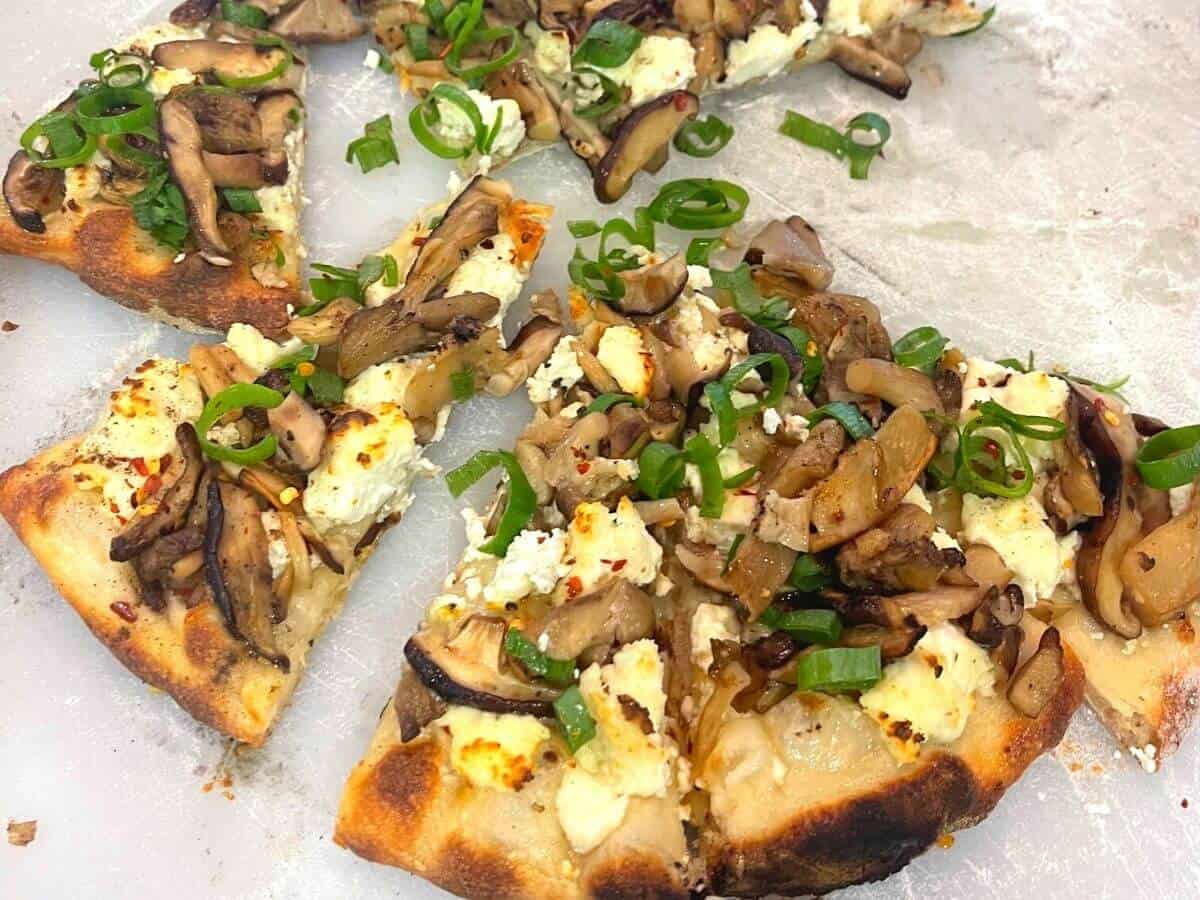 This post will teach you every tip you need to know for making the best Ricotta White Pizza.
For some people, the thought of making Italian pizza at home sounds daunting. But this Ricotta cheese pizza recipe made with a trio of gourmet mushrooms and truffle oil (and truffle salt!) is about to change all of that.
Why? Because these tips will show you how easy it is to make a mouth-watering gourmet pizza that is to-die-for. One bite of this white pizza (as in tomato sauce-free), and you'll be addicted.
And while commonly pizza is eaten for dinner or lunch, this pizza is so good you'll be craving it for breakfast the following day. Yes, breakfast. It tastes delicious with coffee, and you may never look at a Pop-tart the same way.
But enough about how good it is. Let's get started sharing every tip you'll need to create the best, most delicious, and easy ricotta white pizza. BTW, what's better than homemade pizza? Nothing!
Ricotta White Pizza
What Is White Pizza Made Of?
The white pizza name means the recipe calls for no tomato sauce. The traditional ingredients for white pizza are usually olive oil, mozzarella cheese, and some vegetables or herbs like spinach, tomato, or basil.
However, this white pizza recipe calls for mozzarella and ricotta cheese, mushrooms sauteed with garlic and butter, and truffle oil and salt. Combine that with a crunchy pizza crust, and you'll be obsessed with this pizza creation. I can't stress the OBSESSED part enough.
Ingredient Tips And Tricks You'll Need:
I won't be listing every ingredient in this section, but you can find all of the ingredients below if you want to jump to the recipe. Here I tried to address some specific ingredient tips that will seriously make your pizza stand out from any other you've eaten before!
Truffle oil – This oil is life-changing, and I can't talk enough about how good it is. Once the pizza is baked, you'll drizzle this on top and around the edges of the crust.
Truffle salt – Again, life-changing stuff here! Once you've drizzled truffle oil over the pizza, sprinkle this salt over the pizza and around its edges. Trust me. You'll want to put it on everything after tasting how much flavor it adds, think scrambled eggs. ????
A trio of Gourmet (wild) mushrooms – Have you ever tried an oyster mushroom? Shiitake? Or Bella? They are off-the-charts delicious and taste way better than a regular white mushroom. You can purchase dry wild mushrooms on Amazon or buy them fresh from the store. If you can't purchase all three, at least include the oyster mushrooms with shiitake or bella for this ricotta white pizza recipe.
Purchase Truffle oil on AMAZON.
Purchase Truffle salt on AMAZON.
Purchase Gourmet Wild Mushrooms on AMAZON.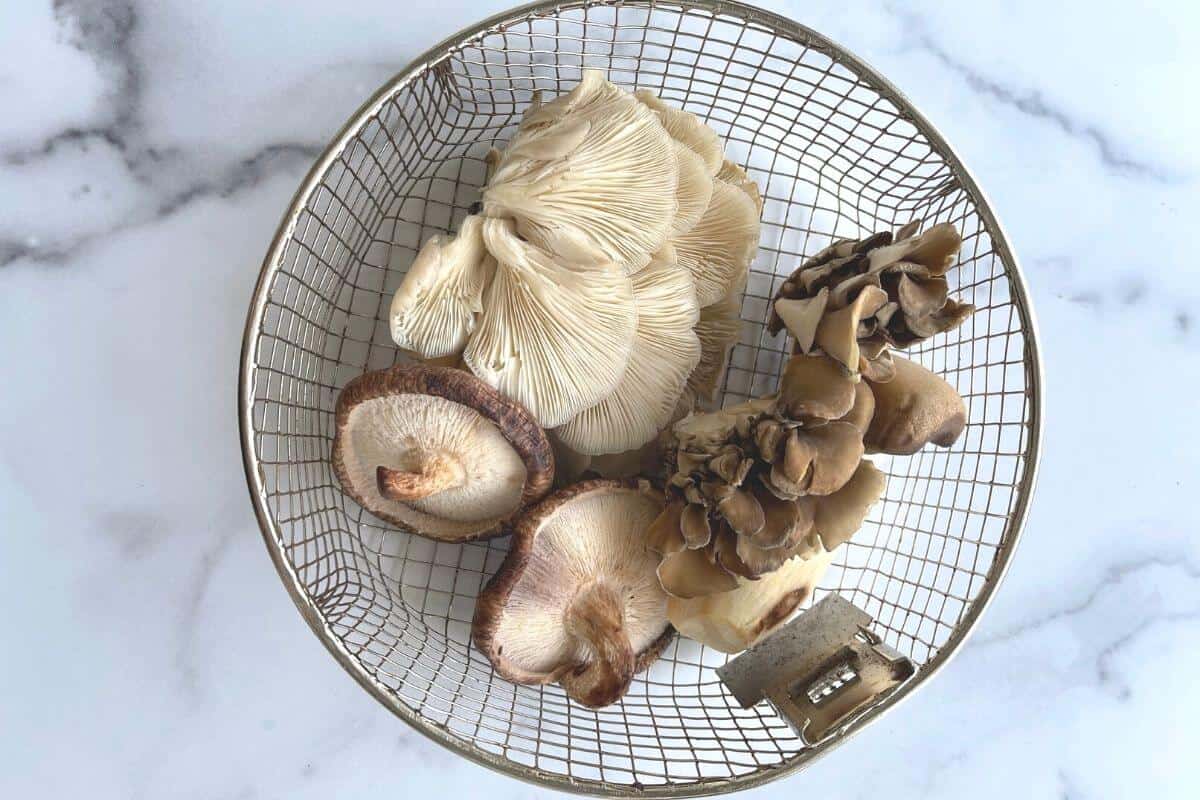 Equipment Tips for Insanely Good Pizza Crust:
I cooked this Ricotta White Pizza in a wood-burning pizza oven that my parents have set up in their backyard. It makes the crust extra crunchy and good! If you LOVE pizza and you LOVE entertaining, it's worth the investment.
However, there are plenty of other ways to get your feet wet, making insanely good pizza crust. Investing in a pizza stone is a great start for getting a delicious and crunchy pizza crust from a regular oven.
Pizza Peel (needed for transferring the pizza off of the pizza stone or out of the wood-burning pizza oven) can be purchased on AMAZON.
How To Make A Ricotta White Pizza, Step-By-Step
This Italian Ricotta pizza is easy to prepare and assemble! Before heading to the store, decide if you're making the homemade ricotta cheese or purchasing the store-bought brand.
Step 1: Wash, slice, and sauté the mushrooms in a large skillet over medium-high heat with butter, olive oil, salt, and garlic. It takes approximately 6 to 8 minutes or until the mushrooms are brown around the edges. You can do this step ahead of time.
Step 2: Fire up the pizza oven or preheat the oven to 400 F degrees unless your dough instructions state otherwise.
Step 3: Lay the dough out on a lightly floured surface. Now you can start adding the ricotta pizza toppings.
Step 4: Sprinkle 1/2 cup of shredded mozzarella cheese evenly on top of the pizza dough, then add 1 cup of ricotta on top.
How To Put Ricotta Topping on Pizza?
If your ricotta cheese is crumbly, then scatter 1 cup of the cheese all over the pizza. Stick with quarter-sized ricotta crumbles. If the cheese is extra smooth, use a spoon to dip out quartered-sized dollops of the cheese.
Step 5: Add the cooked mushrooms on top.
Step 6: Bake the pizza. Follow the dough instructions from the brand you purchased.
Step 7: After baking, drizzle a little truffle oil over the pizza and its edges. Garnish the top with red pepper flakes and fresh green onions. Sprinkle truffle salt all over the pizza and its edges.
More Ricotta White Cheese Pizza Tips & Tricks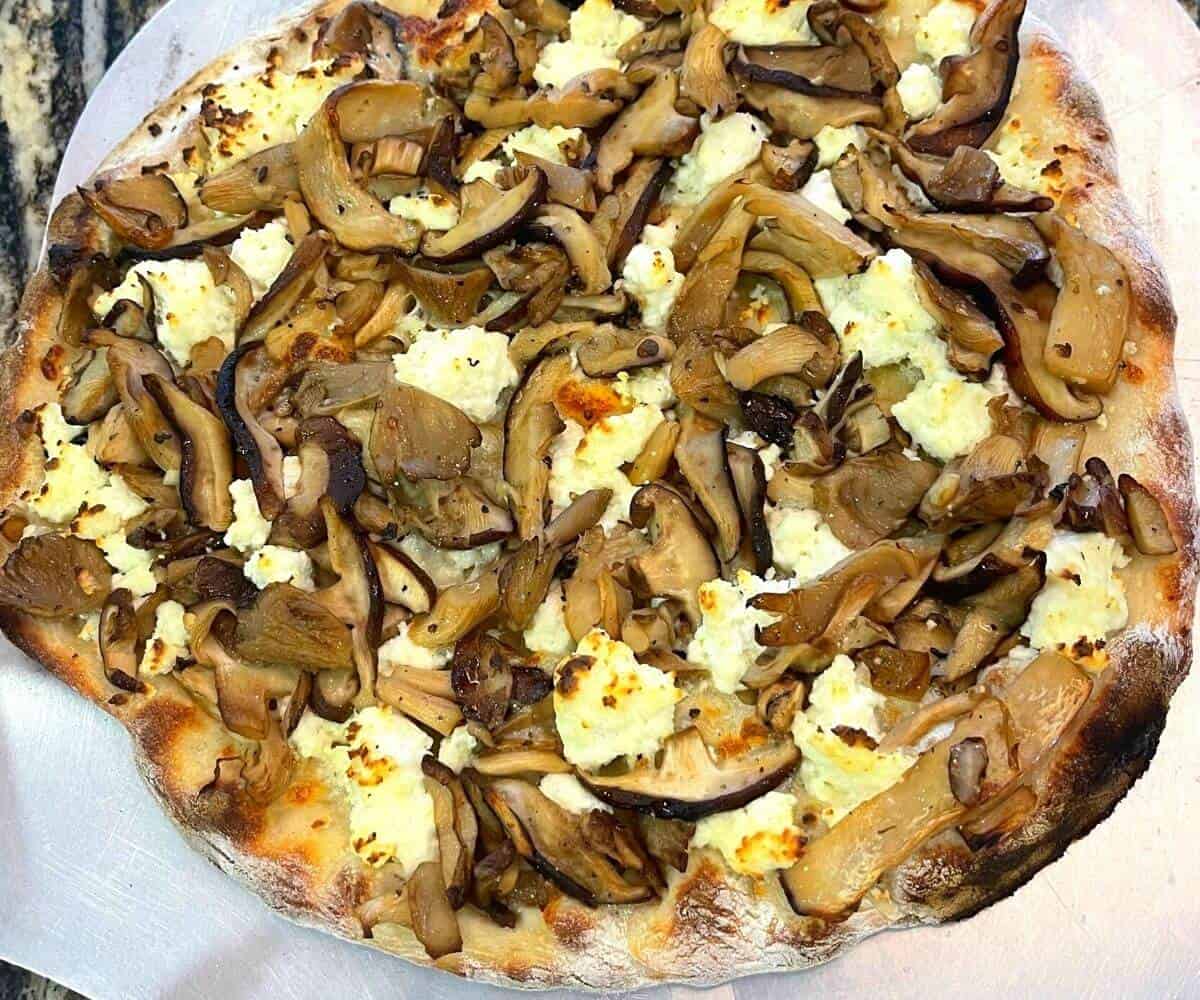 Why Is Ricotta Good For Pizza?
Ricotta cheese is an excellent topping for pizza because it adds structure and creaminess to its melted counterpart, the mozzarella. No cheese compares, and this is why ricotta is GOOD for pizza!
Does Ricotta Cheese Melt?
If you aren't familiar with ricotta cheese, you might be surprised to hear that it DOES NOT melt. Because this cheese is made with acid, the proteins become heat resistant, and therefore the cheese cannot melt.
Is This The Healthiest Type Of Pizza?
I'm not certified to start a debate on "what's the healthiest pizza," but I will say Ricotta White Pizza is vegetarian, and it's not drenched in cheese like a Pizza Hut creation, so I guess you could call that a healthy win.
The wild mushrooms certainly add a lot of vitamins to this pizza as well. While some add spinach and sausage to their white pizza recipes, I would refrain from doing so. The mushrooms are so meaty and tasty on their own, and the spinach would only water down and mask their unique flavors.
Bonus: What Else Do You Put Ricotta In?
As mentioned earlier, this cheese is so versatile and highly underrated! Enjoy leftover ricotta in pancakes, appetizers, cookies, cakes, and even as a spaghetti cheese topper. The real question should be, what can't you put ricotta in?
Ricotta White Pizza
Ricotta White Pizza is to-die-for delicious! Made with ricotta and mozzarella cheese, a trio of gourmet wild mushrooms sautéed in butter and garlic, it just doesn't get much better! Lastly, drizzling truffle oil and truffle salt after the pizza is baked makes this white pizza recipe the BEST. Promise!
Equipment
Oven or Wood-burning Pizza Stove

A pizza stone is needed if your cooking the pizza in a regular oven.

A pizza peel helps to remove the pizza from the stone in the regular oven or the wood-burning stove outdoors.
Ingredients
Ricotta White Pizza
1 Pizza Dough Trader Joe's or Pillsbury brand preferred.
1 cup Ricotta Cheese
1/2 cup Shredded mozzarella cheese
1/2 cup Fresh green onions, chopped and used for a garnish after the pizza is baked.
1/2 tsp Red pepper flakes, used for a garnish after the pizza is baked.
Truffle oil, drizzled on top after the pizza is baked.
Truffle salt, lightly sprinkled all over the pizza after it's baked.
1 pound Mushrooms (a trio of bella, oyster, shiitake),
1/2 tsp Salt, used to sauté mushrooms.
2 tbsp Olive oil, used to sauté mushrooms.
1 tbsp Butter, used to sauté mushrooms.
3 garlic cloves, minced, used to sauté mushrooms.
Instructions
Ricotta White Pizza
First, clean and slice the mushrooms. Add the mushrooms, salt, olive oil, butter, and minced garlic in a large skillet over medium-high heat. Cook for 6 to 8 minutes or until the edges of the mushrooms are brown.

Preheat the oven to 400 degrees F or follow the instructions on the dough's package if they state another temperature. If using a wood-burning pizza stove, fire it up so it's ready to go.

Place the pizza dough on a lightly floured surface. Sprinkle 1/2 cup of shredded mozzarella cheese on top of the dough.

Next, scatter 1 cup of ricotta cheese over the dough. Use quarter-sized pieces of cheese.

Add the cooked mushrooms on top.

Follow the baking instructions for the pizza dough you purchased. Each pizza dough brand's instructions vary slightly.

After baking, drizzle a little truffle oil over the pizza and its edges.

Next, sprinkle truffle salt over the pizza and its edges.

Lastly, garnish the pizza with red pepper flakes and fresh green onions.

Serve immediately.
Nutrition
Serving: 1gCalories: 150kcalCarbohydrates: 25gProtein: 8gFat: 5gSaturated Fat: 1.5gSodium: 200mgPotassium: 90mgSugar: 1gIron: 1.5mg
Final Thoughts On Ricotta White Pizza
Now that you have all of the tips for making the best Ricotta White Pizza, it's time to get busy in the kitchen! If you LOVED this recipe, please share it with your friends and family.
You can follow career girl meets… on Pinterest, Instagram, Twitter, and Facebook for more food creations, gift ideas, and home decor! Oh, and you should try this Fig and Goat Cheese Pizza if you enjoyed this recipe.
Thanks for stopping by!