Attention, pizza LOVERS, you must make DEEP DISH CRISPY APPLE PIZZA! Can you just imagine the taste of flaky pie crust baked with sugary cinnamon apples and crumbled streusel?! It is pure heaven.
This post is all about how to make DEEP DISH CRISPY APPLE PIZZA.
Once you've made Deep Dish Crispy Apple Pizza, you won't ever be the same! Sounds dramatic, I know, but it's true!
Instead of using actual pizza dough, the recipe calls for a buttery, flaky pie crust. Next, replace the cheese and tomatoes with sugary cinnamon-coated apples. Finally, add a crumbled streusel topping and let it bake! A bonus, you're house will smell AMAZING.
Serve each apple pizza slice with caramel and a scoop of vanilla ice cream. Voila, dessert heaven!
BONUS, before we get into the recipe, I will share FOUR EASY TIPS behind what it takes to make the BEST apple pizza. So let's get to it!
DEEP DISH CRISPY APPLE PIZZA
TIP #1: BEST APPLES FOR APPLE PIZZA?
Granny Smith Apples are the preferred choice.
Whether you're baking apple pizza or apple pie, buying Granny Smith Apples is the most popular choice because they're tart and known to stay firm during the baking process. Take note, a mushy apple pizza or pie is considered BAD.
Plus, the tartness from the Granny Smith Apples will ensure your apple pizza dessert has a balanced ratio of sweetness since the recipe calls for added sugars. FYI, Granny Smith Apples can be bought at most grocery stores and are available in all seasons.
While expert chefs agree that Granny Smith is their #1 go-to baking apple of choice, a few other apple options have been considered acceptable for baking. Bon Appetit recently performed a test kitchen and approved six others. So, next time you go apple picking, be on the lookout for Jonagold, Honeycrisp, Braeburn, Mutsu, Winesap, or Pink Lady apples.
TIP #2: WHY DEEP DISH?
Deep Dish Crispy Apple Pizza, pictured above before baking. ????
The better question is, why not? Because it's a deep-dish pizza, you can pack in more apples and crumbled streusel. Oh, and did I mention deep dish also means it's made with a thick and extra buttery crust?!
I learned real quick what the benefits were of using a 9-inch ceramic dish when making apple pizza. This pie dish allows the layered apples to marinate closely together with the cinnamon flavors while it bakes. I had made this recipe before and cooked it on a pizza pan with a flatter crust, but I felt it lacked structure.
This ceramic dish, also good for baking quiches and pot pies, allows for a heartier (deep dish) crust that supports the apple filling and juices. Trust me. It's the deep dish part that sets this apple pizza recipe apart from any other you may have tried before!
Purchase this Ceramic Pie Dish on AMAZON.
TIP #3: HOW TO PEEL AND DECORE APPLES FAST!
Disclaimer: You DO NOT have to purchase an apple peeler to make apple pizza. This is just a sharing tip to make things easier.
This recipe only calls for four Granny Smith apples, but peeling, decoring, and slicing apples can take time regardless of how many. So make your life easier and purchase an old-fashioned apple peeler, pictured above. It costs around $20 on Amazon, and it won't take up much space to store.
To begin, suction the bottom of the apple peeler to a kitchen countertop. First, wash the apples thoroughly and dry them. Next, take one apple, and stick the stem into the stainless steel blades. Finally, turn the handle on the peeler until you have peeled and sliced the entire apple.
Take the whole peeled/sliced apple and cut it into fours with a knife. This will give you a perfectly sized apple slice, about 1/2 inch. Refer to the picture below. Next, put the slices in a clean bowl and remove the apple core from the peeler. Repeat this process with the other three apples.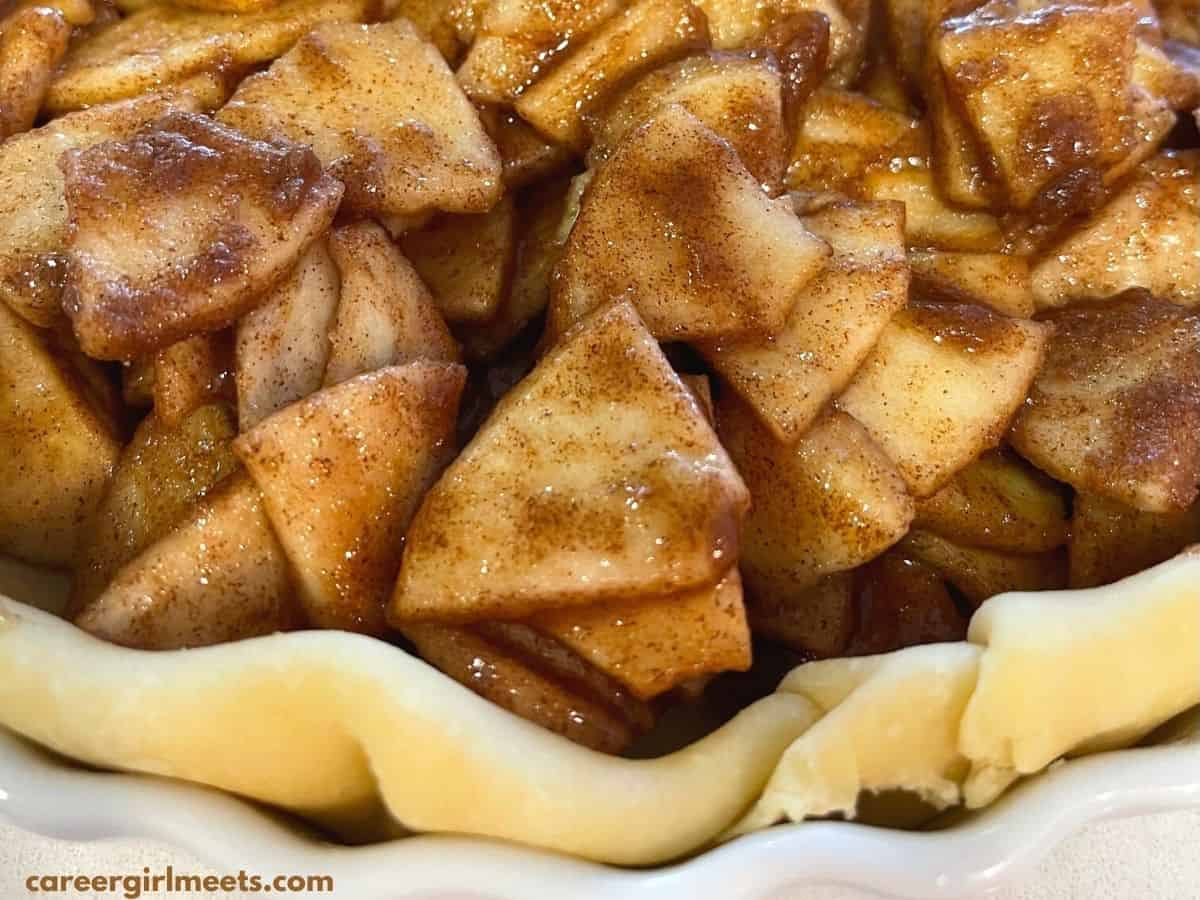 William Sonoma has a great video tutorial on using an old-fashioned apple peeler if you need any assistance. But I promise it's super easy to use!
Purchase a Johnny Seed Apple Peeler on AMAZON.
TIP #4: SHOULD I BUY OR MAKE THE PIE CRUST?
Making a HOMEMADE CRUST does not have to be intimidating! And P.S. you can absolutely make DEEP DISH CRISPY APPLE PIZZA using a store-bought crust.
If you feel inclined to learn something new, this crust recipe is for you! All you need is flour, some salt, and butter shortening to pull this off. Making pie crust is NOT HARD, even if your mind tells you differently.
It does take a bit more time and patience to roll out the dough, but not much! Seriously. And by the time Thanksgiving rolls around, you'll be making homemade pies and impressing the heck out of your family members.
The benefits of a homemade pie?
You just can't beat the taste of a homemade pie crust and the satisfaction of knowing you made it from scratch. It's flaky, buttery, and FRESH. If you're making a DEEP DISH CRISPY APPLE PIZZA it seems to be especially good!
Again, if you're on a time crunch, don't feel bad for buying it from the store. A 9-inch single pie crust will work great for this recipe. But at some point, take a leap of faith and trust in your abilities to make a delicious homemade crust. I'm telling you, you're gonna feel confident afterward!
BONUS TIP: WHAT NOT TO FORGET!
Don't get me wrong, DEEP DISH CRISPY APPLE PIZZA is delicious by itself, but you're missing out if you don't drizzle caramel and add a scoop of vanilla ice cream. The caramel and ice cream add sweet contrast to the Granny Smith Apples and buttery streusel topping.
Have you ever tried apple pie ice cream? It's loaded with cinnamon, fried apples, and caramel. It tastes amazing, and this apple pizza dessert has all of the same yummy qualities, which is why you can't forget to add the CARAMEL and VANILLA ICE CREAM!
FINAL THOUGHTS ON DEEP DISH CRISPY APPLE PIZZA
DEEP DISH CRISPY APPLE PIZZA is the perfect dessert to make for any occasion! I hope you feel inspired to share this recipe with friends and family. It's not only one of the best apple pizza desserts, but it makes your home smell amazing and creates cozy feels, which puts guests at ease.
Comment below if you have any questions and PLEASE let me know how it turns out! The recipe is broken down into three detailed steps: Apple filling, streusel topping, and the (optional) homemade pie crust.
ENJOY!
DEEP DISH CRISPY APPLE PIZZA
DEEP DISH CRISPY APPLE PIZZA will change the way you view pizza and desserts! It has a flaky, buttery pie crust, and it's filled with sugary cinnamon-coated apples. The crispy streusel topping is filled with nuts, more cinnamon and sugar, and butter! Don't forget to serve each piece with a drizzle of caramel and a scoop of vanilla ice cream.
Ingredients
(1) 9-inch Pie Crust (Store-bought or homemade)
4 medium Granny Smith Apples (Peeled, decored, and sliced into 1/2 inch pieces.)
2 tbsp Ground Cinnamon (1 tbsp for apple mixture and 1 tbsp for streusel topping.)
3/4 cup Sugar (for apple mixture)
1/2 cup Brown Sugar (packed) (for streusel topping)
1/2 cup All-purpose flour (for streusel topping)
2 tbsp All-purpose flour (for apple mixture)
1/2 cup Old-fashioned rolled oats (for streusel topping)
1/2 cup Chopped pecans (for streusel topping)
6 tbsps Butter (room temperature) (for streusel topping)
Homemade Pie Crust (Optional)
1 & 1/2 cup All-purpose flour (Make sure it's a "heaping" 1 and 1/2 cup of flour.)
1/2 teaspoon Salt
1/3 cup & 1 tbsp Butter flavor shortening (Make sure it's a "heaping" 1/3 cup and 1 tbsp.)
6 to 8 tbsps Water
Instructions
Apple Pizza Filling
Peel, decore, and slice 4 Granny Smith apples. Sliced pieces should be 1/2 inches.

Add Sugar (3/4 cup), Flour (2 tbsp), Ground Cinnamon (1 tbsp) to the apple slices, and mix thoroughly.

Add the apple pizza filling to the uncooked pie crust.
Streusel Topping
In a separate bowl, add Flour (1/2 cup), packed brown sugar (1/2 cup), Oats (1/2 cup), Ground Cinnamon (1tbsp), Pecans (1/2 cup chopped). Mix thoroughly.

Add 6 tablespoons of butter (room temperature) to the dry topping and mix.

Add the streusel topping on top of the apple filling that is already in the uncooked pie shell.
Homemade Pie Crust (Optional)
In a bowl, combine flour (heaping 1 and 1/2 cup), Salt (1/2 teaspoon), Butter flavor shortening (heaping 1/3 cup and 1 tbsp).

Use a pastry blender or two forks to blend the dry ingredients with the shortening. Take your time cutting into the flour and shortening, ensuring that the result resembles coarse flour-like cornmeal.

Next, begin sprinkling 1 tablespoon of water all over the dough. Then, with a fork, gently mix the water and dough. Continue this process until you have added 6-8 tablespoons of water. Usually, it takes about 6 tablespoons, but it can vary depending on the dough. You don't want the dough overly wet, but you do want enough moisture that the dough is beginning to form together without crumbling apart. After this process, firmly mold the dough into a ball with your hands.

On a floured surface, roll the dough out to an 11-inch circle with your rolling pin. Roll in alternate directions to ensure you get an even circle. An excellent way to measure with the eye is to place the deep dish ceramic pie plate on top of the dough circle. There should be at least two inches of dough outside the pie plate.

Next, transfer the dough to the pie plate by folding the dough circle in half and then into a quarter. Make sure the folded dough is centered on the pie plate before unfolding.

Begin forming the dough to the pie plate. Fold the edges of the dough so you have a thick deep-dish crust. Refer to the crust pictures in Tip #4 of the article.

Now that the pie dough is formed to the ceramic plate and the edges are folded in, add the apple mixture. Next, top the apples with the streusel topping.
Baking Instructions for Deep Dish Crispy Apple Pizza
Preheat the oven to 350 F degrees.

Bake the apple pizza for 35-40 minutes.

Cool the apple pizza on a wire rack to avoid sweating.
Serving Instructions for Deep Dish Crispy Apple Pizza
Cut a slice of apple pizza.

Drizzle each piece with caramel.

Add a scoop of vanilla ice cream on top.
Nutrition
Serving: 1gCalories: 290kcalCarbohydrates: 45gProtein: 2gFat: 13gSaturated Fat: 8gSodium: 150mgSugar: 25g
Related Articles:
How To Make The Best Banana Cream Cake
The Ultimate Jalapeno Cheese Ball