Give your backyard a makeover with these 17+ DIY tips that will have everyone obsessing! FYI, it doesn't have to be hard, and YOU CAN do it on a BUDGET.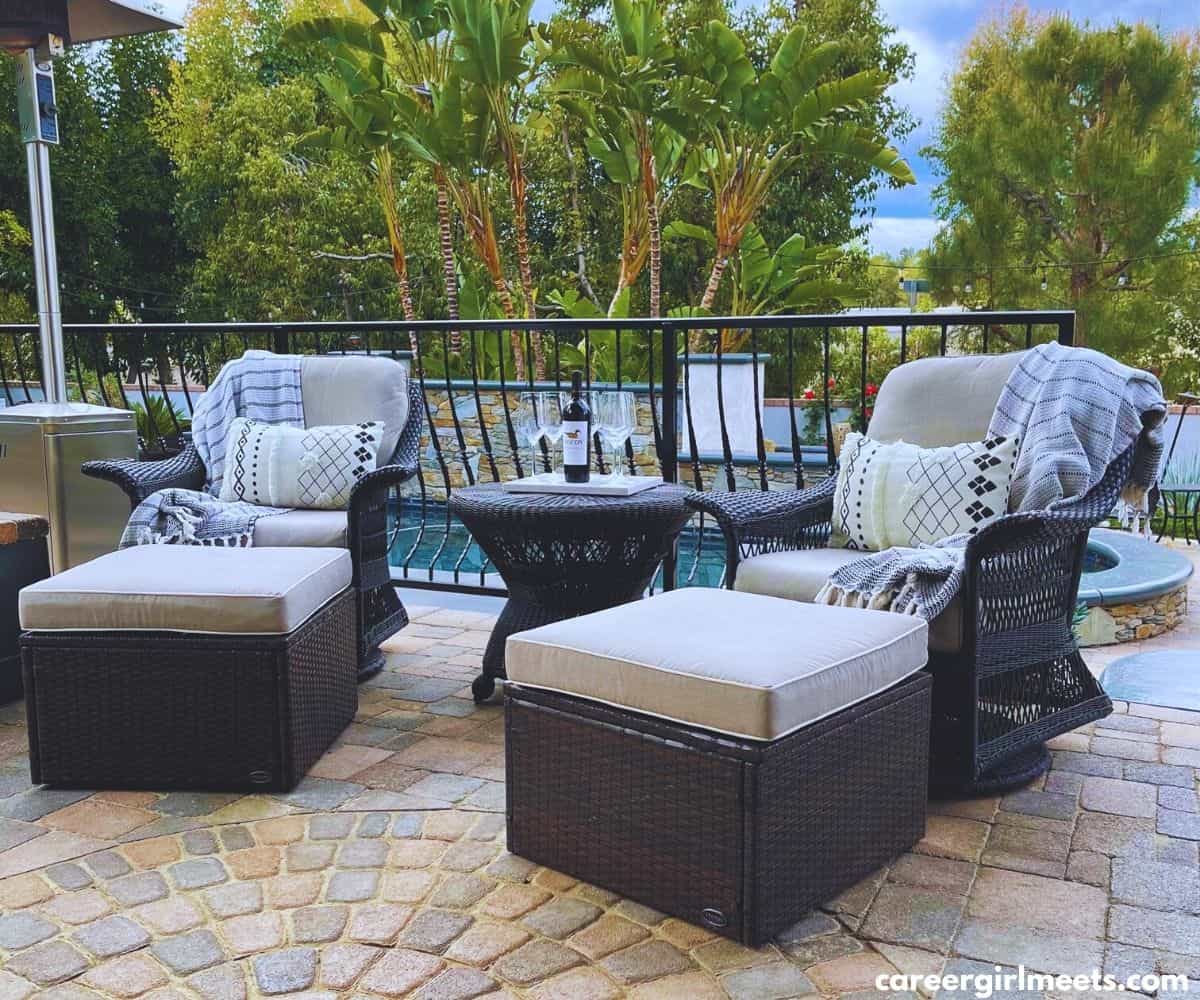 This post is all about DIY TIPS FOR AN (EASY) BACKYARD MAKEOVER.
Giving your backyard a makeover can be done EASILY with just a few minor changes here and there. How far you want to take your backyard refresh is totally up to you and your budget. Whether you're looking to makeover a small patio or a larger yard, all of these tips will be helpful.
Before you begin, it's important to determine what your goal is for the area. Do you want to create a place to entertain? Or maybe just a peaceful oasis? These are the questions you should begin asking yourself.
If you're already happy with the setup and design of your backyard but know it needs a "pick-me-up," then the tips in this article will be highly beneficial as well. Spring is the time to begin cleaning, decluttering, and planning moves for Summer parties and activities.
Most of the makeover tips discussed are budget-friendly and can be accomplished in a day, while some of the other ideas require more time and costs. It's important to have a backyard budget in place before executing goals so you stay on track.
DO NOT feel bad if you can't accomplish all of your backyard dreams at once. Making minor adjustments can surprisingly make a backyard feel more open and ready for entertaining, so never underestimate the small changes!
17+ DIY TIPS FOR AN (EASY) BACKYARD MAKEOVER
TIP #1: THE (NOT-SO-OBVIOUS) FIRST STEPS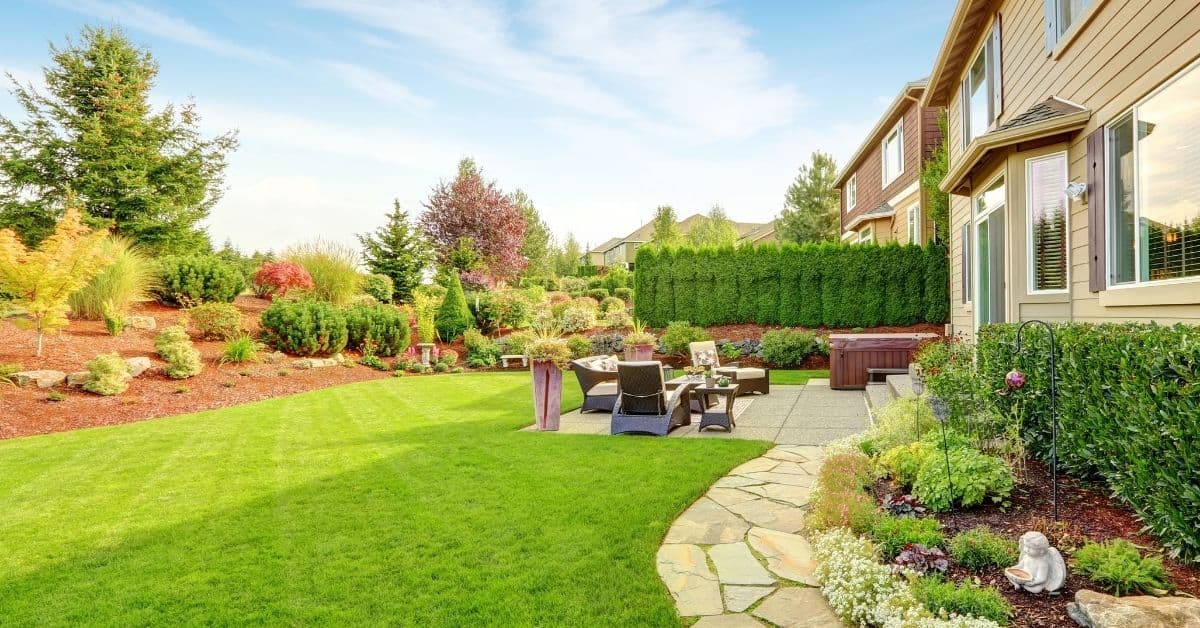 Before you begin making/adding changes to your backyard, it's important to take a close look at EVERYTHING that takes up any space in the yard. Begin making a Goodwill pile, a trash pile, and a DIY refresh pile.
Broken pots and statues, trash, old toys, dead plants, grass, and trees can all age an area significantly. Spend time on Google researching pictures of streamlined backyards that resonate with your style.
Take inventory of your own yard and get design tips and ideas from previous before and after backyard makeovers. This will give you more confidence as you begin your own backyard transformation.
DO NOT UNDERESTIMATE THE POWER OF THESE (NOT-SO-OBVIOUS) FIRST STEPS.
TIP #2: DECLUTTER YOUR BACKYARD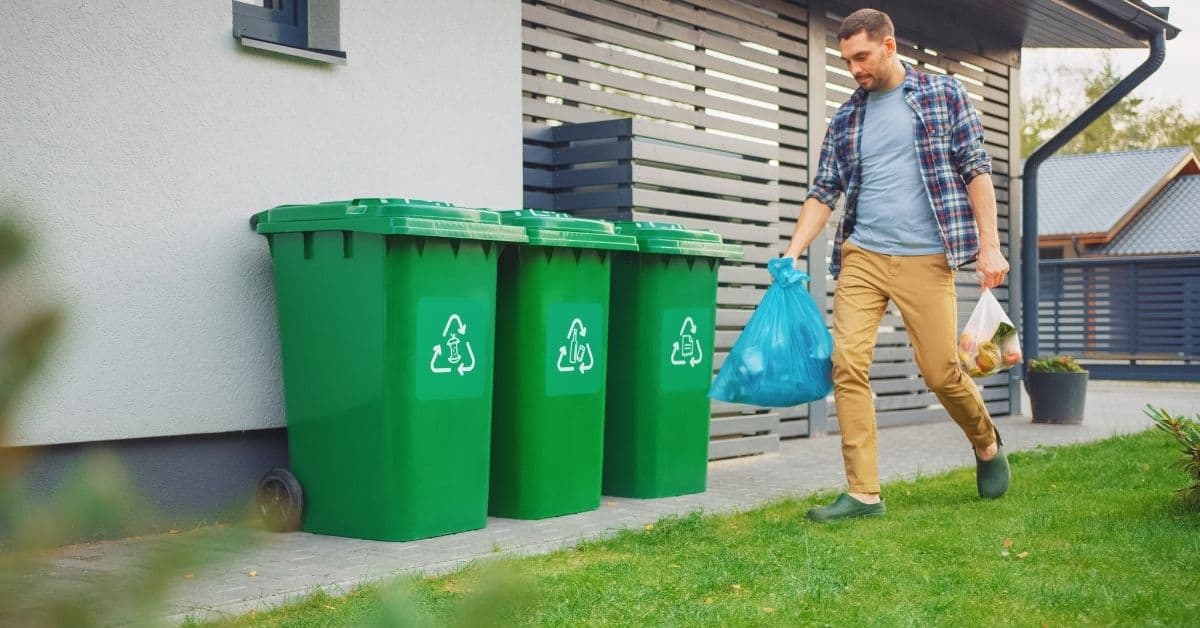 It is crucial to clean and declutter your backyard as much as possible. You'll be shocked to see how a little TLC and organization can create a ton of aesthetic appeal.
Be sure to store trash cans on the side of the house if possible, or at least in an area that's not too visible in the backyard. Also, purchasing a deck box can keep things organized and clutter-less while storing cushions, garden tools, and pool toys.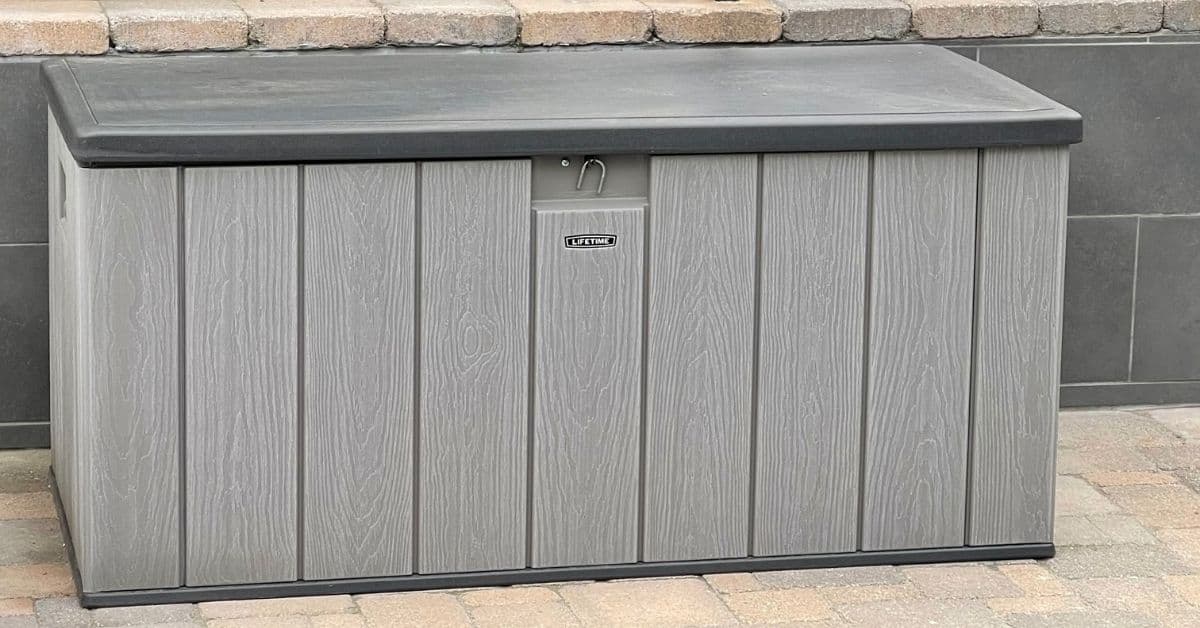 PSA, throw away dirty doormats! Having clean and modern-looking doormats will make a huge impact on your backyard, plus Target sells some beautiful mats for around $13.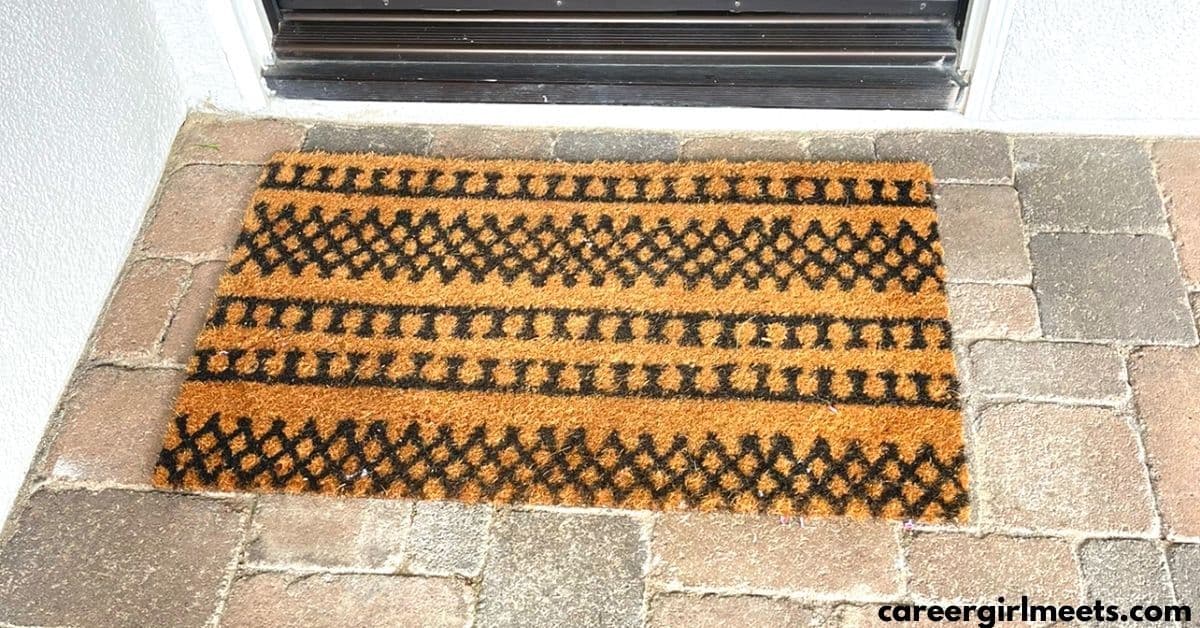 Purchase a Deck Box on AMAZON.
Purchase Doormats at TARGET.
TIP #3: POWER WASH CONCRETE, PAVERS, OR BRICK
If you have leaves, debris, stains, moss, mildew, or mold anywhere in your backyard, it's time to clean it up! Sweep the entire area first, and then turn your hose to the highest pressure nozzle setting. Next, give everything a thorough hosing off.
For stains, mix Comet (bleach powder) with water and scrub with a heavy-duty bristle brush. Allow the Comet mixture to marinate on the surface for at least 10 minutes. For oil stains, try using a degreaser and scrub. Then, hose off the area again with clean water and repeat the scrubbing process if necessary. NEVER use a wire brush because it can scratch and rust surfaces.
If your concrete, pavers, or bricks are in bad shape, rent a professional powerwash machine from a home improvement store like Home Depot. Bob Vila recommends TSP with the powerwash machine for extra tough stains, but it can be DANGEROUS to use because of its potency, so BEWARE and BE CAREFUL.
Consider hiring a professional to perform a muriatic acid wash for concrete with tough dirt and rust stains.
SUPPLY LIST:
Purchase a Sweeper from AMAZON.
Purchase a high-powered Hose from AMAZON.
Purchase Comet from TARGET.
Purchase a Heavy-duty Bristle Brush from AMAZON.
Purchase an oil Degreaser (for concrete and asphalt) from AMAZON.
Rent a Power Washer Unit from HOME DEPOT.
TIP #4: REMOVE DEAD SHRUBS, TREES, AND BUSHES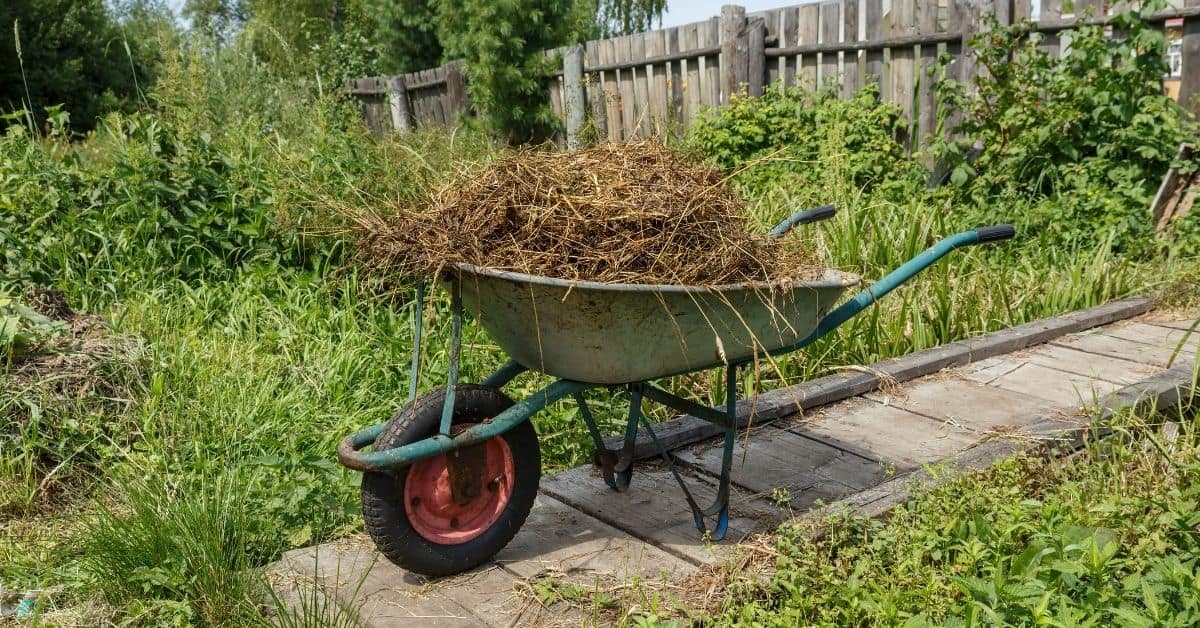 Do as much as you can to remove the dead stuff. If it's in your budget to hire help, then do it! If you already have a gardener, sometimes they're willing to remove excess waste for an extra fee.
Also, look closely at the trees in your yard that are still alive. Often people have OVERGROWN TREES that take up way too much space and cause an area to look closed in. Keeping trees trimmed and manicured (at least once a year) can add more sunlight, safety, and openness to your backyard.
Purchase a Tree Limb Trimmer on AMAZON.
Purchase a Hedge Trimmer on AMAZON.
TIP #5: CLEAN OR BUY NEW PATIO FURNITURE AND CUSHIONS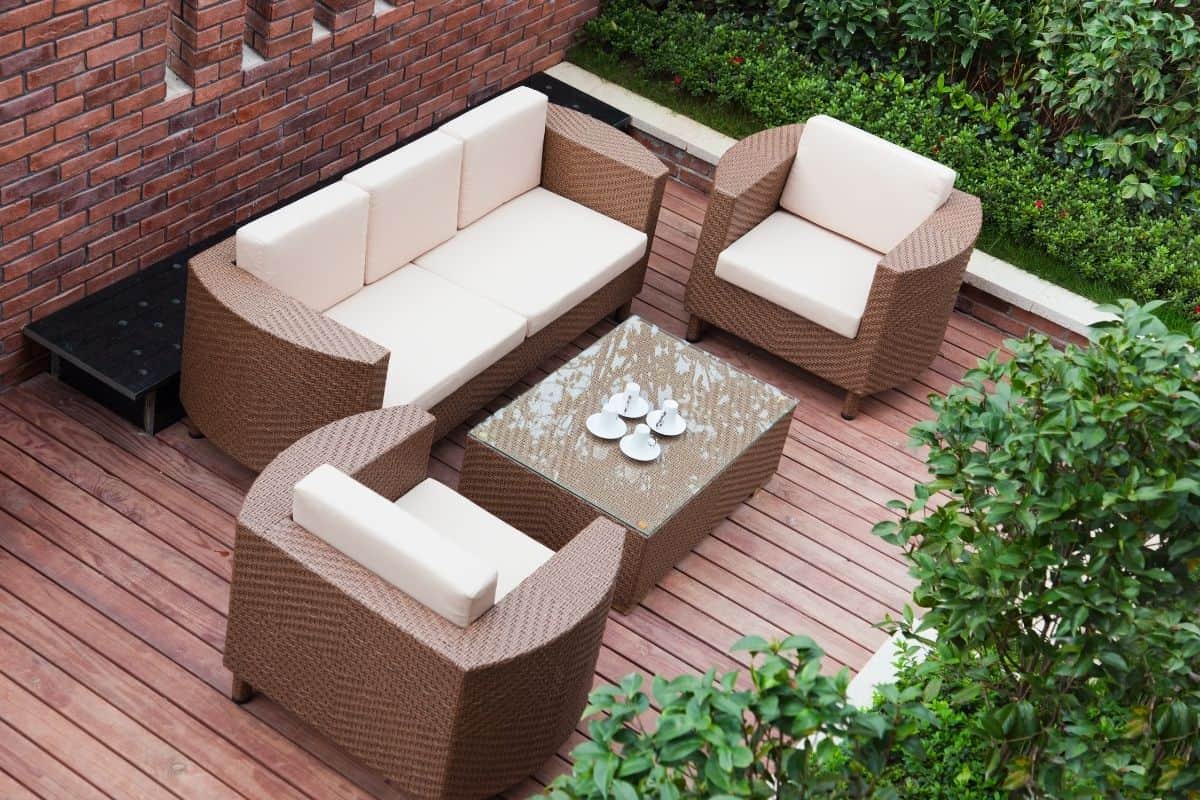 Can a DIY refresh salvage your old patio furniture? Pressure wash (or hose off) tables, side tables, and chairs first, then if it looks like it's in decent shape, add fresh paint.
Next, vacuum and clean all patio cushions and umbrellas with mild soap (like dish soap), warm water, and a scrubber. A toothbrush with soapy water can assist in removing dirt stains. Obviously, this won't work to remove all stains, but it's worth trying especially if buying new cushions is not in your backyard makeover budget.
Be sure to let the cushions dry in the sun to avoid mold forming.
If you're in the market for new backyard furniture, check out Target, Joss & Main, and Home Depot. If you're shopping for new patio cushions, try Amazon and Pier One. Invest in covers to keep furniture clean and protected.
Purchase Rust-Oleum Spray Paint for outdoor furniture from HOME DEPOT.
Purchase Star-Brite Cleaner for heavy-duty outdoor cushion stains from AMAZON.
Purchase Patio Furniture Covers on AMAZON.
TIP #6: CLEAN BACKYARD WINDOWS, SCREENS, AND TRACKS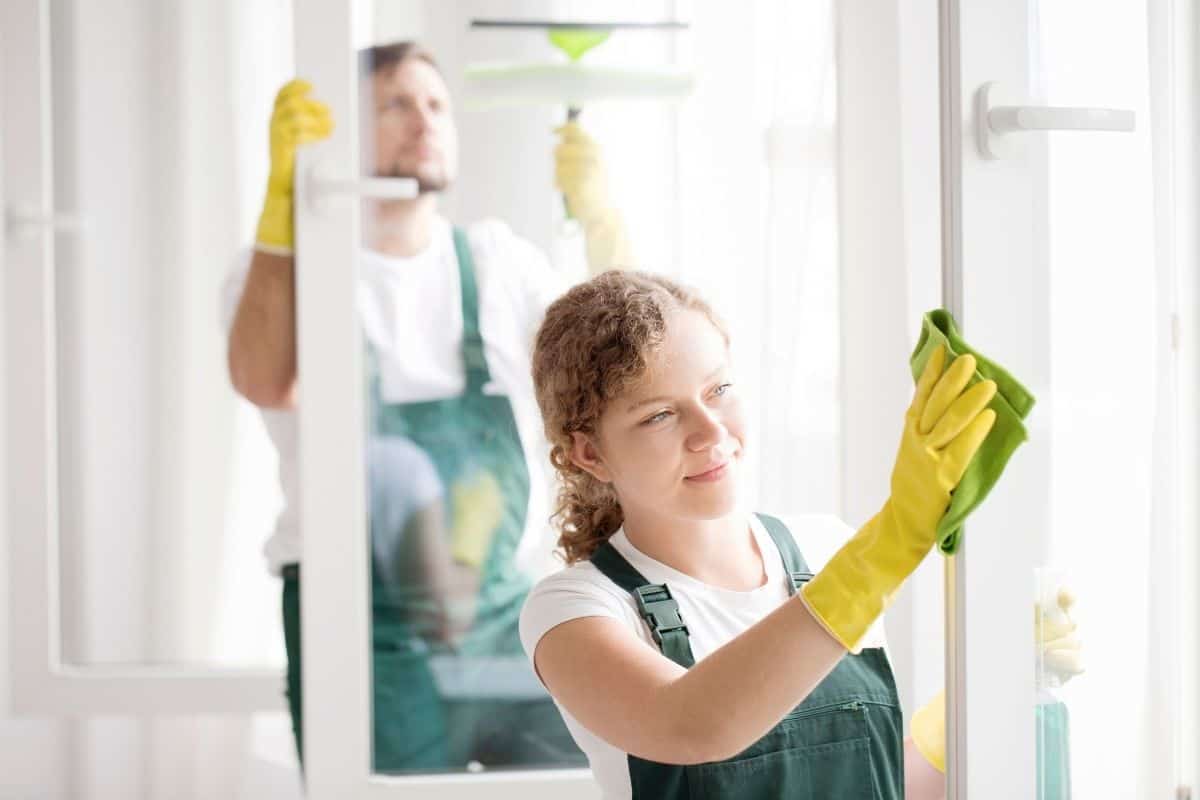 Cleaning your windows, tracks and scrubbing the screens with mild soap and warm water can add a shiny and inviting appearance to your backyard, so DON'T UNDERESTIMATE this step. Because of rain, snow, and wind, it's a good idea to do this once every 6 months.
If you can't clean the windows yourself, you can always hire a professional to do it for you. This is a high-priority tip to keep in mind for yearly backyard maintenance.
Purchase an at-home Window Washer Set from AMAZON.
TIP #7: BE CONSISTENT WITH MOWING AND TRIMMING!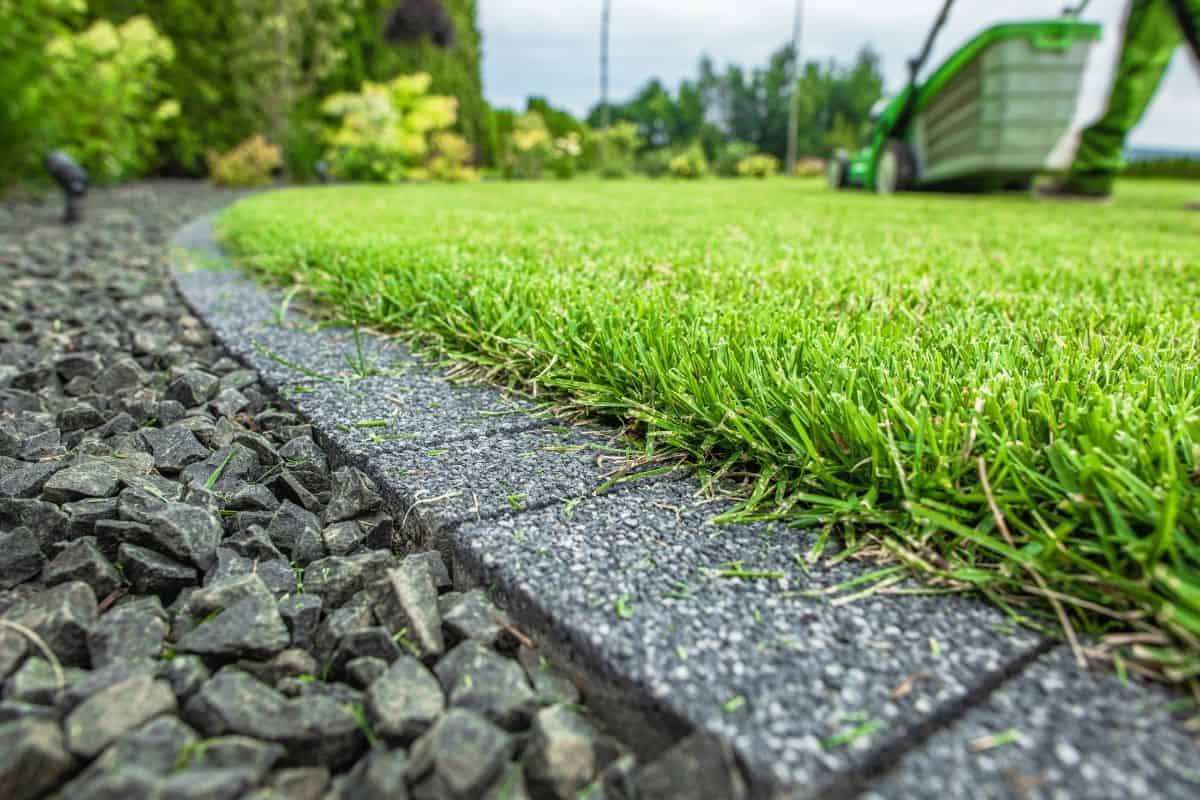 Keep your grass mowed and edged weekly! This will keep the lawn in good shape throughout the year, which means you'll be ready to entertain at a moment's notice. Also, be sure to have an efficient watering schedule or irrigation system in place and use fertilizer on your grass when necessary.
If you have bushes in your backyard, keep them trimmed. Use products like Weed B Gon and Insect killer for lawns to keep infestations and weeds under control.
Purchase Weed B Gon on AMAZON.
Purchase Insect Killer for Lawns on AMAZON.
Purchase Lawn Fertilizer on AMAZON.
TIP #8: MULCH: A BACKYARD'S SECRET WEAPON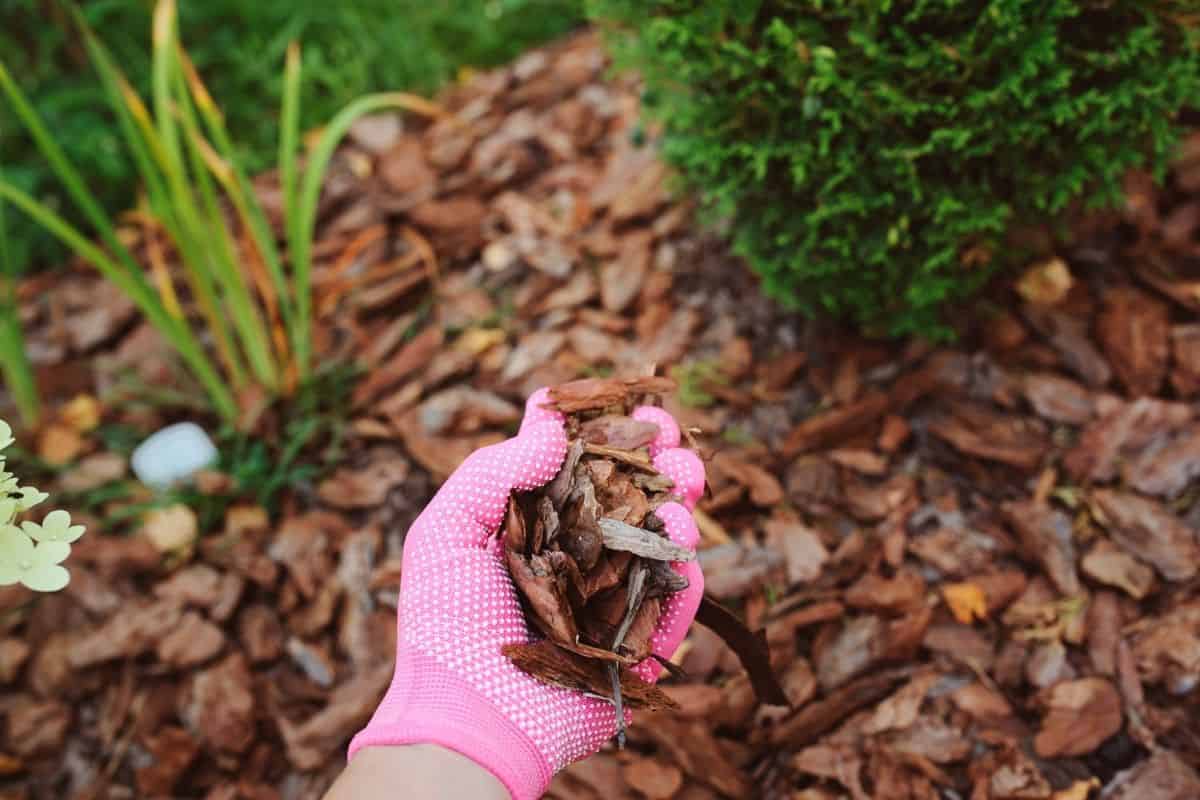 Mulch can improve the look of your backyard tremendously, and it also controls weeds and improves the soil. Placing mulch in plant and flower beds or on exposed soil can make all backyard landscaping look more attractive and polished. Check out these mulch landscaping ideas on Houzz!
Shop and Purchase Mulch at AMAZON.
TIP #9: DIY BACKYARD FLOOR MAKEOVER
STAIN AND SEAL CONCRETE
Add a stain and sealer to your backyard concrete. This will significantly upgrade the look of your backyard floor and make it look brand new! Check out this step-by-step tutorial.
INSTALL DECK TILES
Transform and make ANY concrete area look beautiful with DIY deck tiles. These tiles are EASY to install (you literally snap them together)!
I upgraded my concrete patio floor last year for under $200. The picture below shows the new deck tiles laid next to the old tiles before snapping them in place. Also, they come with a 10-year warranty.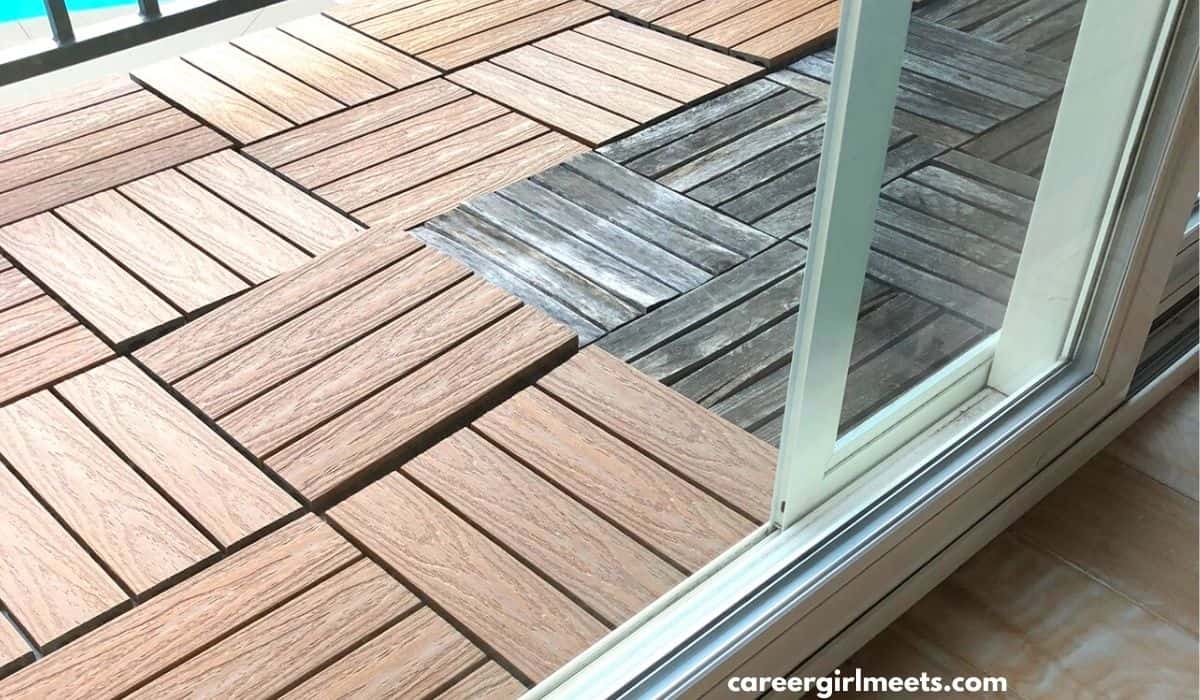 PAVERS
This is NOT necessarily an easy DIY approach, but they're important to mention if your budget allows. It's definitely a more expensive and time-consuming project, but WOW, pavers are BEAUTIFUL!
It never hurts to get an estimate or two. And if by chance you can install them yourself, even better!
Purchase Deck Tiles at HOME DEPOT.
Pavers Estimate from SYSTEM PAVERS.
Shop Pavers at HOME DEPOT.
TIP #10: MAKEOVER BACKYARD POTS, SOIL, AND PLANTS
Hose off old pots to remove debris, then make them over with a fresh coat of paint. Refresh pots with new soil if/when needed.
Shopping for new pots? Check out Amazon, Home Depot, Joss & Main, and HomeGoods. If you're trying to keep costs low, Amazon has beautiful black pots that I'll link below. They are plastic, but no one will ever notice, and the reviews are great! I bought some last year for my patio and still love them.
To add some appeal to a wall in your backyard, hang succulent pots. They add an organic touch of class and don't require much maintenance. Also, add a succulent hanger to a wall for more coverage.
If you're buying new plants or flowers for your backyard, be sure to research online what plants are suitable for the climate you live in. If you want low-maintenance plants, include that in your search before heading to the store.
SUPPLY OPTIONS:
Purchase budget-friendly Pots from AMAZON.
Purchase Hanging Succulent Pots from AMAZON.
Purchase a Plant/Succulent Hanger from AMAZON.
Purchase Plant Soil from AMAZON.
Purchase Rust-Oleum Spray Paint from HOME DEPOT.
TIP #11: BACKYARD LIGHTING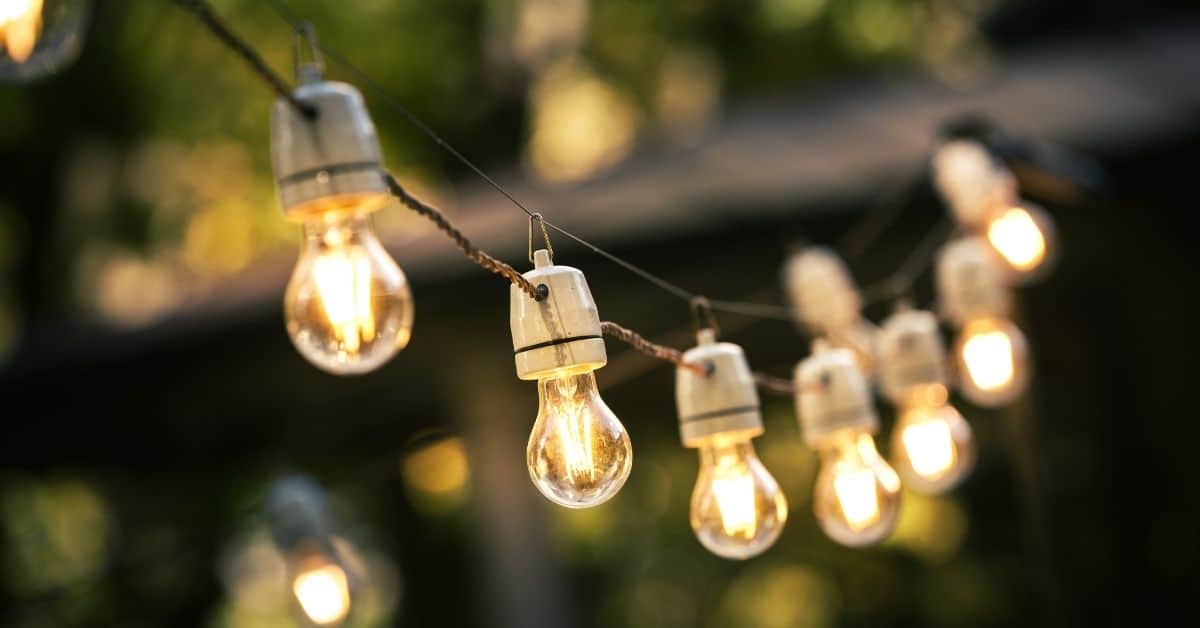 Add some ambiance to your backyard makeover by stringing bistro lights. Also, place solar lights to create pathways and illuminate flower and plant beds. Pictured below are glowing solar spheres.
If you're shopping for prominent backyard lightings such as lamp posts, lanterns, and wall lights, check out Joss & Main.
BACKYARD LIGHTING OPTIONS:
Purchase Bistro Lights on AMAZON.
Purchase Pathway Solar Lights on AMAZON.
Purchase Sphere Solar Lights on AMAZON.
TIP #12: BACKYARD FIRE FEATURES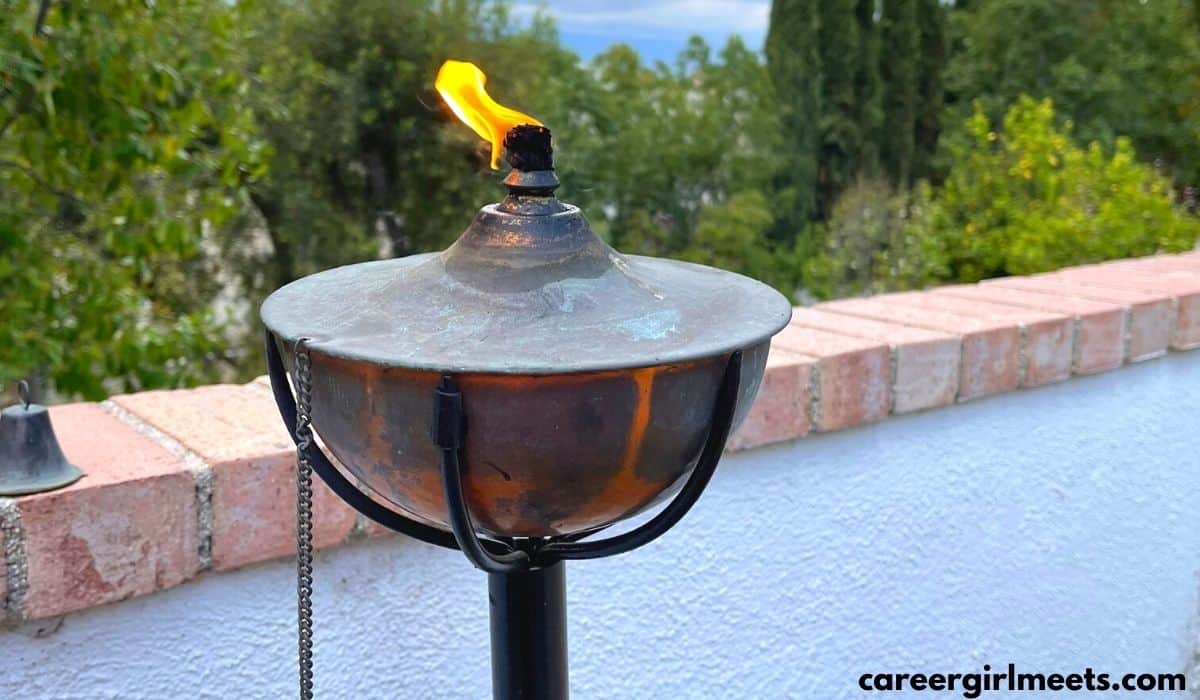 Upgrade your backyard with fire features! Tiki torches look amazing when they're lit at night, and they scream PARTY.
Purchasing a fire pit creates an area where everyone can gather around to drink wine, roast marshmallows, and keep warm.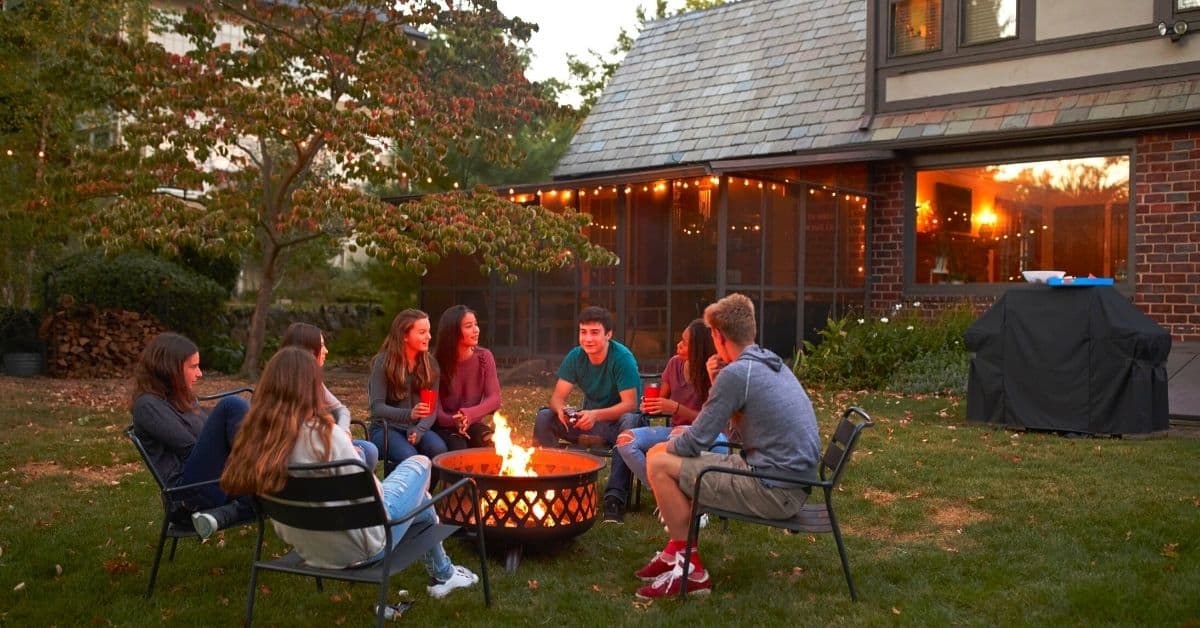 If you entertain a lot or enjoy sitting out in the backyard during all seasons, invest in outdoor heating. If you don't want a portable heater, you can install a patio heater by mounting it into the eave of a wall.
HEAT OPTIONS:
Purchase Tiki Torches on AMAZON.
Purchase a Fire Pit on AMAZON.
Purchase a Portable Patio Heater on AMAZON.
Purchase (requires installation) an Infrared Patio Heater on AMAZON.
TIP #13: BACKYARD WATER FEATURES
Create a peaceful oasis in your backyard by adding a water feature! And no, I'm not talking about a pool, but if that's in your budget, of course, DO IT.
A water feature can be placed anywhere but usually close enough to the main house so guests and yourself can appreciate the sound of the water cascading down. There are tons of different sizes, prices, and styles on Amazon, so pick which one resonates and read the reviews closely. Fountains start around $45 and go up in price from there.
BONUS: When it gets hot and sticky in the summertime, purchase a portable misting fan for the backyard. My parents have one, and it's a lifesaver during hot months!
Purchase this Backyard Fountain on AMAZON.
Purchase a Portable Misting Fan on AMAZON.
TIP #14: BACKYARD TV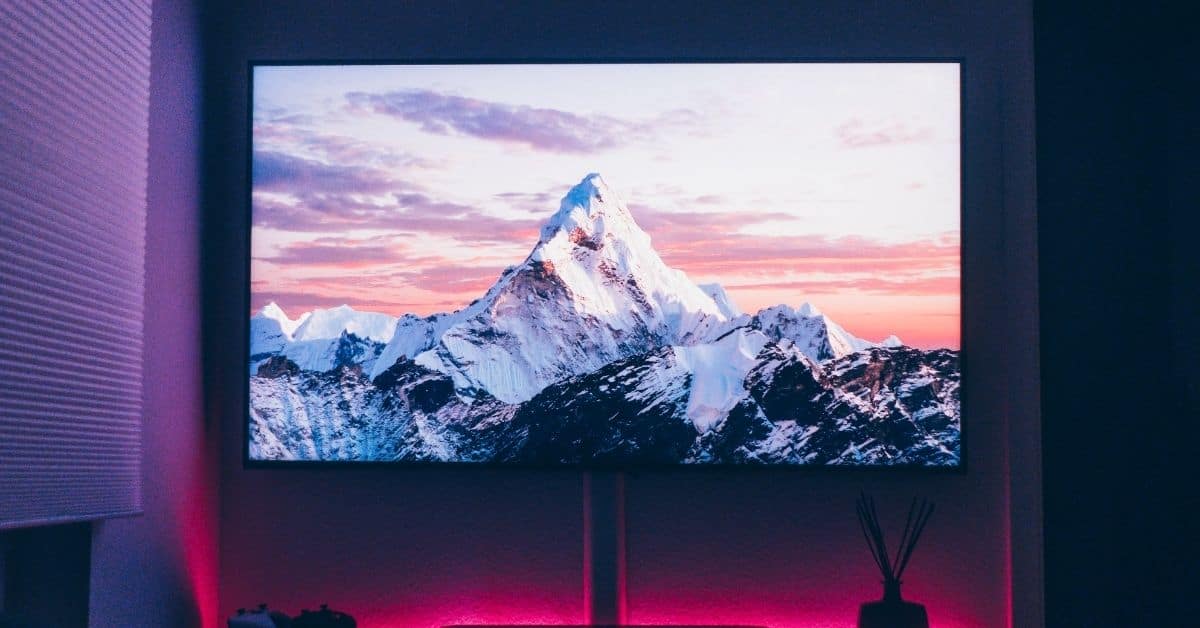 Installing a television in your backyard patio is great for watching games and movies, but there are a few things you MUST KNOW beforehand.
Televisions specifically made for outdoor use are a lot more expensive than regular TVs, which is why many people install INDOOR TVs in their backyard. Here are some tips to follow if you're thinking of installing an indoor tv outside:
LOCATION, make sure the tv is mounted in an area with shade.
TV COVER OR CABINET, keep the tv covered when it's not in use.
WEATHER, if you live in extreme heat and humidity, note the tv's weather rating before purchasing. Some regular TVs operate better in warmer temperatures.
These tips are meant to help extend the life of using an INDOOR TV outside and are not guaranteed. Do your own research for the specific climate you live in. My dad purchased an indoor tv (TCL 6 series, 55-inch) for his backyard patio two years ago, and so far, so good.
You can buy a 55-inch, 4 series ROKU television by TCL for around $400. This is a great TV with good reviews.
A 6 series TCL 55-inch costs around $800. A 6 series offers excellent picture quality, but if you're not using it every day, the 4 series is still wonderful and budget-friendly. If you need to pay for wall mounting and installation, that will cost around $125.
BACKYARD TV OPTIONS:
Purchase a 55-inch OUTDOOR TV at AMAZON.
Purchase a TCL, 4 Series 55-inch INDOOR TV on AMAZON.
Purchase a TCL, 6 Series 55-inch INDOOR TV on AMAZON.
Purchase an Outdoor TV Cover on AMAZON.
TIP #15: PILLOWS & THROWS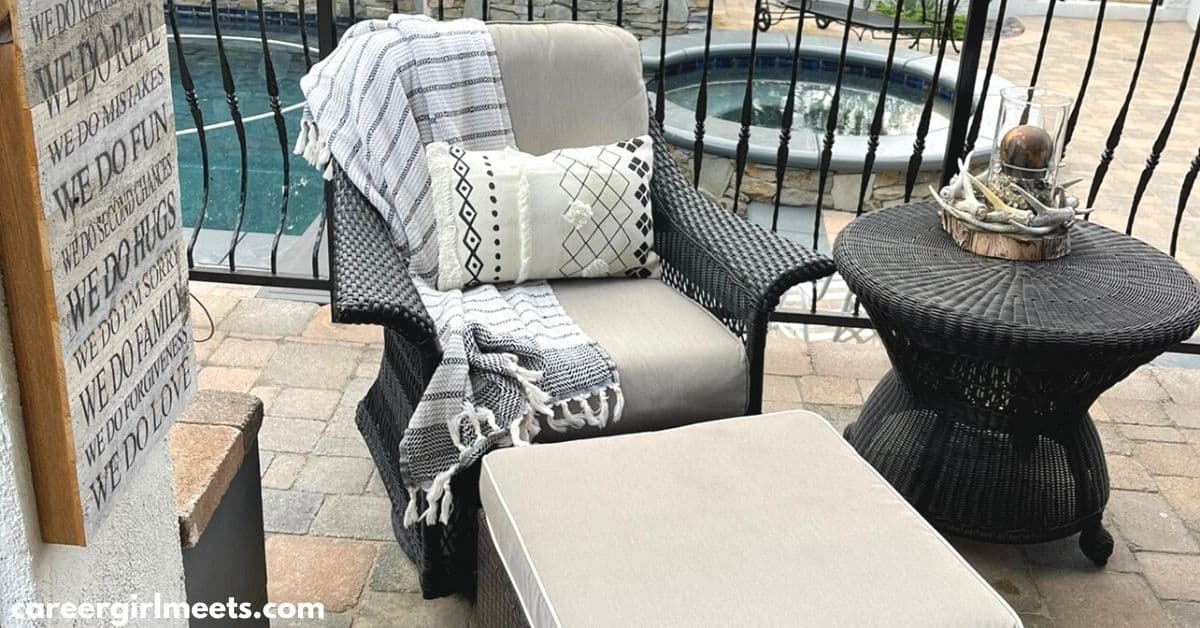 Including pillows and throws to patio furniture is a great way to add comfort and a pop of color. Plus, if you weren't able to remove all of the stains from your old patio cushions, this is a great way to hide them.
This easy backyard makeover tip will also upgrade your backyard's style. Be sure to keep pillows, throws, and patio cushions protected when they're not in use by purchasing a storage bag.
SHOP ITEMS:
Purchase the Boho Throw Blanket on AMAZON.
Purchase the Lounge Chair Pillow Covers on AMAZON.
Purchase the Barstool Pillow Covers on NORDSTROM RACK.
Purchase Pillow Inserts on AMAZON.
Purchase a Cushion Storage Bag on AMAZON.
TIP #16: CREATE AN INTIMATE BACKYARD CORNER
Create an intimate area for two with a bistro set! BONUS, the table and the chairs pictured above come with a built-in ice bucket. Just remove the lid from the middle of the table and add ice!
Purchase this 3-Piece Bistro Set with a Built-In Ice Bucket at COSTCO.
Purchase a Black Wicker 3-Piece Bistro Set on AMAZON.
TIP #17: OUTDOOR RUGS
Adding an outdoor rug to your backyard makeover is very affordable and can add a major pop of style. Plus, if you have concrete stains you'd like to cover, this is the perfect fix!
Be sure to purchase a rug specifically for the outdoors. These rugs are made with synthetic fibers resistant to stains, mildew, and fading from the sun. Jill Zarin, RHONY alum, has her own outdoor rug line featured on RUGS, and they're beautiful and budget-friendly.
For assistance with sizing, shape, and proper outdoor rug placement, check out these tips from design experts.
Shop Jill Zarin's Line on RUGS.
Shop Outdoor Rugs at POTTERY BARN.
Shop Outdoor Rugs on AMAZON.
BACKYARD MAKEOVER FACTS:
HOW MUCH DOES A BACKYARD MAKEOVER COST?
The experts say a decent backyard makeover can cost anywhere from $5,000 to $100,000 and up. The six-figure digits kick in once you start planning to add a pool, patio, bbq, etc.
It's important to know that if you're spending money on a pool, you need to budget for pool repairs in the future, such as leaks, because these can cost thousands of dollars to fix. Also, if you're going to have a pool maintenance worker every week, be sure to price-check what that will cost so you can include it in your monthly budget.
This article proves you DO NOT have to spend $5,000 to makeover your backyard. To make drastic architectural changes, yes, it's going to cost you, but there are many design tips that can have your backyard looking great this Summer.
HOW DO YOU ACCOMPLISH A BACKYARD MAKEOVER ON A BUDGET?
Establish a budget you feel comfortable with first, and then begin getting quotes of what things will cost. Have a firm price list written down, so you don't deter from your budget.
And remember, you don't have to complete your backyard makeover all at once. Even making minor changes can make a huge difference.
BACKYARD MAKEOVER: BEFORE AND AFTER
As mentioned earlier, please do your online research by checking out backyard before and after pictures. You want to have a firm plan in place before you begin making purchases you might regret. Plus, it's great to know all of the design options available to you and your budget!
FINAL THOUGHTS ON 17+ DIY TIPS FOR AN (EASY) BACKYARD MAKEOVER
I hope you found these 17+ backyard DIY design tips helpful! It's important to know that you ABSOLUTELY can accomplish a backyard makeover without spending a ton of money. ALWAYS do what feels right for your style, budget, and, most importantly, your backyard dreams! If you have any questions or DIY backyard tips, please comment below.
Related Articles:
7 DIY DECOR IDEAS TO REFRESH YOUR HOME
DIY PAINT UPHOLSTERY: OLD FABRIC BED GETS A MAKEOVER