Make these buttery, crispy bread bite appetizers for your next party! They're so EASY to make and only require three delicious ingredients.
This post is all about how to make Easy Bread appetizers.
These baked bread appetizers are the ultimate party sides to serve with wine or cocktails, and you won't believe how easy they are to make. They only call for three ingredients: white bread slices, butter, and jalapeno cheese filling.
And really, any filling you want to use will work deliciously. I like the jalapeno cheese dip at Aldi's, but of course, Trader Joe's and any grocery store have many filling options you can buy.
I know it's surprising to hear these bites were made using a loaf of Wonder Bread, and you might be wondering, "isn't white bread considered unhealthy?" Sure there's not a lot of nutritional value in these slices, but you won't be eating them every day, so live a little!
Plus, white bread is moist and quickly flattens with a rolling pin, making it easy to stuff and crisp in an oven or air fryer. It's not to say you couldn't use another type, but since we're not making crostini appetizers, these bread slices are best for this recipe.
And, no one tasting them will ever guess they were made with white bread. So, let's get into the post so you'll have all of the details on how to make these addicting bread bites.
Easy Bread Appetizers
Bread vs. Pastry
So what's the difference between bread appetizers and pastry appetizers? And why wouldn't I use pastry dough for this recipe instead of white bread slices?
There's such a fine line between white bread and pastry dough, but they have one significant difference that sets them apart. Pastry appetizers are flaky and taste best with smooth, dense cheese fillings or jellies.
White bread or bread, in general, is denser and not flaky, which means it can handle being stuffed with chunky ingredients like artichokes, jalapenos, or juicy spreads like bruschetta. Just like a crostini appetizer that might use french bread or a baguette, this white bread also has a dense base to handle toppings like bruschetta.
Ingredients You'll Need For These Party Bread Appetizers:
Equipment Needed:
How To Make These Stuffed Bread Appetizers For Your Next Cocktail Party, Step-By-Step Directions
Step One: Using a sharp knife, cut the crusts off and preheat the oven to 400 degrees F.
Step Two: With a rolling pin, flatten each bread slice as much as you can. A fresh loaf of bread is recommended. One time I made this from a loaf that had been in the freezer, and it was harder to roll because it wasn't as moist.
Thin slices also help to form the appetizer. And they just taste better!
Step Three: With a butter knife, smear the jalapeno and artichoke filling (or whichever filling you prefer) over the thinly rolled bread slice. Use approximately one tablespoon of filling per slice.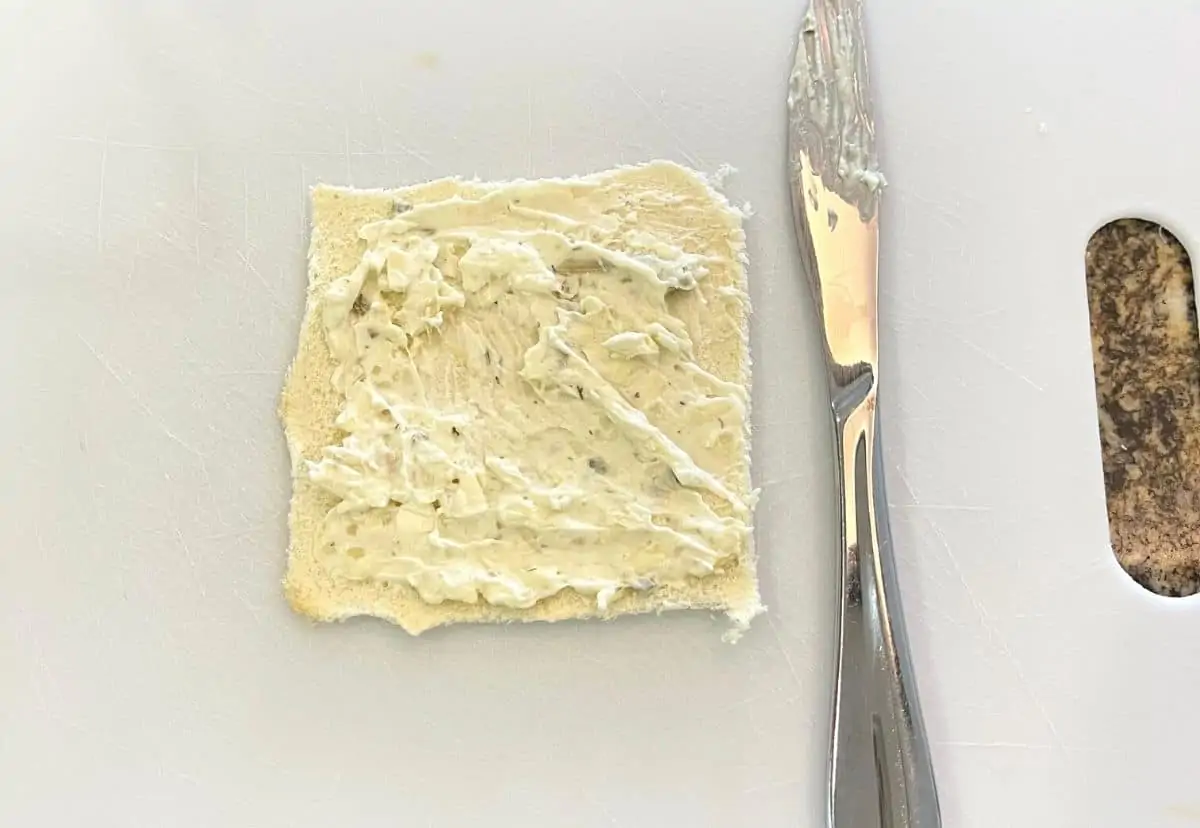 Step Four: Roll the appetizer. This will be easy as long as the crusts have been cut off and the slices rolled thin. Again, white bread is easier to work with than french bread or wheat for this particular recipe.
Step Five: Cut each bread appetizer in half using a sharp knife. Next, smear a generous amount of butter on the outside of the bread with a butter knife.
Step Six: Place the bread appetizers on a baking sheet lined with parchment paper. Disregard this step if you're using an air fryer.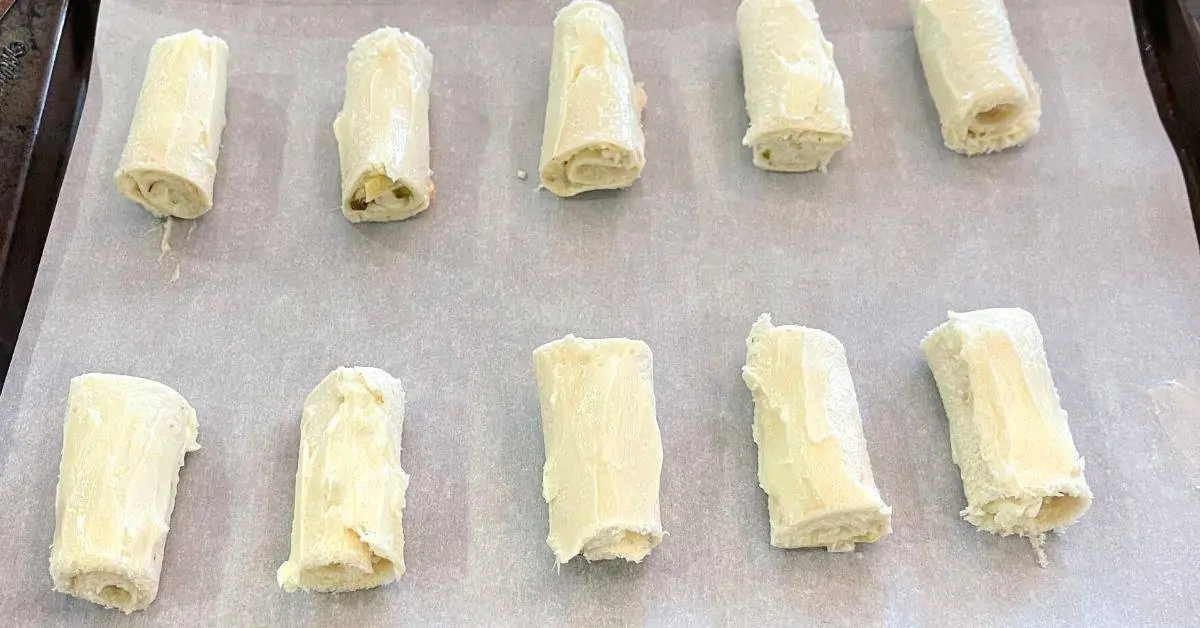 Step Seven: Bake them in the oven at 400 degrees F for 10-14 minutes, or until golden brown. If you own an air fryer, bake these bread bites at 400 degrees F for 6-7 minutes. The bites should look toasted all over with a golden brown color.
Using an air fryer is highly recommended because it toasts the bread appetizers evenly from top to bottom.
Step Eight: Serve immediately. These bread appetizers taste best when served WARM.
Facts & Bread Appetizer Questions
What Other Snacks Can Be Made With White Bread?
As mentioned earlier, you can buy any filling you want to make this stuffed bread appetizer. There are NO rules!
Whether you love garlic bread, crostinis, or are serving bruschetta and need baked bread slices, using white bread can take you far in the recipe world. Flattening the bread with a rolling pin and toasting it is A MUST before adding any toppings.
What Are 6 Specific Types Of Appetizers I Can Make With White Bread?
-Bread with Tomato Appetizers, Like Bruschetta
Instead of using french bread, cut a loaf of white bread into 1-inch chunks. Spread the bread chunks close together on a baking sheet and follow the recipe in the link above.
Instead of pizza dough, Cut off the crusts and flatten each white bread slice. Roll each piece to make one appetizer with sausage filling inside.
Fun Bread Fact: What Appetizer Is Made From A Slice Of Italian Bread?
Crostinis! And now you know you can use white bread instead of Italian.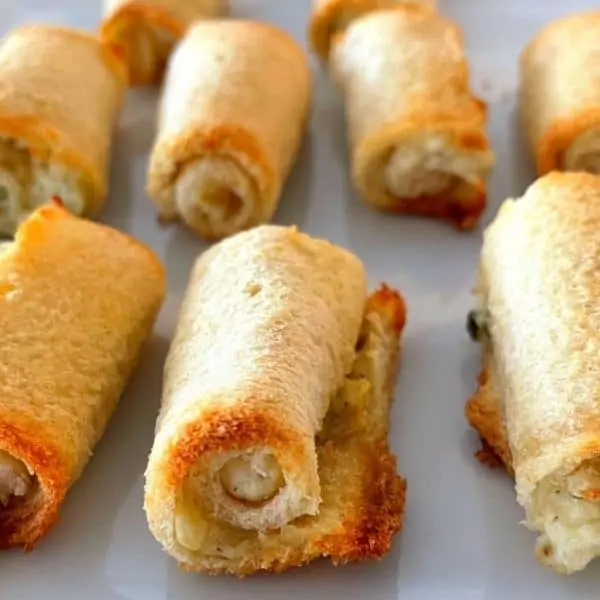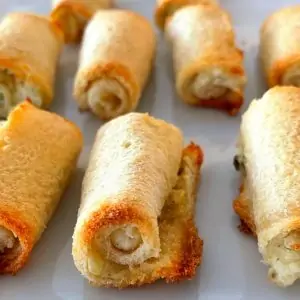 Easy Bread Appetizers
Make these buttery, crispy bread bite appetizers for your next party! They're so EASY to make and only require three delicious ingredients.
Equipment
Rolling Pin

Sharp knife

One tablespoon for measuring

Butter Knife

Baking sheet lined with parchment paper (skip if you're using an air fryer)

Air Fryer (highly recommended)
Ingredients
Easy Bread Appetizer Ingredients
1 Loaf of white bread
Butter
Jalapeno & Artichoke Dip (or a filling of your choice)
Toothpicks (optional)
Instructions
Easy Bread Appetizer Directions
Serve immediately. These bread appetizers taste best when served warm.
Nutrition
Serving: 1gCalories: 90kcalCarbohydrates: 15gProtein: 1gFat: 8g
Final Thoughts on Easy Bread Appetizers
These savory party bread appetizers are always a hit, especially with a cocktail in hand! Not only are they addicting, but they are so EASY to make, and you might already have the ingredients, which means no trip to the store. WINNING.
With the holidays right around the corner, you can bet these bread appetizers will serve perfectly with any gathering you host with friends or family. Follow career girl meets… on Pinterest, Instagram, Twitter, and Facebook for more recipes.
Related Articles: