Did you know hanging curtains the WRONG way can make a window, room, and ceiling appear smaller? Check out how to hang curtains like a pro with these five EASY tips.
This post is all about How To Hang Curtains Like A Pro: The Do's And Don'ts
Curtains can add a fresh and dramatic effect to any room in the home, and if they don't, there might be something wrong with how they were measured or hung. Learning how to hang curtains isn't hard, but some prep work is involved to avoid mistakes.
To prevent making your home's interior look small and incomplete (the most significant mistake), this article will break down an easy step-by-step process that will assist you in hanging curtains. Because believe it or not, curtains can be hung (by you) without the help of a professional in five easy steps.
Before tackling these steps, which we will discuss below, be sure to know what kind of material you want for your curtains and the rod style. If you need help with some five-star material options, we'll discuss that too!
How To Hang Curtains Like A Pro: The Do's And Don'ts
A Beginners Guide To Hanging Curtains In Five Easy Steps
This window (pictured above) is 88 inches wide. The gold rod extends out 112 inches to give the appearance of a wider window. The rods were screwed in as high as they could be placed to add ceiling height.
In this room, the ceilings are 9 ft., and the rod was set an inch down from the crown molding. The white textured linen curtains are 100% blackout and 108 inches in length. They drape slightly at the floor for a transitional style, but they could be hemmed if needed.
Below is a step-by-step instructional process of how to hang curtains the proper way. These five steps will walk you through everything you'll need from tools, materials and show you how to hang curtains with a rod.
Step 1. What Is The Proper Height To Hang Curtains?
Measure, Measure, And Measure!
DO measure everything before you begin ordering materials. And re-measure before installing the curtain rods.
First, measure the overall width of the window, including the frame. For example, the above windows, including the trim, measure 88 inches wide.
How Far Should The Curtain Rod Extend Past The Window?
When determining rod width, add at least 2″ to 12″ to the window width so curtain panels can stack on each side. For example, I added 12 inches on each side for the windows above. 88 inches + 12 inches + 12 inches = a rod width of 112 inches. Because I wanted my windows to appear wider, I extended the rod width more than the traditional 2 to 12 inches.
Are you using Curtain Hooks?
Before deciding the height placement of the rod, determine if you're using curtain hooks, a.k.a. drapery rings. FYI, I did not use drapery rings. Instead, I slid the curtains directly onto the rod.
Where Should Curtain Rods Be Placed?
Curtain rods are traditionally hung 4″ to 6″ above the window frame. But according to Architectural Digest, you can add ceiling height and a dramatic effect to any room by placing the rod as close to the ceiling as possible. For example, I put my rod one inch down from the crown molding because that was as close to the top as I could get.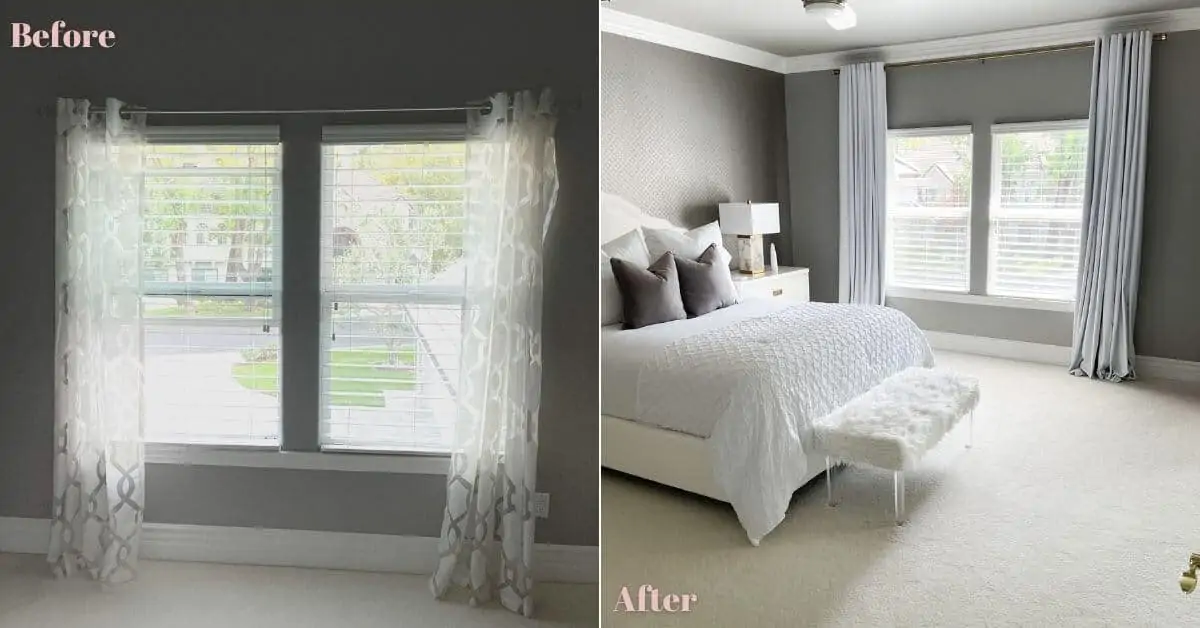 DO measure from the floor up to where you plan to hang your rod so you can determine the length of curtains you'll need. Curtains should only hang about 1/2 inch above the floor, or you can add more length like mine if you want them to pool.
DON'T skip measurements. This could result in short curtains, wrong rod sizes, and curtain panels that do not cover the width of the windows.
Step 2. How To Hang Curtains For Dummies
DO Make Life Easy And Gather The Proper Tools.
Tools You'll Need:
Drill bits (Bits that drill holes into the wall so wall anchors or screws can fit)
Wall Anchors (This will depend on your drywall. Not everyone will need them.)
Finials, brackets, and screws are usually included with rod sets.
Rub 'n Buff (antique gold) was painted on with a small brush where the rods connected. Because I ordered the larger rod size 72″-144″, it comes with four rod parts. Each rod part has a small piece of clear plastic that is slightly visible. Your guests might never see it, but I brushed Rub 'n Buff over it to make every part look gold just in case. ????
DON'T attempt to hang curtains like a pro without the proper tools. You'll regret it.
Step 3. Pick Curtain Materials and A Rod Set That Matches Your Home's Style
DO take your time picking the suitable curtain materials and rod set for your home. Curtains are one of the first things seen when one enters a room. They can shape and date your home's style just like a person's hair cut and color can shape and complement their face.
How Long Should Curtains Be Ordered?
DO make sure you order the correct curtain length. Standard curtain lengths are 63, 84, 96, and 108 inches. It's best to order curtains a few inches longer instead of shorter.
How Wide Should Curtains Be Ordered?
DO order curtain panels that are at least two times the size of the window. DON'T order panels that don't cover the windows, or you'll have a bright shot of sun hit your face on those weekends you're trying to sleep late.
For example, I ordered two curtain panel sets because my rod width is 112 inches and the ceilings are 9 ft. Each panel measures 52 wide x 108 in length. Each curtain set comes with two panels, so I had a total of four panels, two for each side. Again, my window width was 88 inches, and four panels total 208 inches wide, which is about two and a half sizes bigger than the width of the windows.
Best-Selling Curtain Materials To Buy:
Purchase Textured Linen Blackout Curtains on AMAZON.
Purchase a Gold or Nickel Premium Curtain Rod Set on AMAZON.
Step 4: Time To Install The Brackets
Since you've determined the height of the curtains with detailed measurements back in Step 1, DO grab a pencil and mark where the brackets will be placed. A level (if you own one) is helpful to check if pencil markings are even before you begin drilling.
The curtains I installed had three brackets, one to the left, center, and right. Most rod sets you purchase will come with three brackets.
Evenly place the center bracket in the middle, and the other two are commonly placed about 4 to 6 inches from the side of the window frame. I put mine 12 inches from the side of the window frame because I wanted the window to appear more expansive.
Next, a stud finder comes in handy to check if the pencil markings for the brackets line up with studs. If they don't line up with studs, DO use wall anchors after drilling holes with a drill bit. Wall anchors provide additional reinforcement, so the screws don't slip out of the wall.
Once the holes are drilled, use a screwdriver to screw the brackets into the wall. Each rod set comes with specific instructions, so adjust as needed.
Step 5: Install Rod And Curtains
The Correct Way To Hang Curtains
If your curtains are wrinkled, DO steam, iron, or use wrinkle release spray to remove creases. Next, slide the curtain panels or rings onto the rod.
Place the rod onto the installed brackets. If the rod set came with set screws, tighten the set screws to secure the rod. Attach the finials onto each end of the rod.
Summarizing The DON'TS: Curtain Hanging Mistakes To Avoid
DON'T skip measurements. Also, DON'T attempt to hang curtains without the proper tools.
DON'T hang the rod too low. This mistake can make a room, window, and ceiling appear smaller.
DON'T make the rod's width too small. The rod must be broad enough because this will make the window appear larger rather than smaller. Refer back to Step 1.
DON'T order curtain panels that are not wide enough. You don't want an unexpected blast of the sun in the morning. Refer back to Step 3.
DON'T order short curtains. It's best to order them longer rather than shorter. Longer curtains can be hemmed or pool at the bottom. Refer back to Step 3.
Common Questions & Facts On How To Hang Curtains Professionally
How To Hang Curtains Without Drilling?
If you're living in an apartment and can't drill holes into the wall to hang curtains, research these rod tips that don't require drilling:
How To Hang Curtains From The Ceiling?
You will need to purchase rod brackets made for the ceiling. Here's a step-by-step tutorial from Home Depot.
How To Hang Curtains In An Apartment?
Again, since most people don't want to drill screws or hammer nails into apartment walls, tension rods, command hooks, magnetic curtain rods, or twist and fit rods are a great alternative to drilling holes.
How To Hang Curtains With Hooks And Rings?
Drapery rings and hooks are a popular way to hang drapes from the rod. Also, if your curtain panel is too short in length, rings can add 1 to 2 inches.
According to Pottery Barn, you should slide the rings onto the rod without the drapes. Secure the rod with set screws and attach the finials. Next, clip or hook the curtain panels across.
Purchase Curtain Rings on AMAZON.
Final Thoughts On How To Hang Curtains Like A Pro: The Do's And Don'ts
I hope this detailed five-step process on the DO's and DON'Ts of hanging curtains helped. While initially, this might seem like a daunting task, it's easy with the proper preparation and tools. If this article helped you hang curtains like a professional or you have any questions, let me know in the comments below!
You can also follow career girl meets… on Pinterest, Instagram, Twitter, and Facebook for more home decor ideas, recipes, and gift guides.