Looking for a living room refresh that won't break the bank? Look no further! Welcome to Organic Modern Interior Design.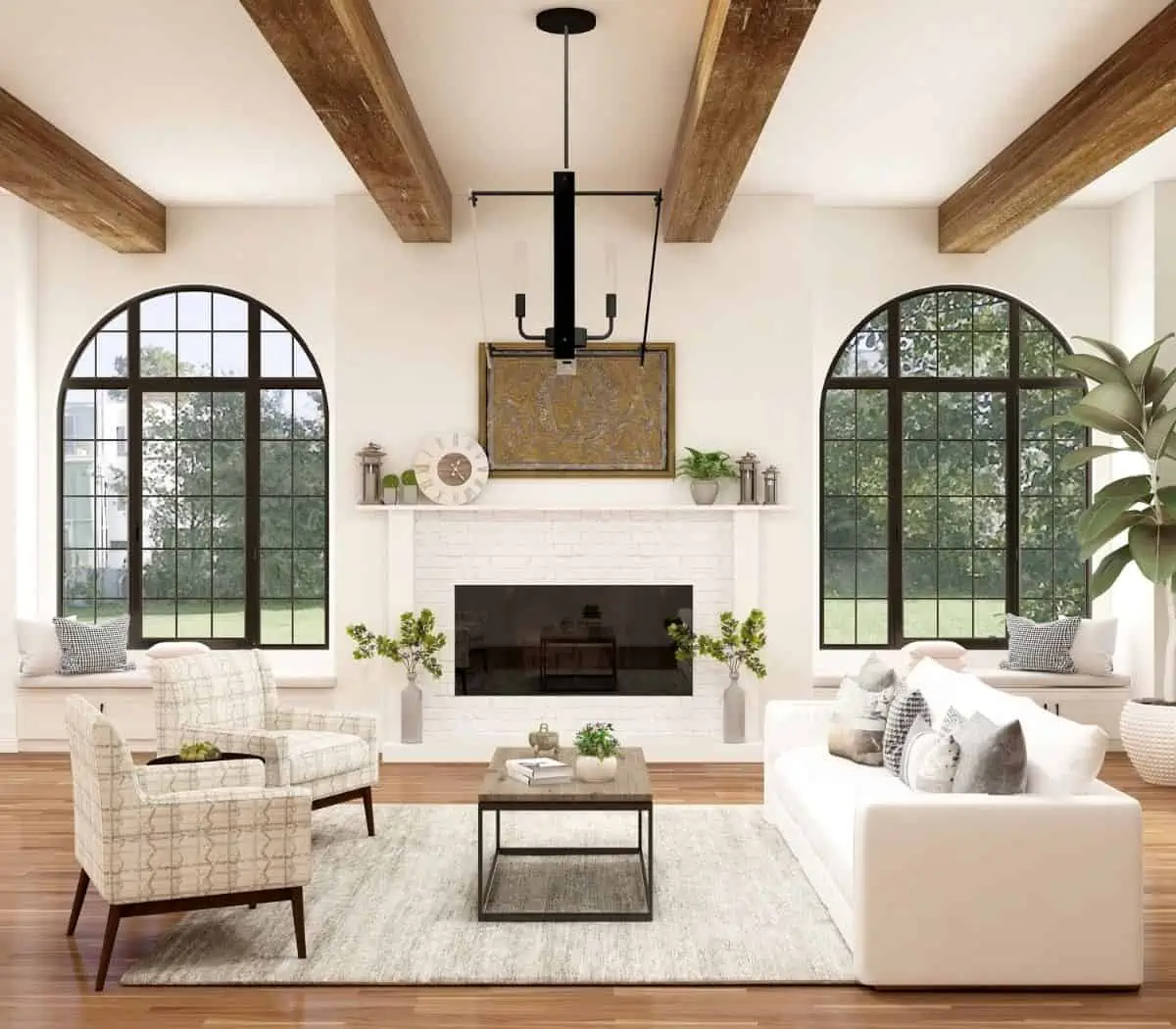 This post is all about 9 Organic Modern Living Room Styles.
This organic modern decor trend is a breath of fresh air. The goal is to layer organic shapes and elements against a backdrop made of sophisticated simplicity.
The objective is not to steer you toward something that won't be relevant in six months but rather a fluid and easily refreshed design. After all, design evolves and does not become stagnate. Remember, change can be fun and energizing!
According to interior design experts, farmhouse and mid-century decor could well be on their way out. Truthfully, it probably won't happen right away. If you have and love these styles, don't worry.
You can easily accomplish the organic modern design with either a modern farmhouse or mid-century modern in place. It's about the evolution of this new organic style. There will definitely be a minimalistic backdrop and more luxury touches with this decor than the casualness that dominated the last few years.
However, the organic modern decor will still be comfortable with an effortless feel. It's all about keeping it real! With that in mind, let's discuss nine ways you can implement this type of interior design in your living room.
9 Organic Modern Living Room Styles
What Is Organic Modern Interior Design?
Organic modern design is the best of all worlds and appeals to men and women. You'll notice a nod toward Scandinavian minimalism, with layers upon layers of interesting textures and naturalness.
Think of your new organic modern living room as warm, natural, and sophisticated. The big difference from the previous two trends (farmhouse and midcentury) is organic modern design has a classy base of contemporary minimalism, and then the character is layered on.
Modern alone can be boring and sterile. While this organic style still has clean lines, the design brings a mix of natural beauty and welcoming comfort. This type of decor softens the minimalist modernism concept with meaningful pieces. Remember, a home should tell a story, your story.
1. The Minimalist Approach
Zero Clutter & Sustainability
First, before you can implement any new design on your current living room, you should clear out the old to make way for the new! It's a minimalist design approach that involves ZERO CLUTTER.
Several studies have shown that everyone in the home will receive excellent benefits from having clutter cleared. Reduced anxiety, increased problem-solving skills, and overall well-being is just a few perks of the zero clutter approach.
Remember, to pull off a modern organic design in the living room; you need to start with a clean, minimalistic backdrop. Below are SIX WAYS you can begin decluttering:
First, look around and ask yourself what is it about your current living room that you love. Zero in on each furniture piece, picture frames, accessories, and artwork.
Whatever you don't love, decide if the piece can be refurbished or repurposed in another room. A fresh coat of paint or some rub n' buff can work miracles.
If you're not sure about an item, move it out of the room and give yourself time to think about it.
Donate or sell anything that no longer brings joy.
Begin to embrace the emptier space and give yourself the freedom to let your imagination work its magic.
Take a look at your artwork. Does it match the vision you have for your new organic modern living room? If not, put it aside and check out how you can easily DIY old canvas paintings here.
2. How To Choose The Perfect Neutral or Bold Paint Color For Organic Modern
Above is an example of a light and airy color palette that gives the perfect backdrop. Neutrals are here to stay, and a shade of white will make your walls flow from room to room and provide an open and cohesive look.
Organic modern living rooms incorporate a lot of whites, creams, and beiges with splashes of bold. White walls are never going out of style, and what better way to showcase your home's treasures. Plus, a crisp white backdrop provides the best contrast for art and brings the outdoors inside.
Best of all, you're going to love the neutrals with the organic features you'll be adding, and they won't clash with other colors that already exist in your living room. Because there are hundreds of shades of white, see neutral paint recommendations from design experts here.
Looking To Add A Bold Pop Of Color?
GREEN is the biggest color design trend to hit. Benjamin Moore, Sherwin-Williams, and Behr have all chosen a shade of green for their color of the year. From soft to vibrant, there are many shades to choose from.
Very Peri has debuted from Pantone's headquarters as the 2022 color of the year. This color is a periwinkle blue hue with violet-red undertones. This type of bold color would work well for accent walls. Think modern, fresh, and joyous!
3. Organic Modern Furniture
Ideally, organic modern furniture has natural textures with sleek surfaces and clean lines. Leather would also be a good option. Most of all, the furniture should represent a cozy haven.
If your budget doesn't allow for new furniture, look into DIY reupholstering, paint upholstery, or sofa and chair covers. You can also buy sofa blankets to tuck into an existing couch for an updated organic modern style. The folded blanket will hardly be noticeable once you add pillows and throws.
Shop Organic Modern Furniture Below:
A tweed-inspired fabric sectional with clean lines and a natural exposed wood base.
Purchase this Sofa at LIVING SPACES.
A comfy sectional without the exposed wood, but sleek and modern. This sofa offers a gray option which is still considered neutral and would pair nicely with white and wood accents and touches of black. Bonus, it comes with storage space.
Purchase this Sofa on AMAZON.
Feel like you don't have room for a sectional? The Lelana sofa sleeper from Wayfair is sleek with rounded arms and wood legs. It's made with performance fabric and optional color choices.
Purchase the Lelana Sofa Sleeper from WAYFAIR.
If you have room for some accent chairs, curves and rounded backs are on trend with the organic modern style.
Check out some of these Accent Chairs on WAYFAIR.
Ottomans and benches are an exciting way to work in organic wood, natural textures, or metals. Some even provide much-needed storage space.
Check out these Ottomans & Poufs available at WAYFAIR and AMAZON.
Coffee tables can be a combination of metal and wood. All-natural wood, bamboo, rattan, and even concrete are excellent for an organic modern living room.
Shop Organic Modern Coffee Tables on WAYFAIR and AMAZON.
For budget-friendly furniture ideas, check out sofa covers or think about tucking nice large blankets into a sofa you already own. No one will be able to tell you upgraded your couch with a blanket.
Shop Sofa Covers on AMAZON.
Shop Lovely (Large) Blankets on AMAZON.
Here's a list of stores known for their organic modern furniture styles. Several of these stores provide free or discounted design services:
4. For The Love Of Plants
Adding fresh flowers and houseplants will instantly promote a calm and zen organic modern environment conducive to letting go of stress. This transformation will be immediate.
What better way to incorporate the color of the year into your beautiful new organic modern living room? Think shades of green, and how about a fresh cut hydrangea in Pantone's new Very Peri color!
That's about as organic as you can get. Remember, I promised you this organic modern design would keep it real!
The Best Indoor Plants To Purchase:
5. Vintage Organic Modern Living Room Decor
Reuse, Recycle, and Reimagine… is the mantra for creating your own personal organic modern living room. Remember those pieces of furniture you loved but weren't sure about and saved when you were decluttering? Now, step back and look at them through a different lens.
The organic modern design infuses the new with the special antique pieces that are part of your history. That's what is so rich about this interior design. It's unique to each one of us. Vintage design (even distressed pieces) will add more organic warmth, charm, and character to your new modern living room.
Vintage Home Decor:
Start foraging vintage stores, aka thirft stores and even estate sales, aka garage sales. Let your imagination guide you to those special antique treasures.
Did you find the perfect sized piece for an entry, side, or coffee table only to realize the color is all wrong? Don't stop here. Keep imagining!
Marble and touches of shiny metal will add a vintage luxury feel to your living room.
Check out this marble tray on AMAZON.
Check out this metal vintage side table lamp on AMAZON.
Shop new hardware for cabinets and drawers on AMAZON.
Check out vintage mirrors on AMAZON.
6. Layers & Natural Textures
Think Textured Rugs, Chunky Throws, and Pillows.
Layering is the fun part of this design. It's important to have layers in your organic modern living room to raise the design vibe to the next level. You can do this in various ways with colored pillows, textured rugs, and chunky throws for patterning effects.
Living Room Rugs
An area rug adds color, pattern, and texture. A rug should also anchor your furniture. Here are some illustrations from west elm to guide you in choosing the perfect-sized rug for your living room.
An excellent organic rug to consider for layering is jute, sisal, or bamboo. These tend to be neutral, timeless, and economical for covering a large area.
These natural textile rugs look great alone, but they're also the perfect backdrop if you want a pop of color and a layered design. Add a smaller rug of your choosing directly on top or at an angle. Read how to layer a smaller rug on top for a rich organic design.
Shop Organic Modern Rugs:
Purchase a Handmade Chunky Textured Rug in natural/ivory on AMAZON.
Purchase an Ivory Jute Flatweave Rug on RUGS USA.
Purchase a Black Hand-tufted Jute Rug on WAYFAIR.
Chunky Throws
Draping chunky, textured throws over sofas, chairs, or ottomans is ideal for making an organic statement! Use this gorgeous one as a guide, or try making your own. There are several youtube tutorials like this one you can watch.
Shop Chunky Throws:
Purchase a gorgeous Chunky Throw (available in multiple colors) on AMAZON.
Purchase a Chunky Knit Throw on AMAZON.
Purchase a Black Chenille Chunky Throw on AMAZON.
Pillows
Have layering fun with your pillows! Going bold or using color with your pillows is fun because you can change them with the seasons. P.S. Mudcloth screams organic modern living room. Check out this Etsy site to consider more mudcloth home decor ideas.
Shop Organic Modern Pillows:
Purchase Modern Mudcloth Pillow Covers on AMAZON.
Purchase Luxury Velvet Modern Pillow Covers (multiple colors) on AMAZON.
7. Organic Modern Living Room Accessories
It's all about displaying pieces you love in your new organic modern living room, and that is the thing to keep in mind. Have fun, and remember to change things up occasionally by moving items from room to room.
To keep with the uncluttered minimalist look use trays and shelves to group like items.
Remember, rustic elements create the organic vibe. Try burnished metal, rattan, leather, concrete, pottery, and even recycled glass.
Think handcrafted pieces from local artisans. Wall hangings, sculptures, wooden bowls, unusual shaped vases, and beads for more layering.
Incorporate some petrified wood, wood slices, stones, geodes or chunks of crystal.
Did you hold onto some of those annoying glass vases we all tend to collect? Try this fast and easy DIY Glass Vase Painting tutorial.
Last, but not least, woven baskets! They're the perfect organic modern addition. Use them to store throws, magazines, and to organize toys and games.
Shop Organic Modern Accessories:
Purchase Woven Baskets at POTTERY BARN.
Purchase a Natural Marble Coffee Table tray on AMAZON.
Purchase White & Black Stoneware Textured Pottery (set of 3) on AMAZON.
Purchase Black Wooden Beads for a coffee table on AMAZON.
Purchase a Natural Wood Coffee Table Bowl on AMAZON.
Purchase Stone Concrete Table Lamps on AMAZON.
Purchase a Black Circle Wall Mirror on AMAZON.
Purchase Black Candle Holders (Set of 3, pictured above) on AMAZON.
8. Organic Modern Living Room Art
Art is in the eye of the beholder, so it's time to think more about what you love and all the feelings it generates. It's a great way to bring life and energy into your organic modern living room.
Art Ideas:
Abstract art is a great modern look for your new living room. This site has some fun poster abstract art to consider.
Do you have some pieces of art that need updating? By adding a new frame, old art can look brand new.
Are your picture frames needing an update? If so, check out rub 'n buff or consider spray painting them a diffeerent color. Matte black spray paint is great for refreshing old art frames or picture frames.
Did you have old canvas art that needs updated? Check out how easily you can copycat expensive canvas art here.
9. Budget Organic Modern Decor
Let's recap in this section. Recycle, Reuse, Reimagine, and Vintage will give you a clean, streamlined neutral backdrop. Smooth textures like marble, gold/brass, and touches of black will elevate the organic modern design to a luxury level.
Less is more. Embrace it and choose only items you love.
Not ready to spend the time or money redoing your fireplace in marble? Paint over brick with white paint and pull some marble into the living room in the form of a tray, sculpture, or vase. Marble isn't going anywhere and white brick is soooo IN.
Cut branches can last a month or more or buy some faux eucalyptus leaves. Arrange them in a large vase and start loving your modern organic vibe right away!
Shop your home. Move existing decor from one room to another.
Add natural plants, refurbish (paint, diy canvas art, update knobs), and organize (declutter).
Organic Modern Living Room FAQs
What Is Organic Modern Living Room Furniture?
This type of furniture should have clean lines with natural colors and neutral textures. Organic modern furniture is cozy and purposeful.
What Would An Organic Modern Kitchen Look Like?
Think neutral colors, woods, and marbles. Floating shelves and a light and dark mix of uppers and lowers would vibe with an organic modern kitchen design. Don't forget those natural plants!
How Would You Decorate An Organic Modern Dining Room?
This dining room decor would have a backdrop of contemporary minimalism with added layers of warmth. Think clean shapes for the tables and chairs, balanced with woods and linens. Don't forget a live plant for a natural organic feel.
Where Can I Find Organic Modern Wall Decor?
Shop Pottery Barn, West Elm, Williams Sonoma, and Crate & Barrel for organic modern wall decor. Or check out this Etsy store that sells wood-framed asymmetrical mirrors, textured canvas art, boho wall decor, and abstract print art.
Is Grandmillenial Decor The Same As The Organic Modern Interior Design Style?
While these designs have a minimalistic backdrop, the decor characteristics make these two design styles significantly different. The grandmillenial is the "millennial" going for chic granny vibes, while organic modern is cozy like a grandma, but its style doesn't include floral wallpapers or needlepoint pillows.
How Can I Bring Nature Into My Home?
Any live plants you can bring into the living room will help pull off this natural look. Also, the more natural lighting you have in a room will help, too, so keep those blinds or shutters open.
Is It Easy To Decorate An Organic Modern Bedroom?
Yes, so easy! Keep the walls a neutral color with maybe an accent wall of green, add a neutral area rug, and keep your bedding white or again neutral. For pops of color, add some decorative pillows, textured wall art, or abstract art.
Final Thoughts On 9 Organic Modern Living Room Styles
Thanks for stopping by to read this article on Organic Modern Living Rooms! What do you think? Are you a fan of Organic Modern Design? Let me know!
Use the comment section below to share your thoughts or if you have any budget-friendly sources or tips. Be sure to follow career girl meets… on Pinterest, Instagram, Twitter, and Facebook for more home decor ideas, recipes, and gift guides.
Related Articles:
How To DIY (And Copy) Expensive Canvas Wall Art
15 Stunning Black And White Home Decor Ideas