Need Chef Gifts for the foodie in your life? Check out these 13 BEST gift ideas that any cook will obsess over!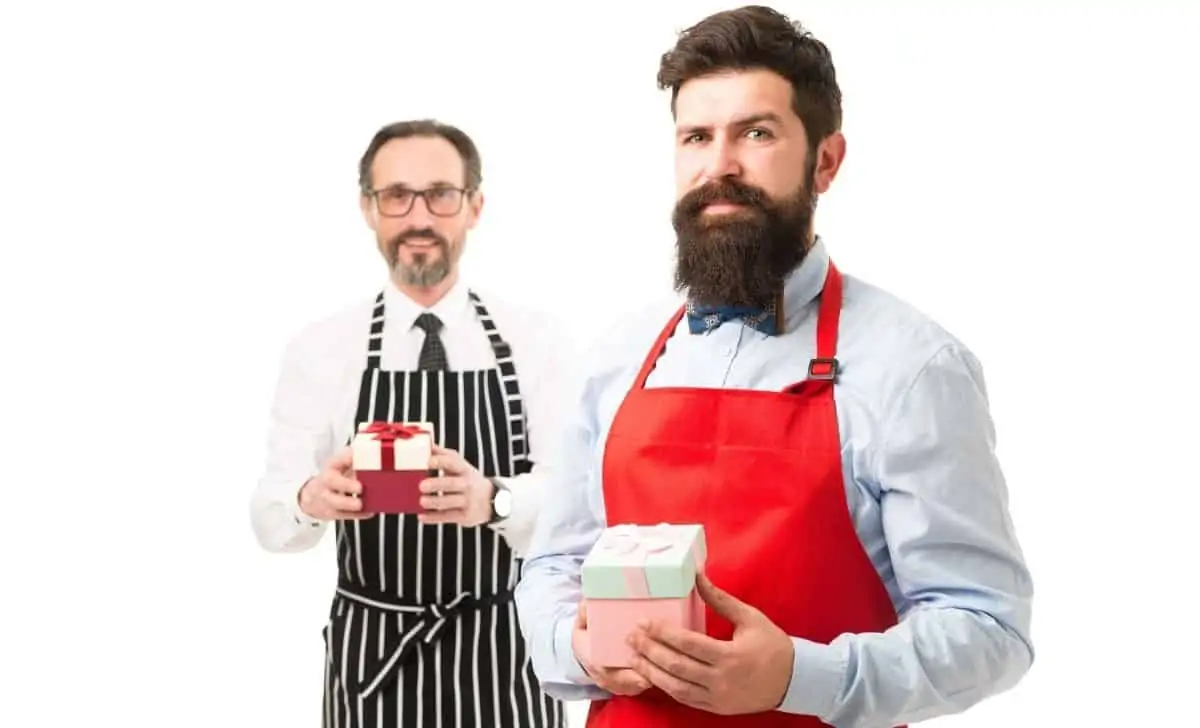 This post is all about 13 Best Gifts For Chefs They'll Actually Want.
Buying a special gift for the chef in your life might feel like a serious feat. But in actuality, it can be fun because there are so many cooking gadgets on the market that will make life in the kitchen much simpler for them.
If you're wondering who's qualified to receive a "chef" gift, I wouldn't worry too much about that either. According to Merriam Webster, a chef is someone who's attended a culinary school or has been trained professionally in the kitchen. But, all in all, cooking is cooking, and these 13 chef gifts will become gems to anyone who knows the value of delicious food, incredible wine, and the art of entertaining.
The key to shopping for a cook is finding useful, helpful, and unique gifts. Whether you're buying for the master chef who works in a restaurant or the one who enjoys cooking at home, these top gifts are sure to impress!
13 Best Gifts For Chefs They'll Actually Want
1. Anovo Culinary Precision Cooker Pro
A Masterchef Gift Idea.
Move over slow cookers because this sous vide gadget is the latest trend for chefs! Gift them with the ability to cook like a pro and with ease, and never again will they have to worry about overcooking or undercooking food.
With sous vide cooking (the French phrase means under vacuum), the food is placed in vacuum-sealed bags and then heated water. The food is simmered, and the immersion calculator handles the rest. Like a slow cooker, the chef can walk away knowing things are handled.
Purchase the Anovo Culinary Sous Vide Precision Cooker Pro on AMAZON.
2. The Flavor Bible
Best Gift For The Professional Chef.
A foodie's dream, especially if they've ever wondered what it would be like to jump inside the mind of the most imaginative chefs in the world. This book is the essential guide to culinary creativeness and shows why cooking is so much more than just a recipe.
Expand their knowledge of ingredients and flavoring food with this unique Christmas gift. It will be appreciated by chefs and cooks who want to veer away from following recipes and cook with confidence.
Purchase The Flavor Bible Book on AMAZON.
Purchase The Vegetarian Flavor Bible Book on AMAZON.
3. Thai Chef's Moon Knife
A Perfect Chef Gift For Him and Her.
The moon knife was traditionally used by chefs who needed to cut through meat and bone in meat markets. For the at-home chef, this knife will also come in handy for cutting nuts and herbs, making it the perfect chef gift for him and her.
This Thai Chef's moon knife by Verve Culture is made of carbon steel and is so sharp and lightweight. It's also ideal for cutting hard-skinned fruits like coconut and watermelon.
Purchase the Thai Chef's Moon Knife on AMAZON.
4. A Grain Mill – Top Chef Gifts
While this gift is on the pricier side, it will save them money in the long run. It's well worth it for the cook who likes to make homemade bread, cornmeal, pasta flour, and very fine flour (aka the best bread-making ingredient) from wheat and barley. It's also a great way to avoid food allergies from certain grains.
This grain mill is made in Austria and comes with a 12-year U.S. warranty. It's easy to clean and weighs about 17 pounds.
Purchase the KoMo – PK1 Grain Mill on AMAZON.
5. Personalized Chef Gifts
Gifts For Home Chefs.
A wooden cutting board is a must-have item for a cook or chef. Chances are, if they love to cook, they already own a few of these, so why not personalize it to ensure solid gift-giving. Engrave their last name on the board or some catchy phrase that speaks to their cooking abilities.
Purchase A Personalized Wooden Cutting Board on AMAZON.
6. All My F%$King Recipes
A Funny Chef Gift For Him And Her.
This matte black notebook with white paper is a perfect and funny chef gift that women and men will appreciate. All cooks and chefs need to take notes and make grocery lists, so why not let them do it in style!
Purchase All My F%$King Recipes on AMAZON.
7. Chef's Cookware Set
A Five-Star Best Chef's Gift.
Expert chefs swear by copper cookware sets because copper retains heat, conducts heat, and cools nicely, ensuring delicious food. If you need a cost-effective alternative, stainless steel cookware sets come close to copper's cooking advantages. Two five-star sets have been linked below, depending on your gifting needs.
And do the chef a favor by gifting them with a bottle of Bar Keeper's Friend. It's a life-changing cleaner that will keep cookware clean. Pots and pans should last someone a lifetime, and there are no excuses not to keep them shiny and clean with this product.
Purchase a Five-Star Copper Cookware Set on WILLIAMS SONOMA.
Purchase a Five-Star Stainless Steel Cookware Set on AMAZON.
Purchase Bar Keeper's Friend Cleaner on AMAZON.
8. Meater Plus With Bluetooth
Best Home Chef Gifts.
A wireless smart meat thermometer is excellent for these times! Not only can you set alerts, but this Meater Plus with Bluetooth will walk you through the cooking process to ensure meat perfection.
It's 100% wire-free, comes with a free app download, and has 165 feet of long-range capability. Whether they're cooking inside or barbecuing outside, it's a helpful tool for even the most experienced chef.
Purchase Meater Plus With Bluetooth on AMAZON.
9. Heat Resistant Oven Mitts By Uxcell
Best Amazon Gift For All Chefs.
All chefs know the value of having legit oven mitts. They're essential, and not just any ole mitts will do. These flexible, silicone, non-slip cooking gloves work perfectly for grilling, cooking, baking, and welding. Even a pastry chef will benefit from this must-have kitchen accessory!
Purchase Uxcell Heat Resistant Oven Mitts on AMAZON.
10. The Weight Of All Cooking
This stainless steel press is called the "Fish Weight," developed by Josh Niland. Experts at Bon Appetit call this gadget the "key to the perfect sear."
And no, it's not just a tool for cooking perfect fish. Chefs can use the weight with steak, quesadillas, grilled cheese sandwiches, chicken, potatoes, and any food they want to grill professionally.
It retains and transfers heat for even and perfect cooking. Once they try it, they'll be obsessed with its value! Currently, this weight is sold out, but you can pre-order for delivery in early 2022.
Purchase the Fish Weight at JOSH NILAND.
11. Paella Pan
Another Best Amazon Gift For Chefs.
This 15-inch paella pan by Garcima is a top-rated authentic tool from Spain, making it the gadget for making the BEST paella. This carbon steel pan conducts heat perfectly, is lightweight, budget-friendly, and serves three to five people.
Why is it essential for a chef to own an excellent paella pan? Because this pan is shallow, it cooks food evenly, and expert chefs like that it heats fast and doesn't retain too much heat.
Purchase the Garcima Paella Pan on AMAZON.
12. French Rolling Pin
A Gift That Will Be Loved By Every Cook, Not Just The Pastry Chef.
A French rolling pin is imperative whether the chef is rolling out pizza dough, bread dough, or pie dough. Using the heel portion of the hand, this pin gives the cook more control when applying pressure to all types of dough. Pastry chefs swear by them, and other experts believe they are the only type of rolling pin a chef should own.
Purchase a French Rolling Pin on AMAZON.
13. Vacuum Food Sealer
A Must-Have Chef Gift.
My dad is a chef, and he got this gadget for Christmas about five years ago. I didn't understand his giddy excitement at the time until I saw the incredible benefits of this food sealer. Whether they want to sous vide food, marinate meat or keep bulk meat and cheese fresh, this is the device every cook should own.
Most importantly, you'll never have to worry about freezer burn again. So, make those big meals and baked goods and rest well, knowing the freezer won't compromise your hard work.
Purchase a Vacuum Food Sealer on AMAZON.
Final Thoughts On 15 Best Gifts For Chefs They'll Actually Want
I hope this list of best chef gifts was helpful in your gift shopping quest! For some of us, buying a chef gift can be intimidating because there are so many items on the market, and it can be hard to know which ones are useful. Let me know in the comments how the gifting went for your favorite chef.
Follow career girl meets… on Pinterest, Instagram, Twitter, and Facebook for more home decor ideas, recipes, and gift guides.
Related Articles For Chef Gifts:
19+ Kitchen Essentials Every Home Needs
Kitchen Makeovers: 11 Ways To Upgrade On A Budget