Creating an office that's aesthetically pleasing is crucial for career success! Check out these 9 Office Aesthetic decor ideas.
This post is about Office Aesthetic design ideas for the home or workplace.
Whether you work from home or at a workplace, having an aesthetic office space personal to you is essential for keeping things organized and all important documents safely filed in one spot. Even if it's just a tiny corner or cube (think back to how important a high school locker was), this can improve how you view yourself and a company's brand or personal brand if you have your own business.
Whatever your career goals are, making space for them to grow and expand is crucial. Keeping your office aesthetic vibe organized, somewhat comfortable, and inspirational will help keep you moving toward your dreams.
If you experience the "Sunday Scaries" weekly, a great way to move through this is by remembering why you do what you love. And your office aesthetic should remind you of that and the goals you wish for your future.
If you don't love what you do, there's still a reason you're doing it, right? Whether it's to pay your bills or save for a home, that office space should encourage you to keep taking steps forward, even when they feel mundane. Remember, you are the CEO of your life, and your office aesthetic should reflect that every day.
Create a space that fosters you to dream beyond "what is." Be forward-thinking and remember, you are a result of the daily actions you take, and you never know who's watching or what pleasant surprises may be around the corner.
Don't you want to be equipped to handle BIG career jumps? Let's dive into these 9 office aesthetic ideas so you're ready to accept massive position growth and exciting changes.
9 Office Aesthetic Ideas For The Home Or Workplace
1. Color Psychology
How To Beautify A Small Or Large Office.
Studies show colors affect our moods, memory, relationships, and dietary choices. So, incorporating the right colors into our work environment matters a lot! If you work in a small cube or have a large office, find ways to incorporate colors that foster creativity, focus, and tranquility.
Even better if you're at liberty to paint a whole accent wall! A corner of peel-and-stick wallpaper could also add an easy color change to your office aesthetic. Think about your business's brand colors, as long as they feel right, and give you that extra motivational push forward.
The goal is to create a space that enhances your life and career aspirations. When you're overwhelmed or stressed, your office color aesthetic should inspire you right back up! According To Design Experts, the paint colors listed below are perfect for an office setting in the home or at an official workplace.
Hague Blue by Farrow & Ball – This color is bold but tranquil. It's sure to keep your nerves in check and your confidence high!
Dead Salmon by Farrow & Ball – A sophisticated and luxurious light salmon hue for the creative, classy boss babe.
2. Snack Bar Designs For Office Aesthetic
How Do I Make My Office Extra Aesthetic? Pack Snacks.
Snack bar designs?! You read it correctly. Because we're human, we need nourishment to get our jobs done beautifully and efficiently. Sure, heading to the kitchen or office cafe for a snack is fine, but often we're so busy and in crunch mode that we need to grab something quickly, or it won't happen.
While this may seem like it shouldn't fall appropriately into the design and office beauty category, it does! Nowadays, having a mini-fridge near your desk or tucked around the corner of a file cabinet is imperative. Many of us eat lunch at our desks, so why not keep healthy, fresh food and chilled drinks on deck. Also, offering a cold bottle of water is nice if you take meetings in your office.
And let's be honest, food can motivate us to keep hustling away on that project!
3. Office Layout: Tips & Tricks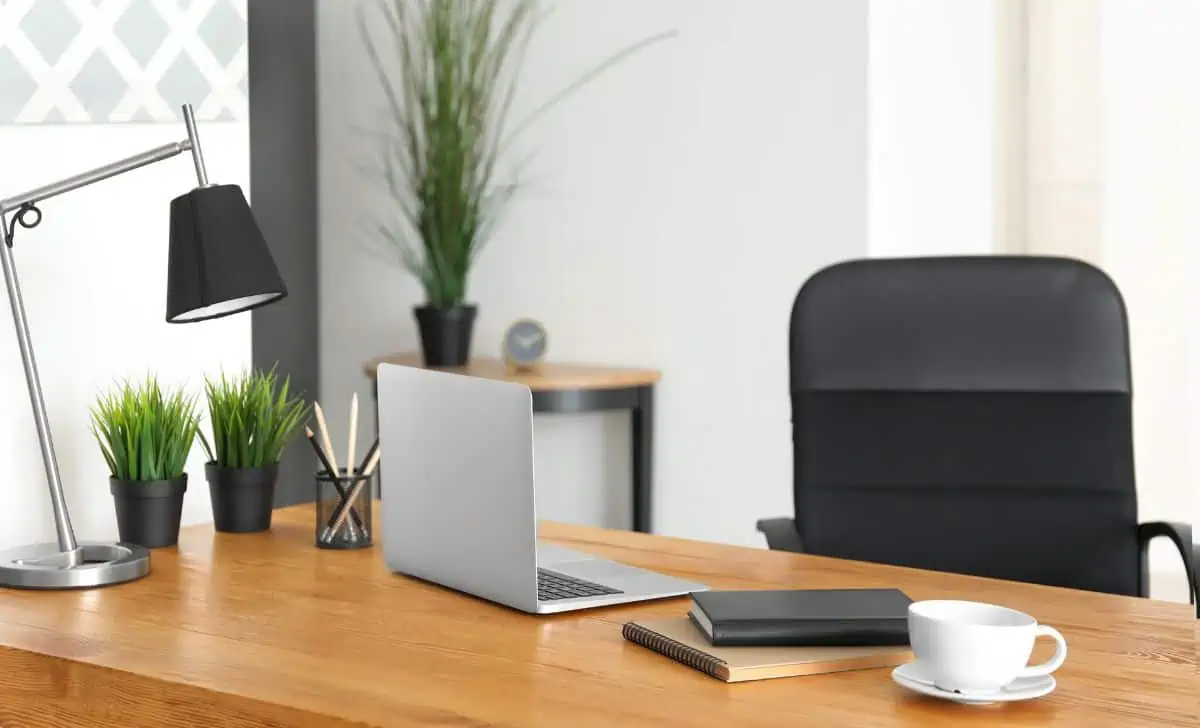 The CEO Office Aesthetic Design.
In our mind, we should think like a CEO every day, and it's important to walk and talk like one, no matter your level in the company. Every great business book supports this concept, so your office aesthetic MUST feel GOOD like a CEO no matter how big or small the space.
A great office layout can improve mental health and how we handle stress. Being blessed with a great floor plan is terrific, but there are ways to trick the eye into greatness if one doesn't exist.
Face the desk near a window for the view and maybe even some fresh air.
Avoid an office layout with sharp 90-degree angles if you can. Studies suggest we feel more at ease with curves and rounded edges, so keep this in mind when shopping for a desk and other office furniture.
When dealing with a small or dark space, add a mirror to give off the appearance of an open concept floor plan. Mirrors work miracles in design.
Add greenery to enhance an office layout. Plants make any sized space feel brighter and more lively, giving off the illusion of openness.
4. The Perfect Office Desk & Adequate Lighting
Office Aesthetic Icons.
Having a legit desk is necessary to get the job done! Forbes ranked the best desks to fit your needs. Whether you prefer to stand, make adjustments, or need something just right to fit that corner in your home, you have several options.
Lighting is crucial for getting your work done adequately and saving your eyes in the long run! The New York Times recently listed four of the BEST desk lamps to help you achieve career SUCCESS.
Ikea Forsa – Uncomplicated, affordable, timeless lamp that gets the job done.
5. Minimize Office Noise With These Aesthetic Tricks
Why This Office Aesthetic Matters, A lot.
A study found that a lack of sound privacy was the most significant drain on employee morale. While there's no fool-proof way to cancel out all noise distractions in the office or at home, below are some tricks and options that will help!
Plants – Huh? According to the Harvard Business School, plants can boast sound-absorbing capabilities canceling out some background noise indoors and outdoors.
Carpet – Softer materials such as carpets minimize noise, while hard surface floors are poor at absorbing sounds.
6. Organization Office Aesthetic
Why Aesthetics Is Important In The Workplace.
Organization and productivity go hand in hand. How you "keep" your office area says a lot about your personality and capabilities, and yes, everyone's watching and taking in subconscious cues, even your kids. Your office space is essentially a small window into who you are. It shows people how you juggle tasks and manage your time. So, do you want to be seen as a leader or not?
Even if you're the boss, you set the tone for the office and business. If you haven't yet, do yourself a favor and get organized.
The Best Planner (According to NY Magazine) – You might be surprised to hear how many successful entrepreneurs still have paper planners on top of digital planners. It's all about having backups and peace of mind!
Color-Coded Filing System – Even if your business or office is digital, there are usually paper trails that still need to be organized. Find a color system that works for you.
Mail Station – This is super helpful and avoids a desk pile-up.
Categorize With Containers – Everything in your office should have a place. The pencils, pens, and highlighters need their own space.
Printing Station With Supplies – This doesn't have to be big, but having an area with paper supplies, clips, and ink keeps things organized and in one area.
7. Keep Office Aesthetic Personal But Classy
Give Your Office Aesthetic Meaning.
Keep your identity relevant in the workplace, even if you work from home. Hang diplomas if you can and other work accolades. If that's not available, find artwork that inspires you and reminds you of why you do what you do every day.
Remember, you bring something unique to the table, so be sure to pepper your individuality here and there in your office space as a positive reminder. On hard days (we all have them), your uniqueness can ground you and inspire you to forge ahead.
8. Brand Relevance
A Must-Have For Home Or Workplace Office Aesthetic.
Make sure your office aesthetic is branding itself in some way! Whether you have your own business brand or work for a company, keep the brand front and center. But why?
Brand relevance helps build relationships, brainstorm new ideas, and get projects done effectively and efficiently for the company. If you keep the brand in mind, your work will stand out, which means career success and GROWTH.
Tips For Branding Office Aesthetic:
Brand Color Scheme – paint an accent wall
Visible Company Mission – display sculptures or artwork.
9. Meeting Collab Space & The Office Chair
Ergonomics & Practical Office Aesthetic.
Be practical when designing your home office or workspace. If you collaborate with others in person, have a chair or two nearby for that meeting. Also, never underestimate the power behind a plain ole dry erase board. Getting ideas across effectively in meetings sometimes requires simple, practical tools, and these boards are great for goal setting and tracking daily sales.
Invest in a good ergonomic desk chair if you can. Sometimes these chairs aren't the most attractive, but back health is crucial! Listed below are four New York Times best desk chair picks.
Bonus: Office Aesthetic Outfits
Power Dressing For Success.
Impressions matter and countless business books will tell you to dress like the executives, so the executives view you as an executive even if you're not one yet. I grew up hearing my mom say that all the time. How you dress and the confidence you exude matters. You want the higher-ups or your brand clients to see you as a professional leader in that field, someone they can trust to get the job done.
If your goal is to make $1,000,000.00 a year, dress like you're already making that much money. And no, you don't have to spend a ton to do this. You can have staple pieces that will carry you through, like black pants and skirts, and then interchange your tops. Even if you work from home, pick a couple of days where you dress the part.
Think about how confident you feel after a great haircut or when wearing new shoes. Notice how you walk a bit taller because you feel good. Invest in yourself, so people want to invest in you.
Final Thoughts On 9 Office Aesthetic Ideas For The Home Or Workplace
After reading this article, I hope you gained some ideas and inspiration for your office aesthetic. As you know, studies show the importance of our office aesthetic on work performance and how others view our professionalism. Create a workspace that encourages success, growth, and the accomplishment of some of your wildest dreams. It all starts with you first, so MAKE IT HAPPEN.
Follow career girl meets… on Pinterest, Instagram, Twitter, and Facebook for more home decor ideas, recipes, and gift guides.
Related Articles:
15 Simple Tips To Clear Clutter
21 Popular Interior Design Styles