Whether your apartment is small or brand new these 17 aesthetic styles will fit! It's all about making what you have work with a refreshing decor style that matches your personality.
This post is all about 17 Best Apartment Aesthetic Ideas.
An Apartment's interior decor should reflect your personality and make you feel proud to live there, even if it's only temporary! These 17 apartment aesthetic ideas are easy to pull off and cover almost every interior design facet you could envision for a home.
No matter the size of your decorating budget, there is always a way to stamp your sense of style on any place, whether it's an apartment, condo, or house. While these ideas reflect apartment living, you could easily expand these design styles to fit into a larger residence or one room like a bedroom, office, or living room.
If you live in a small studio in New York City, these apartment aesthetic ideas will help make a tiny space feel like home. After all, they say home is where the heart is, so it's essential your apartment's decor represents you and what you love.
17 Best Apartment Aesthetic Ideas
1. Bohemian Style
Bohemian decor, also known as Boho Chic, is all the rave right now. Traditionally, this style is a go-to for creative types and those who love culture and unconventional design.
To achieve this look, start with a neutral base of earth tones followed by playful pops of color, medium-wood tones, natural fabrics, and thick-piled rugs. Add colorful wall art, pillows, and lovely big floor pillows. Sprinkle plants everywhere and add treasures collected that are personal and meaningful to you. Be sure to throw in some gold or brass.
Shop This Look:
2. Dark & Cool Grunge Aesthetic
Bring on the darker color palettes for this apartment aesthetic. Punk and an edgy vibe or grunge would also fall under this style. Stay away from anything too modern and forget minimalism because we're going for just the opposite, maximalism!
Think rustic wood, vintage-inspired rugs, and layers of bedding. Ideally, find a spot for a reading nook with a wingback chair and stacks and stacks of books. Check out the rules with your landlord when it comes to painting because a dark accent wall would be a rich addition. A gallery wall with this dark style would be impressive and could showcase old maps, botanicals, dark musicals, or travel scenes.
Shop This Look:
3. New York Apartment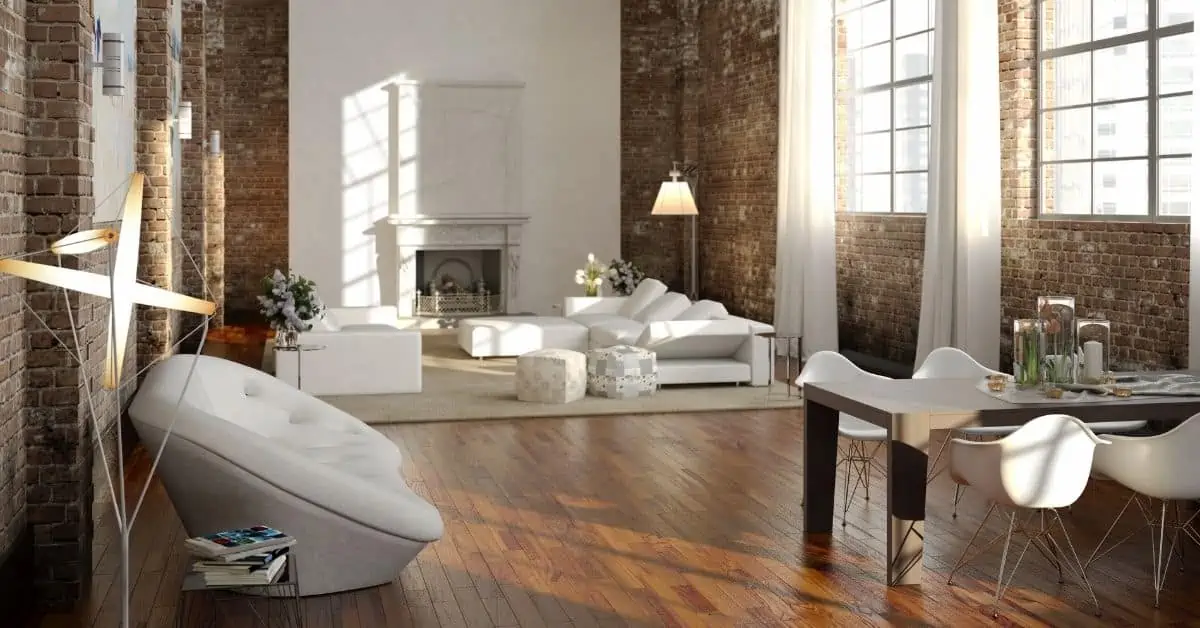 Good taste never goes out of style, and having said that, use restraint, so your eclectic NYC interior doesn't become too busy. Start with a color palette of black, white, and gray with clean and sophisticated as your starting point. If you have an exposed brick wall and lots of natural lighting, you've struck gold!
Decorate with colorful accents, rugs, and throw pillows to make a statement. Add large wall art or a gallery wall of your favorite pieces. Hopefully, you've saved room for your piece de resistance, a small velvet accent chair in a beautiful jewel tone.
Shop This Look:
4. Minimalist Style With Natural Touches
The key to a great minimalist style is clean, sharp, uncluttered lines combined with white space and a cozy atmosphere. Simple neutral color choices with a pop of color are ideal. Add an exciting diversion with textures and materials of your choice like glass, metal, concrete, and some boucle fabric on a furniture piece to add cozy warmth.
Finish with natural touches such as wood slices, tree branches arranged in a tall vase, and plants in artisan pots. Don't forget the lighting! Lighting plays a massive part in this aesthetic style. Hit on these points, and nobody will think of your apartment as too minimal.
Shop This Look:
5. Vaporwave Aesthetic
Are you nostalgic for neon-colored lights? Or maybe you were a fan of vaporwave music? If so, keep reading! Start with one black wall and keep the rest of the walls white as a base. Throw in pops of color with a neon sign or two. You could even add neon strip lighting for more ambiance.
Vaporwave aesthetic is known for its architectural features. If your apartment doesn't have any, painting temporary molding with pops of color will do the trick. Etsy and Amazon have everything from neon signs to vaporwave bedding.
Shop This Look:
6. Mid-Century Apartment Aesthetic
If you're a bold, no-fuss kind of person, this design style may be perfect for you! And with mid-century aesthetics still trending, you could easily pull off this look affordably.
Choose large streamlined pieces with a mid-century design, but keep it minimal. Look for rich, sleek wood furniture that is functional. Be sure to accent with bold colors, modern art, black metals, geometric shapes, attractive lighting, and plants.
Shop This Look:
7. A Cozy & Elevated Apartment
I love this look in any home, especially an apartment! Cozy means you and your friends want to curl up and chill in this space while feeling like you're basking in next-level luxury!
A light, neutral color palette and comfortable seating will take you well on your way to this cozy but luxe feel. Accent your apartment with marble, perhaps in the form of a coffee table tray filled with candles, gold accents, and designer books. Hang a neutral canvas on the wall, and you're ready to serve drinks and appetizers on those fun plates you found.
Shop This Look:
8. Scandinavian Aesthetic
Light and airy with clean, straight lines and soft neutral colors devoid of clutter are the key characteristics of this apartment aesthetic. Combine creamy whites, beiges, grays, taupes, and shades of tawny-wood tones found in wicker and rattan.
Ikea is a great place to see if you like the pared-back minimalism in Scandinavian furnishings. Add textiles with soft neutral throws and pillows to guarantee a comfortable and inviting look. If you can picture yourself kicked back drinking your coffee or tea out of your new white mug – this is the design for you!
Shop This Look:
9. Urban Jungle Fever
Say What? Well, we can take this aesthetic one of two ways. It's either deep in the jungle-type fever decor or a luxury exotic vibe. For the first option, start with removable jungle wallpaper. Next, add standing potted palms, a basket display on the wall, carved ethnic wood pieces, more plants, and you'll be well on your way to an urban jungle fever retreat.
Prefer the luxe jungle vibe? Then pare everything way back! Keep the walls white and add an ethnic rug or even an animal print. Keep your sofa a neutral shade and add ethnic-style pillows. Carved wood and plants should still come into play with this trend.
Shop This Look:
10. Paris-Inspired Apartment Aesthetic
Create your Parisian-inspired apartment by starting with the temporary molding I mentioned earlier since this aesthetic loves ornate design. Paint it a creamy white, add a gold mirror and a crystal floor lamp.
For a clean look, combining gold accent pieces with modern touches will finish off your apartment's French decor. Etsy and Amazon have tons of French-appropriate accent pieces.
Shop This Look:
11. Art Deco Apartment Aesthetic
Art deco is genuinely a luxurious yet carefree apartment aesthetic that inspires energy into a home. Use velvet material in a rich, bold tone and add an animal print rug in good taste.
Textures, florals, plaids, or lace won't work with this decor style because everything is polished and smooth. Be sure to accentuate your apartment space with glass, mirrored surfaces, and mixed metals. Colorful sophistication and luxury sum up this style!
Shop This Look:
12. Coastal Apartment Aesthetic
The coastal aesthetic shouldn't be confused with a tacky nautical vibe. This chic, high-end look includes shades of sand and touches of your favorite blues. Because some beaches have black sand, a hint of this accent will elevate the neutral colors.
Slip-covered sofas with washable fabrics anchored by a natural jute rug and luxuriously textured throws bring in coastal styles to your apartment. Accent your space with jute-braided ottomans, watercolors, blue-green glass vases, driftwood, wicker trays, and artisan ceramics.
Shop This Look:
13. Modern Apartment Aesthetic
White, cream, or gray walls and darker furniture pieces highlight a modern aesthetic. Use some leather, natural woods, and polished metals to showcase this high-contrast look. Picture a reading area with a comfortable chair made of leather and plywood. Everything is streamlined and uncluttered with this style.
Still life photography is a fun look with this aesthetic. Another option would be to search modern art online and find something that resonates with your space. Put your stamp on things by accenting with pieces that have meaning and small pops of color!
Shop This Look:
14. Traditional Transitional Aesthetic
Do you crave the beauty and familiarity of traditional design but are also drawn to contemporary styles? If so, the transitional aesthetic is probably the route you should take for your apartment decor.
This design merges traditional with modern and can lean in either one of these directions, depending on your taste preferences. Perhaps your apartment building already has beautiful crown molding. Embrace these attractive architectural features along with your furniture pieces. Add neutral pillows, throws, contemporary lighting, and art for a fresh casual style. Keep accent pieces minimal.
Shop This Look:
15. City Apartment
I'm having flashbacks of my first Los Angeles apartment as I write this! Living, working, and commuting in a big city makes coming home to a calm, peaceful atmosphere life-changing. Think about the things you love about your favorite spa and incorporate them into your apartment aesthetic. Burn candles for ambiance and incorporate fresh flowers or snake plants.
Keep large furniture items neutral but scatter around a few colors that bring joy. Baskets are great for decor and keeping your small home organized.
Shop This Look:
16. Grandmillenial Apartment Aesthetic
Grandmillenial Aesthetic is a decor reaction for those wanting to connect with their space through storytelling. Gucci has contributed to the 'granny chic' style by using doilies and teacups in their advertisements.
Chintz fabrics, blue and white ceramics, pleated lampshades, victorian furniture, floral wallpaper, and yes, even needlepoint are markers for this style. Carefully group your collectibles and take this trend as far as you dare. This aesthetic will breathe new life into traditional pieces by adding modern touches.
Shop This Look:
17. Studio Apartment Aesthetic
Light, airy, and uncluttered will be the best plan for this small space. A high bed frame adds a ton of storage space, allowing you to place storage containers underneath to pack away out-of-season clothing, shoes, blankets, and suitcases.
Mirrors and glass will do wonders for visually expanding the space. Make use of your vertical apartment with tall narrow shelving and hanging plants. Separate the studio with rugs and room dividers to add style and character. Personalize your tiny space with a gallery wall and always make your bed!
Shop This Look:
FAQs on Apartment Aesthetic
Can These Aesthetic Ideas Work For Living Rooms In Apartments?
Of course! These aesthetic ideas for apartments can carry over into living rooms, bedrooms, and even houses.
Is There An Apartment Aesthetic Quiz I Can Take?
Yes! If you're not sure what your interior style is, you can take a few quizzes here.
How Many Apartment Aesthetic Types Are There?
There are so many apartment aesthetic styles out there, so I'm not sure if there's an actual number. Be sure to follow what type of decor fits your personality.
Will These Ideas Work In A New Apartment?
Absolutely! These aesthetic ideas will work in a new or old apartment.
How Can I Make A Small NYC Apartment Look Bigger?
If you've just moved into a small studio apartment in NYC, then decorating with mirrors will be your best friend in making your tiny place look more prominent. Shop Amazon for some different-sized options.
Final Thoughts On 17 Best Apartment Aesthetic Ideas
I hope you found these 17 Best Apartment Aesthetic Ideas to be helpful! Remember, at the end of the day, this is your new home, and it's essential to fill it with decor pieces that resonate with your style.
Happy Apartment Shopping! Follow career girl meets… on Pinterest, Instagram, Twitter, and Facebook for more home decor ideas, recipes, and gift guides.
Related Articles:
9 Organic Modern Living Room Styles
15 Stunning Black and White Home Decor Ideas