A Minimalist Aesthetic is a popular decor trend, especially for the home! Check out 7 things you must know to design a minimal monastery just like the Kardashians.
This post is all about Minimalist Aesthetic Design For The Home.
Think of a Minimalist Aesthetic as the ultimate sophistication for home design. This is an opportunity to level up your home's style by paring down the unnecessary.
You may be surprised to hear that there are simple steps you can start with to begin implementing this popular design in your home. If you're a fan of the Kardashians, you've seen how beautiful, simple, and streamlined this minimal decor looks.
Before you start comparing (and judging) your abode to the queens of tv, it's important to note that it is possible to include this interior design with other decor themes already present in your home. However, the seven primary elements (listed below) will guide you through successfully incorporating Minimalist Home Aesthetics.
Even though some think this style verges on plain, there can be great joy and flow. Remember, design is just like art, and beauty lies within the eyes of the beholder, so incorporate what you enjoy when decorating for this minimal aesthetic.
Minimalist Home Aesthetic: 7 Things You Must Know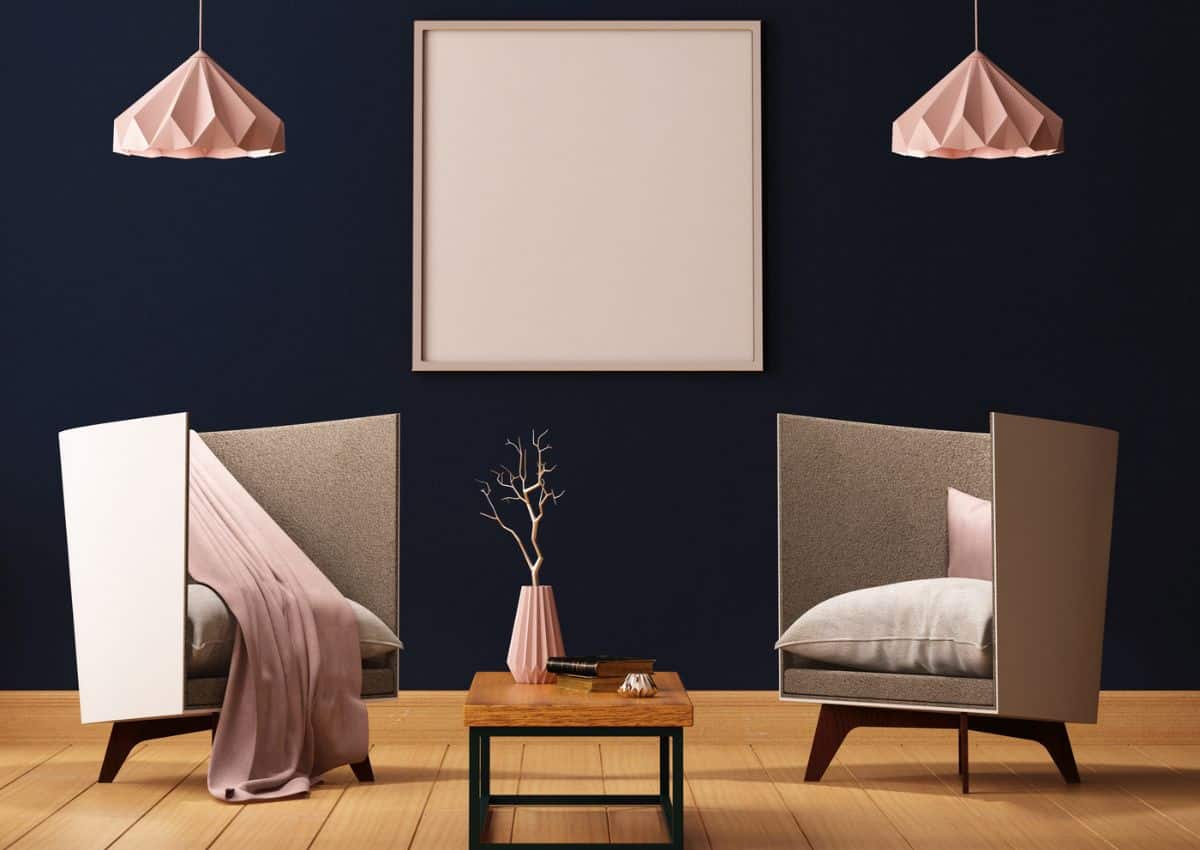 What Does It Mean To Have A Minimalist Aesthetic?
Traditionally minimalism calls for extreme spareness and simplicity. In a nutshell, the space should be free from clutter, and the aesthetic pieces present in the home should only add value and beauty.
With fewer distractions, a minimalist aesthetic offers peaceful vibes for the home, often using neutral colors and clean lines and spaces. So, does that mean I can't have bold colors in my home?
You can have whatever you want! As seen in the picture above, bold wall colors and pale pinks color this room, but notice the area is clean and clutter-free. The furniture is appealingly trim with well-designed lines. The bold wall color is offset with neutral art and furniture.
1. Declutter The Home's Space
Every space in the home is clean, and every "thing" has a place.
Walk through your home and take an inventory of your space. Performing a decluttering can take time, but with everything you remove, more space is made, which means the minimalist aesthetic can take flight.
Buying organizing bins and utilizing storage cabinets in the home will make more clean space while also leading to a healthier lifestyle. Studies show that clutter-free and simple living reduces stress and insomnia and increases happiness.
Be sure to label organizing bins so everyone can find items or toys more easily, which will help with the cleanup process. Remember, every item in the home should have a "place" because this will prevent clutter from happening in the future.
This is also a great way to teach kids that when a toy comes out, it must go back in its place after they finish playing. Teaching them decluttering skills young sets them up for success with better time management, and any CEO would agree. So, as you can read, a minimalist aesthetic is a win-win!
Shop Minimalist Aesthetic For Less Clutter:
2. Neutral Color Foundations
Neutral Colors Define A Minimalist Aesthetic. However, Rules Are Made To Be Broken.
Now that you've cleared the clutter weighing your home down, it's time to focus on the colors. Neutral tones have always defined a minimalist aesthetic, but you don't have to be so strict. As mentioned earlier, your home is your art palette, so make this minimalist design fit your personality and interests.
So, what does that mean? Well, if you don't prefer beige, white, or neutral sand-colored wall tones, it's acceptable to have pops of color with accent walls. If you're picking bold paint tones or have existing paint in the home that you're trying to incorporate into this new aesthetic style, stick with neutral pillows, artwork, and furniture to bring in the elements and balance of a minimalist aesthetic.
Shop Neutral Color Tones For A Minimalist Aesthetic:
3. Minimalist Aesthetic: Form And Function
Your Home Should Look Calm And Fresh.
If you've decluttered your home and assessed its color palette, it's time to check in on its form and function before proceeding further on this minimalist aesthetic design journey. Is each room beginning to feel calmer, lighter, and fresher?
If not, it's time to take another walk-through to look at your home's existing form and function. Simplicity should be dominant in every room with very few distractions. The objects or art you do have on display should represent beauty and elegance.
But what about those fixtures (lights, knobs, sinks) that are outdated and stick out like a sore thumb? If they're still functional but not in line with a streamlined minimalist aesthetic, you may want to upgrade them.
If the fixtures aren't vibing with your new style, it might affect the home's form. Sometimes just changing an old faucet handle can make a huge difference, especially if you're not ready to invest in a brand-new bathroom or kitchen.
Shop Minimalist Aesthetic Fixtures:
4. Visual Art
Here's Where Minimalist Aesthetic Shines.
Beautiful and simple art should always take center stage in the home for a minimalist aesthetic. Whether you're choosing canvas wall art, art objects, sculptures, or art books for the coffee table, each one should only add value.
For example, instead of having several pictures on one wall, you should stick with one or two art pieces. Every item or picture in the home should represent simplicity but still be appealing. Minimalist aesthetics focuses on the "less is more" principle, so keep this in mind when choosing what you want to display.
Shop Visual Minimalist Aesthetic Art:
5. Minimalist Aesthetic Wallpaper
What's The Opposite Of The Minimalist Aesthetic?
Maximalism. With this trend, you'll see colors and textures take the forefront, like the bold wallpaper pictured above. So, what does this have to do with minimalist aesthetics?
Since maximalism is trending, you could incorporate some inspired prints and a minimalist aesthetic by decorating with colorful wallpaper. Adorn a wall in your home with the pattern and color of your choice and allow it to be the leading visual art. Balance the rest of the room with clean spaces and neutral-colored foundations.
Shop Minimalist & Maximalist Aesthetic Wallpaper:
6. Photography
Minimalist Aesthetic That Matters.
Black and white photography is simple and beautiful. It's also a great way to personalize your home with a minimalist aesthetic. And by the way, colorful photography can also work if you keep it hung on a neutral-colored wall. Keep frames simple if you can so the value and beauty come from the photo.
Minimalist photography is a natural form of photography that is defined by simplicity and sparseness. Keep this in mind when choosing photos, and allow the photography to speak for itself.
Shop Minimalist Photo Frames:
7. Houseplants And Minimalist Aesthetic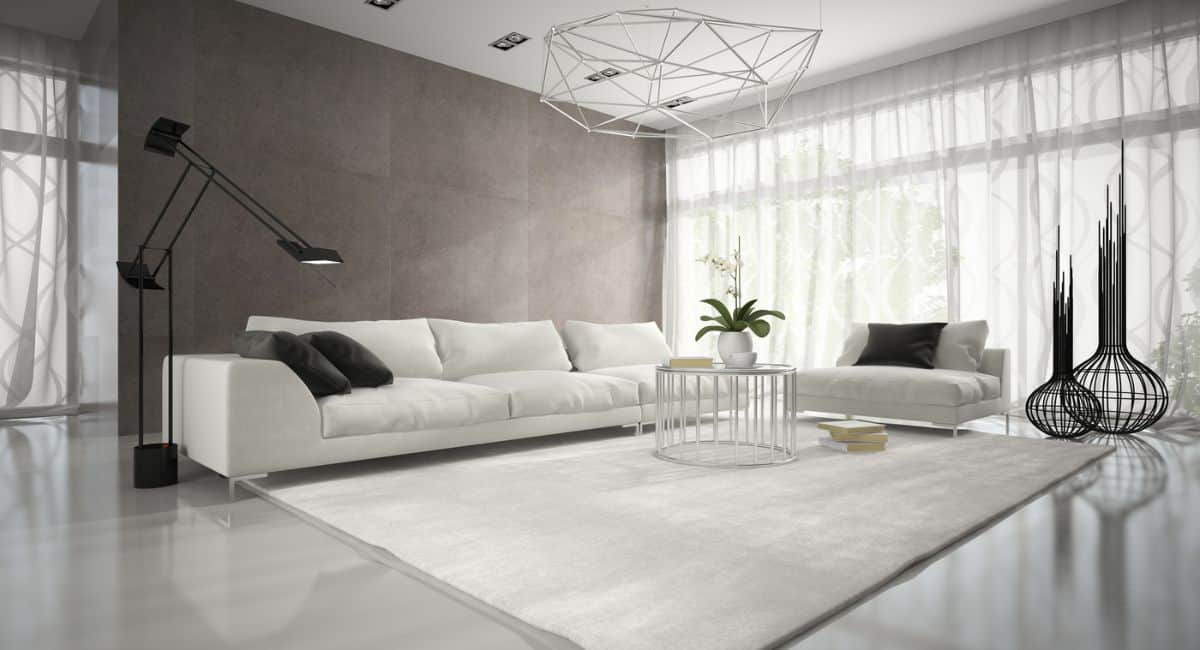 Don't Overdo It.
Remember, the mantra for this aesthetic is "less is more," so keep this in mind when adding houseplants. Organic modern touches (like plants) are perfect for the minimalist design, but the key is not to overdo it.
Adding one large plant to the room will make a statement, or a few smaller ones would also work. Plants add simple beauty, and as long as they're kept to a minimum, they will complement the look of a clean and clutter-free home.
Shop Minimalist-Type Houseplants:
FAQs For Minimalist Aesthetic
What Is A Minimalist Aesthetic Design?
Keep the "less is more" approach at the forefront when decorating for this interior design. Remember to declutter, keep neutral colors, and add unique objects that only add value and beauty to the home.
Is This Style Popular?
Yes! This design and lifestyle have gained popularity, especially after Marie Kondo's book, "The Life-Changing Magic Of Tidying Up," became a bestseller.
What Is The Opposite of This Aesthetic?
Maximalism is the opposite. This aesthetic is more about adding colors, shapes, and textures to create an over-the-top style.
Is A Minimalist Aesthetic Elegant?
Absolutely. This design is elegant and geared toward function and simplicity.
Final Thoughts On A Minimalist Home Aesthetic
Now that you've learned seven design principles about implementing a Minimalist Aesthetic, you'll be ready to add these ideas to your home. Start with good decluttering and then begin evaluating the color tones of your home. Lastly, show off objects, items, and pictures that add only value and beauty.
Have fun with the process, and remember to stay true to your likes and interests! Please share this article with friends and family on social media. Follow career girl meets… on Pinterest, Instagram, Twitter, and Facebook for more home decor ideas, recipes, and gift guides.
Related Design Articles:
15 Simple Steps To Clear Clutter
9 Organic Modern Living Room Styles